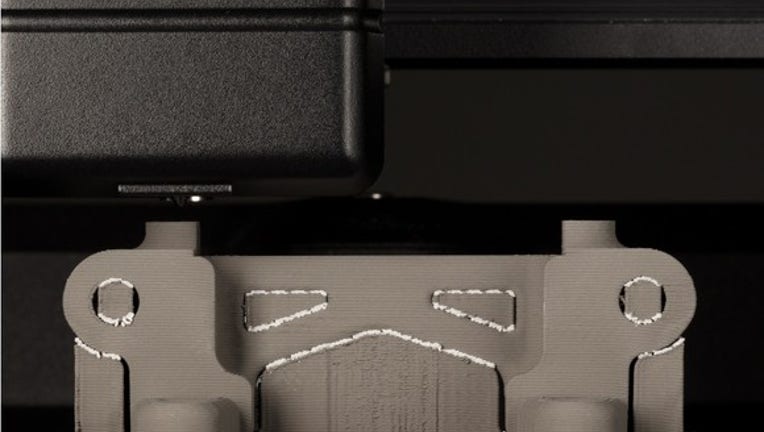 Stratasys(NASDAQ: SSYS) reported first-quarter 2017 resultson May 16. The 3D printing company's year-over-year quarterly revenue declined 2.8% to $163.2 million, adjusted earnings per share increased 400% to $0.05, and losses per share based on generally accepted accounting principles (GAAP) narrowed from $0.44 to $0.26.
While earnings met Wall Street's expectations, shares took a hit of 9.3% the day after earnings were released after a couple of investment banks downgraded the stock, primarily due to concerns that the results didn't justify its recent big run-up. Despite the sell-off, shares are still up 70.7% in 2017 through May 23.
Here are three key things that you should know about from Stratasys' Q1 earnings call.
Image source: Desktop Metal.
1. Strengthening its exposure to the metal 3D printing space
From CEO Ilan Levin's remarks:
LPW is UK-based, but also has a U.S. location in Pittsburgh. I opined when thisinvestmentwas announced last month that it was a smart move by Stratasys since metal 3D printing is the fastest-growing space within the industry.
For the same reason, Stratasys' partnership with Desktop Metal seems a good move. The partnership involves Stratasys' distributors selling the Burlington, Massachusetts-based start-up's printers. Terms weren't disclosed, so we don't know if Stratasys will benefit financially or whether the deal is just a means for the company to increase its metal 3D printing knowledge and get a close look at Desktop Metal with an eye toward a possible buyout.
Desktop Metal made a splash last month when it launched two desktop metal 3D printer models that it says are faster and more cost-effective than the metal printers now on the market, and suited for an office environment.The company, however, isn't a new name to Stratasys or Foolish readers. Stratasys was anearly investor in Desktop Metal, as I wrote in 2015.
Before these moves, Stratasys' exposure to the metal 3D printing space was limited to its service business, as it does not make metal 3D printers.
Image source: Stratasys.
2. Prototyping 3D printer market: Cannibalization and expansion
From CFO Lilach Payorski's remarks:
The new F123 3D printer series had a successful launch in February.However, these are lower-cost, entry-level professional printers, so the initial burst in sales had a negative effect on Stratasys' year-over-year revenue comparison, as Payorski noted. The company's product gross margin was also negatively impacted since these printers sport margins that are lower than the segment's average.
New product launches in any specific quarter will always impact year-over-year comparisons.However, the bigger picture has both sobering and encouraging aspects. Rapid prototyping is increasingly being done on lower-end 3D printers because of the substantial technological advances in recent years. This means that lower-end models are likely cannibalizing sales of some higher-end models, at least to some degree. However, the availability of the F123 series will probably help expand the total market size for professional rapid prototyping printers.
Image source: Stratasys.
3. A new (third) next-generation technology demonstrator announced
From Levin's remarks:
Earlier this month at RAPID + TCT 2017, a major industry trade show, Stratasys unveiled the Continuous Build 3D Demonstrator. This scalable platform is aimed at low-volume, continuous production applications and needs only limited operator intervention.Levin said on the call that management believes the platform will also be a good fit for education or innovation labs, where multiple users need to do prototyping at the same time. He declined to comment on atarget date for commercialization.
On the company's Q3 2016 earnings call in November, Stratasys' former CFO's comments indicate that the two next-gen techs for which the company launched demonstrators last year, Infinite Buildand Robotic Composite, are at least two years away from commercialization. The former -- which is being developed with partners Ford and Boeing -- prints on a vertical plane, which allows for a nearly unlimited part dimension in the build direction.The latter -- being developed with Siemens -- is an automated platform for producing parts made from composite materials.
In short, Stratasys is making some positive moves (such as increasing its exposure to metals and investing in promising next-gen technologies). However, since year-over-year revenue is still declining and the company is still unprofitable from a GAAP basis, investors should remain cautiously optimistic. The company's turnaround is only in the early stages.
10 stocks we like better than StratasysWhen investing geniuses David and Tom Gardner have a stock tip, it can pay to listen. After all, the newsletter they have run for over a decade, Motley Fool Stock Advisor, has tripled the market.*
David and Tom just revealed what they believe are the 10 best stocks for investors to buy right now... and Stratasys wasn't one of them! That's right -- they think these 10 stocks are even better buys.
Click here to learn about these picks!
*Stock Advisor returns as of May 1, 2017
Beth McKenna has no position in any stocks mentioned. The Motley Fool owns shares of and recommends Ford. The Motley Fool recommends Stratasys. The Motley Fool has a disclosure policy.