3 Core Issues Facing Chipotle Mexican Grill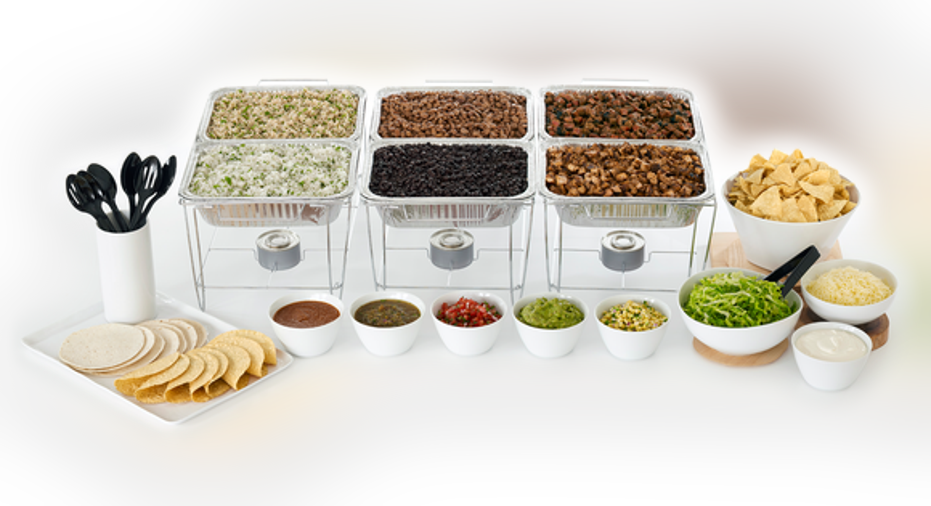 Chipotle's catering capabilities are an example of out-of-store revenue opportunities. Image: www.chipotle.com.
As we head into 2016, shareholders of Chipotle Mexican Grill are hoping that the fast-casual, Mexican-themed eatery resumes the powerful growth that has long bolstered its stock. If the present trend holds, 2015 will be the first in many years in which Chipotle's stock has ended the 12-month period lower than the share price point from where it began.
To understand the actions that might unlock Chipotle's forward prospects, let's review three core issues the company faces. While these certainly aren't the only problems in front of executives, they nonetheless are among the most important at present. Dealing with the following decisively could help set the stage for a more successful year ahead for the "CMG" symbol.
The core issues:
Issue No. 1: Assessing the comps cycleChipotle's management has forecasted low-to-mid digit comparable restaurant sales increases during 2016. This follows a recent trend of slowing "comps." As something of an antidote, however, the chain has again set a fairly ambitious restaurant opening schedule of between 220-235 new restaurants for 2016. By comparison, the company expects to complete between 215-225 new openings this year.
While the comps projections are less than vigorous, management doesn't seem overly concerned. During Chipotle's third-quarter 2015 earnings conference call in late October, the leadership team stressed that the company's comps tend to rise and fall in three-year cycles.
Company executives believe these cycles are awareness driven, meaning that, as the burrito retailer enters new geographic markets, awareness about the company, its sustainable practices, and focus on natural ingredients, steadily spreads. This draws repeat visits while pulling new customers into stores, which, in turn, gradually exerts upward pressure on comps.
There are two potential problems with this logic. The first is that the latest cycle might not resemble the ones that preceded it. You can control your own game plan, but not external factors, such as new competition, changing tastes, or a slowing economy.
The second potential flaw is that increasing awareness might not provide the boost it formerly has as Chipotle expands. The company may have introduced the model of a socially conscious, high-food quality, fast-casual dining experience on a wide scale, but the space it carved out has suddenly become quite crowded.
Rival chains, likeZoe's Kitchen and Shake Shack , offer similar quality, a similarly sustainable bent, and most of all, similar price points to Chipotle. Thus, hitting new Metropolitan Statistical Areas (MSAs) with the Chipotle narrative might not produce the overwhelming customer response it used to: Diners simply have more great choices at their disposal on any given night of the week.
This issue calls for management to make a quick judgment call if comps don't resume in the predicted three-year pattern. The leadership team should be alert to any early warning signs in 2016, and decide on a new comps-growth strategy, if necessary.
Issue No. 2: Raising out-of-store consumptionDuring the company's Q3 earnings call, CFO John Hartung revealed a fascinating internal statistic: two-thirds of Chipotle's product, in terms of revenue, is eaten outside a restaurant, but only 7% actually gets ordered from outside restaurant walls.
Chipotle executives see this as a tangible opportunity to increase sales. While this is inarguable, it also implies an opportunity cost that's inherent in Chipotle's revenue. If the majority of customers eat Chipotle's food outside of stores, but 93% must order in store, the company almost certainly loses potential sales every day when customers choose other venues due to convenience factors.
During the same conference call, Co-CEO Montgomery Moran cited the "second make line," which exists in nearly every Chipotle, as a means to serve more outside orders. This second set of cooking equipment and employees should be a point of investment for Chipotle moving forward.
That's because the ordering patterns cited above suggest that some of Chipotle's comps pressure could be relieved if management could increase the classic external restaurant incidences of takeout, catering, and delivery. In other words, make it easy for customers to both order and consume outside of the store by facilitating those types of orders, and providing restaurants with the capacity tools to handle additional volume.
Chipotle already offers catering, and has partnerships with private companies Postmates, OrderUp, and Tapingoto provide delivery options to customers. But preparing the organization to realize more external-revenue opportunity will require resources, time, and a good deal of management attention.
Issue No. 3: Technology versus cultureAt the risk of sounding uninformed, I'd like to offer up that Chipotle's culture, while focused on some really wonderful things, such as food integrity, employee engagement, and throughput (on the operational side of things), is technology averse.
Perhaps that's overstating the point, but I'd like to draw out that the swiftest-growing fast-casual and quick-service chains must develop highly capable online and mobile ordering and pay systems, undergirded with the capacity to service traffic brought about by these investments.
Starbucks Corporation , through its mobile ecosystem, has demonstrated how a healthy digital relationship with customers can boost sales powerfully. Listen to any Starbucks earnings call, and you'll get a sense of how specifically management attributes its seemingly endless streak of 5% plus quarterly comps increases to its technology investments.
Chipotle's management, on the other hand, seems almost scared of what successful implementation of a digital ordering and payment architecture could bring. During the Q3 call, Co-CEO Steve Ells explained that the company didn't quite feel ready yet to heavily market its online ordering capability, which is actually fairly robust.
Ells believes that the company would see increased traffic flow if it significantly marketed its online ordering system. In the call, he referred to investments needed to retool the second make line to handle the anticipated crush of heavier volume. Absent this, executives worry that customers could experience a "degraded" online-ordering experience.
Perhaps with a slightly different mindset, Chipotle's management could effect the change needed to take advantage of this seemingly obvious way to boost comps. At the moment, Chipotle appears to view technology as something apart from its culture. Starbucks very much sees itself as a technology company, as well as a coffee retailer. The difference is important to note.
They may compete in different industries, but Starbucks and Chipotle have maintained similar growth trajectories, and both enjoy vast brand power; so the comparison isn't as ill-founded as it may seem. What if Chipotle's leadership were to embrace the application of technology into its system with the same fervor it devotes to its supply chain? It's interesting to speculate on the possible revenue impact such a focus might generate.
The article 3 Core Issues Facing Chipotle Mexican Grill originally appeared on Fool.com.
Asit Sharma has no position in any stocks mentioned. The Motley Fool owns shares of and recommends Chipotle Mexican Grill, Starbucks, and Zoe's Kitchen. Try any of our Foolish newsletter services free for 30 days. We Fools may not all hold the same opinions, but we all believe that considering a diverse range of insights makes us better investors. The Motley Fool has a disclosure policy.
Copyright 1995 - 2015 The Motley Fool, LLC. All rights reserved. The Motley Fool has a disclosure policy.