3 Cheap Healthcare Stocks You Can Buy Right Now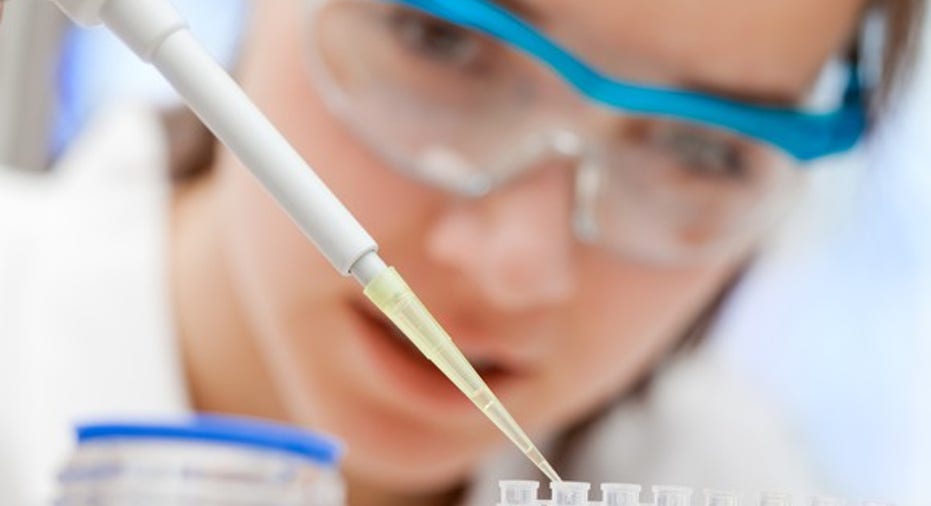 Looking for some quality healthcare stocks trading at a discount? Teva Pharmaceutical Industries Ltd (ADR) (NYSE: TEVA)and CVS Health Corp (NYSE: CVS) are two highly profitable companies at the top of their respective industries, but their shares have fallen into what looks like value territory.
Those of you looking for a bit more excitement will want to look closer at Rigel Pharmaceuticals, Inc. (NASDAQ: RIGL). This clinical-stage biotech has a new drug candidate getting awfully close to the finish line that more than justifies its tiny market value at the moment.
Image source: Getty Images.
1. Teva Pharmaceutical Industries: Generic giant
The $40.5 billion purchase of generic drug operations from Allergancemented Teva's position as the world's largest generic drug manufacturer. It also saddled the company with a great deal of debt. Tack on a CEO resignation, a price-fixing investigation, and loss of a key patent, and it's no wonder the stock has fallen about 37% over the past year.
Although there's plenty to be concerned about, over the past 12 months, the company generated $4.3 billion in free cash flow. Although one-off non-cash charges dragged down reported earnings recently, the stock is trading at the bargain-bin price of about 8 times trailing free cash flow.
The addition of the Actavis generic unit drove fourth-quarter sales 33% higher than the previous-year period, to $6.5 billion. Looking toward the bottom line, management thinks it can shave about $1.4 billion from overlapping operating expenses over the next couple of years which should help blunt the pain of Teva's key non-generic drug, Copaxone, losing patent protection.
Income investors will love the well-funded dividend Teva shares offer. At recent prices, you can look forward to a 3.7% yield that has room to grow. To make payments over the past year, Teva used just 32% of the substantial free cash flow generated. If total sales continue to rise, as expected, and it can realize even a fraction of projected cost savings, shareholders could be in for some big payout bumps in the years ahead.
2. CVS Health Corp: Unique service mix
We're all familiar with the ubiquitous chain of retail pharmacies this interesting healthcare company runs, but there's a lot more just below the surface. The company also runs one of America's largest pharmacy benefit managersand the largest chain of walk-in clinics. The recent acquisition of Omnicare also makes it the go-to pharmaceutical supplier for avariety of facilities that meet the needs of over a million seniors.
Millions of baby boomers entering their golden years are widely expected to boost demand for CVS Health's range of integrated services. This is largely why the average analyst following CVS predicts bottom-line growth of about 10.4% per year for the next five years.
Image source: Getty Images.
You might be surprised to learn that, despite double-digit long-term growth projections, the stock is trading at just 16.3 times trailing earnings. That's miles below the average stock in the benchmark S&P 500 index, which trades at around 24.7 times trailing earnings.
A forward yield of around 2.5% isn't as tantalizing as Teva's dividend, but long-term investors can reasonably expect some big payout increases in the years to come. Over the past five years, CVS has raised its payout at a staggering 25.1% annual rate. Despite the rapid rate of increases, it used just 23.5% of free cash flow generated over the past 12 months to make the last four quarterly payments.
3. Rigel Pharmaceuticals, Inc.: Small company, big catalyst
This clinical-stage biotech has circled its wagons around a new drug candidate called fostamatinib, which inhibits destruction of the platelets that allow blood to clot, and could be an effective tool for several bleeding disorders. The stock took a beating last October when it announced conflicting data from the second of two trials designed to support its first new drug application
In August, results from a 75-patient trial showed a statistically significant benefit for patients receiving fostamatinib compared to the group receiving a placebo. Unfortunately, the nearly identical second trial ran into trouble. The rate of response among patients receiving the experimental drug fell in line with the first trial. The trial was considered a failure, though, because one patient in the placebo group achieved a stable platelet level, meaning the difference between the treatment group and the placebo group wound up not being statistically significant.
Image source: Getty Images.
Despite the second trial's failure, I'd say fostamatinib has a good shot at earning an approval for the treatment of chronic immune thrombocytopenia (ITP). Although the second trial on its own failed to show a benefit, combined results from the nearly identical trials strongly suggest a statistically significant benefit.
Existing ITP treatments are somewhat limited, and Rigel's candidate would be the first to specifically inhibit the immune process that leads to platelet destruction. Rigel estimates 50,000 to 60,000 people suffer from ITP. If approved, the drug could generate around $350 million in sales each year at its peak for this indication alone.
At recent prices, Rigel's market cap is just $280 million, and an approval for ITP would send the stock soaring the beginning of next year, but you might not have to wait that long for the stock to rise. The company intends to submit an application to the FDA during the present quarter. If the Agency accepts the submission, the stock could enjoy a nice bump in the near term.
A bit further out, mid-stage trials in two related indications could boost fostamatinib's addressable population and peak sales potential much higher, which makes this one of the cheapest-looking stocks in the healthcare sector.
10 stocks we like better than Teva Pharmaceutical IndustriesWhen investing geniuses David and Tom Gardner have a stock tip, it can pay to listen. After all, the newsletter they have run for over a decade, Motley Fool Stock Advisor, has tripled the market.*
David and Tom just revealed what they believe are the 10 best stocks for investors to buy right now... and Teva Pharmaceutical Industries wasn't one of them! That's right -- they think these 10 stocks are even better buys.
Click here to learn about these picks!
*Stock Advisor returns as of February 6, 2017
Cory Renauer has no position in any stocks mentioned. The Motley Fool recommends CVS Health and Teva Pharmaceutical Industries. The Motley Fool has a disclosure policy.