3 Charts That Show Why Warren Buffet Loves Geico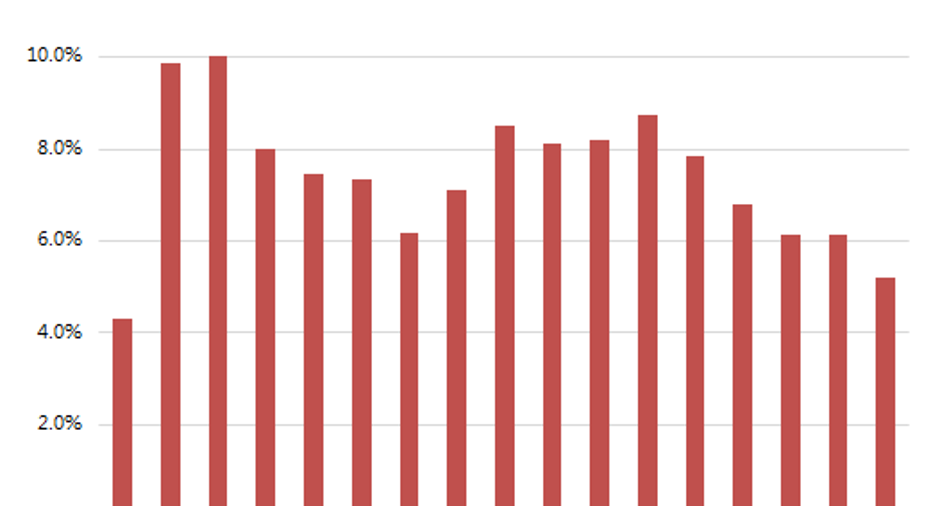 Warren Buffett once wrote that when he counts his blessings, he counts Geico twice. The auto insurer's record as a Berkshire Hathaway portfolio company seems almost impossible to duplicate.
The charts below best encapsulate what makes Geico one of the greatest insurance businesses in the world.
1. Profits, baby!Let's get right down to what really matters: earnings. Since 1998, Geico has generated an underwriting profit in all but one year. Most insurers, especially property and casualty insurers, are happy to breakeven on their underwriting and make their profits on investments.
If there were one hallmark for Berkshire Hathaway insurers, it'd be their consistent underwriting profitability.
2. Incredible revenue growthCar insurance is written on short-term contracts, so revenue is a really good proxy for measuring Geico's growing float. And speaking of revenue, there's a beautiful chart for that.
In the third quarter of 2015, Geico generated more revenue than it did in the full 2000 fiscal year. How many household-name brands can grow the top line 300% in 17 years while remaining profitable in all but one year? I don't know the answer, but it can't be very many.
3. Investment profitsIf underwriting profits are the cake, the investment profit from float is the icing. Berkshire commingles its investment profits from its insurance subsidiaries in its filings, making it difficult to attribute investment profits to each insurer. And I recognize that Geico's portfolio has to be kept more liquid than other insurance companies, given the short tail of car insurance claims.
Taken as a whole, however, Berkshire Hathaway's insurance units generate pretty impressive pre-tax returns on their float.
For as long as there is risk with automobiles, Geico will simply be one of the very best of Buffett's bundle of businesses. Luckily for Berkshire shareholders, driving should be risky for some time to come.
The article 3 Charts That Show Why Warren Buffet Loves Geico originally appeared on Fool.com.
Jordan Wathen has no position in any stocks mentioned. The Motley Fool owns shares of and recommends Berkshire Hathaway. Try any of our Foolish newsletter services free for 30 days. We Fools may not all hold the same opinions, but we all believe that considering a diverse range of insights makes us better investors. The Motley Fool has a disclosure policy.
Copyright 1995 - 2015 The Motley Fool, LLC. All rights reserved. The Motley Fool has a disclosure policy.