3 Charts That Show Ubiquiti Networks Is Poised for Growth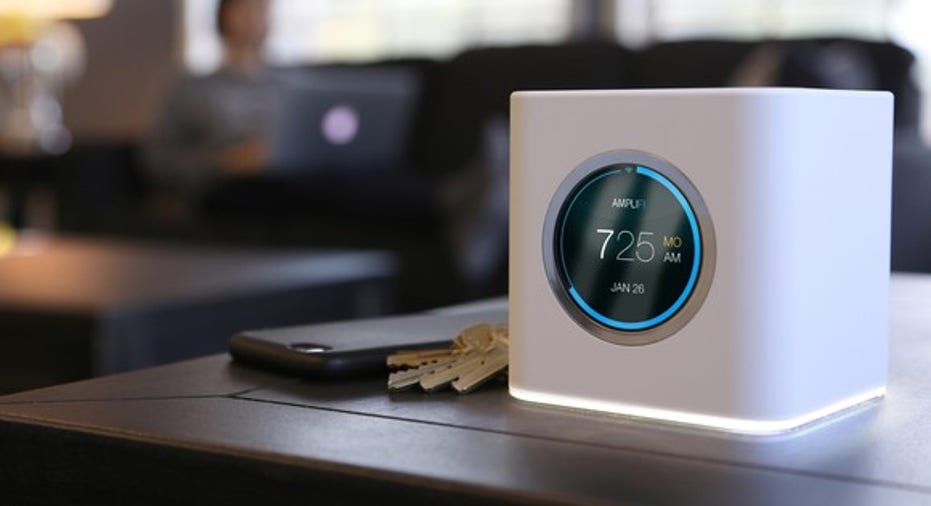 Ubiquiti Networks (NASDAQ: UBNT) stock sold off after its recent earnings report, despite beating analyst estimates for revenues.The company fell short of EPS estimates, saying it spent more on expedited shipping in order to meet the high demand for its new AmpliFi product, which Ubiquiti also priced aggressively out of the gate. This, along with an increased R&D headcount to meet several growth initiatives, weighed on margins. CEO Robert Pera said the aggressive pricing on AmpliFi was a strategic choice to get the platform adopted, and that margins should expand through production efficiency over time, which has been the pattern in Ubiquiti's other segments.
They next day, Credit Suisse analyst Kulbinder Garcha downgraded the stock, saying, according to a Seeking Alpha post, that it looked pricey compared to peers. Trading at 18 times earnings, the stock is by no means cheap, yet still is trading in line with the broader market multiples. Mr. Market and Wall Street seem to be concerned about the growth trajectory of the company, and short-term traders no doubt went to the sidelines last week, in case a return to earnings growth does not occur.
Still, there is reason to think these concerns are overblown.
Image source: Ubiquiti Networks
Taking market share?
Ubiquiti has been growing wireless networking revenues, while peers have not enjoyed growth.
Chart by author. Data source: Ubiquiti, Hewlett Packard Enterprise, Cisco, Ruckus, and Brocade quarterly filings. Rucks data adjusted for Q2 2016 revenue for M&A
The recent growth of the UniFi line, which makes enterprise hardware such as access points, switches, routers, phones, and video cameras,along with the stagnating or decreasing revenues of Ubiquiti's enterprise networking peers, seems to indicate the company is taking share, and that a premium valuation to peers is warranted. The change in growth rates occurred right around the time Ubiquiti refreshed its AC access points in late 2015.
Higher growth rates
The trend of Ubiquiti gaining share is also seen when looking at recent sequential growth rates.The Ubiquiti line in the chart below corresponds to UniFi, and it is the only company in the competitive set that is growing at all.
Chart by author. Data sources: Ubiquiti, Cisco, Hewlett Packard Enterprise, Ruckus, Brocade quarterly filings. Ruckus Q2 2016 revenue adjusted for partial quarter M&A
UniFi also includes a line of switches. The company doesn't break that out separately, but Cisco (NASDAQ: CSCO), the current switch leader, sells roughly $15 billion in switches per year and that company's overall growth has been declining. Considering Ubiquiti's entire UniFi platform sells less than $400 million per year, that leaves a lot of share to take.
Service provider segment has room to run
Moreover, UniFi is not Ubiquiti's only segment. The company still earns a majority of its revenues from its airMAX lines,which supply outdoor wireless networking equipment to independent service providers, many of them in emerging markets such as Latin America, Eastern Europe, Africa, and Asia.
When one looks at the addressable market for these service providers, there is still a large opportunity, especially in the emerging markets, where Ubiquiti is a leading vendor. In fact, when weighing internet penetration by the world's population, only 50% of the world has access to fixed broadband, as of June 2016. As internet penetration grows, so will Ubiquiti's opportunity.
Chart by author. Data source: www.internetworldstats.com
These three charts show Ubiquiti Networks has a large growth opportunity ahead of it. Of course, this is technology investing, which comes with risks. The company must execute on delivering competitive technologies ahead of competitors, and must iron out some of its supply chain issues. By looking at the growth and market opportunity behind the numbers, however, it appears Ubiquiti should command a premium valuation. In that light, 18 times trailing earnings doesn't seem too demanding.
10 stocks we like better than Ubiquiti NetworksWhen investing geniuses David and Tom Gardner have a stock tip, it can pay to listen. After all, the newsletter they have run for over a decade, Motley Fool Stock Advisor, has tripled the market.*
David and Tom just revealed what they believe are the 10 best stocks for investors to buy right now... and Ubiquiti Networks wasn't one of them! That's right -- they think these 10 stocks are even better buys.
Click here to learn about these picks!
*Stock Advisor returns as of February 6, 2017
Billy Duberstein owns shares of Ubiquiti Networks. The Motley Fool recommends Cisco Systems and Ubiquiti Networks. The Motley Fool has a disclosure policy.