3 Charts That Explain Plug Power Stock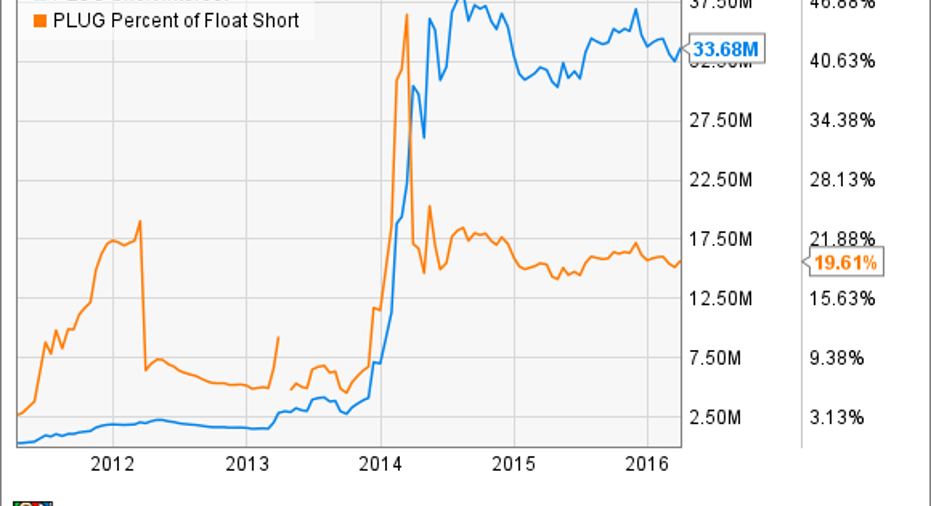 A Plug Power GenDrive unit on a Raymond forklift. Image source: Plug Power.
Plug Power has been one of the most volatile and impressive stocks of the past three years. The company came out of almost nowhere to become a leader in hydrogen fuel cells and infrastructure.
But there are still a lot of questions outstanding about Plug Power's business and whether or not the stock is a good investment. Here are three charts investors should keep in mind when analyzing the stock.
Revenue is booming There's absolutely no question Plug Power's revenue, which is surging since mid-2014. A few big contracts, namely from Walmart, have caused a surge in GenDrive revenue and ongoing service revenue.
PLUG Revenue (TTM) data by YCharts.
While growth can't be ignored, the amount of money Plug Power makes on each sale should be scrutinized -- and the numbers aren't encouraging.
Cash flow is plunging In the fourth quarter of 2015, Plug Power lost almost a quarter for every dollar in revenue it generated. You can see below that free cash flow and net income have both been plunging just as revenues have been rising.
PLUG Free Cash Flow (TTM) data by YCharts.
It's not unusual for a company to invest a lot of money in capital expenditures, sales, and other expenses when it's growing, but what should be concerning is that Plug Power isn't even generating a positive gross margin. In 2015, the company reported a gross loss of $9.9 million on $103.3 million in revenue. That's what drove the $47.3 million loss for the year, and that's what should be really concerning for investors.
Not everyone is sold on Plug Power I mentioned above that Plug Power is a controversial company for investors; this chart shows exactly what I mean. Until early 2014, there was very little short interest, or trading of the stock for that matter, and since then, the short interest has surged as well as the percentage of shares sold short.
PLUG Short Interest data by YCharts.
There are a lot of investors betting against the company's success, and that's worth considering before you get too bullish on this stock, especially with the financial challenges I pointed out above.
The article 3 Charts That Explain Plug Power Stock originally appeared on Fool.com.
Travis Hoium has no position in any stocks mentioned. The Motley Fool has no position in any of the stocks mentioned. Try any of our Foolish newsletter services free for 30 days. We Fools may not all hold the same opinions, but we all believe that considering a diverse range of insights makes us better investors. The Motley Fool has a disclosure policy.
Copyright 1995 - 2016 The Motley Fool, LLC. All rights reserved. The Motley Fool has a disclosure policy.