3 Charts That Explain LinkedIn Corp. Stock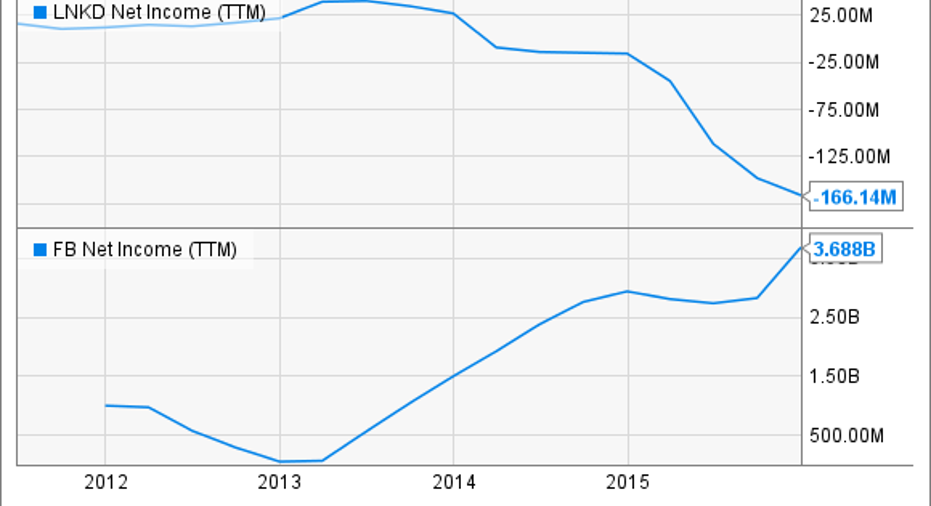 Even as its peer Facebook is setting all-time highs, LinkedIn's stock is headed in the opposite direction. The professional networking specialist's shares have been cut in half so far in 2016 and are now sitting at a four-year low.
Full-on investment mode A lot of that gap can be summed up in one critical metric: profits. Facebook's net income for the past fiscal year soared 28% higher to reach $3.7 billion. In contrast, LinkedIn's earnings have turned sharply negative lately. The $151 million of red ink it booked in fiscal 2015 was nearly enough to wipe out the prior four years' profits.
LNKD Net Income (TTM) data by YCharts.
LinkedIn's losses weren't caused by a shrinking business. Sales rose a healthy 35% last year, which isn't very far from Facebook's 43% spike. Yet soaring expenses offset those gains -- and then some -- as LinkedIn ramped up hirings, spent more on stock-based compensation, and boosted its sales and marketing costs.
All told, employee-related expenses spiked by almost $700 million last year, and the company sees more red ink ahead in 2016. "In the near term we expect GAAP operating losses as we continue to make investments in our business," executives explained in the latest 10-K report.
Slowing membership growth
MN = million. Image source: LinkedIn investor presentation.
LinkedIn is posting declining growth with respect to membership gains: It attracted 13% more engaged users last year, marking a slowdown from the prior year's 19% gain. That growth rate is also headed south on a sequential basis. The base of unique visiting members didn't budge in the fourth quarter as compared to the Q3, which suggests the networking giant could struggle to keep its positive growth momentum going.
In this way, LinkedIn's path is looking more like Twitter's, which has seen its quarter-over-quarter membership tally turn negative, than Facebook's, which last posted a healthy 5% jump in daily active users.
A rare drop in engagement Engagement is a key metric for a networking platform because it demonstrates that members are getting increasing value from the service. LinkedIn aims to make it worth professionals' time through two key payoffs: staying connected and informed, and advancing their careers. For recruiters, meanwhile, LinkedIn provides a valuable service by helping companies attract, recruit, and hire talent.
Revenue growth provides a good picture of LinkedIn's value to those enterprises, marketers, and individuals who pay to get their message out to its huge base of users. That figure is strong, even if its growth rate is slowing.
But for the vast majority of members who use just the free service, member page views is the metric to watch. That number dropped in Q4 for only the second time in the last four years:
BN = billion. Image source: LinkedIn investor presentation.
In a conference call with Wall Street analysts, CEO Jeff Weiner explained that management had already made the adjustments needed to return to engagement growth, mainly through releasing improvements to its mobile app. "After we launched the new flagship application [later in the quarter], we actually saw a reversal. And we have seen an acceleration of our growth, in terms of unique users, page views, and sessions."
Looking forwardWall Street isn't expecting big things from LinkedIn heading into its Q1 earnings release on April 28. Sales and adjusted earnings should both improve, but the company's GAAP profit will likely stay negative as member growth rates stay stubbornly low.
For the shares to start rebounding from 2016's plunge, Weiner and his team will have to show evidence that their expensive investments in the business are starting to pay dividends in the form of a growing, more engaged member base.
The article 3 Charts That Explain LinkedIn Corp. Stock originally appeared on Fool.com.
Demitrios Kalogeropoulos owns shares of Facebook and LinkedIn. The Motley Fool owns shares of and recommends Facebook, LinkedIn, and Twitter. Try any of our Foolish newsletter services free for 30 days. We Fools may not all hold the same opinions, but we all believe that considering a diverse range of insights makes us better investors. The Motley Fool has a disclosure policy.
Copyright 1995 - 2016 The Motley Fool, LLC. All rights reserved. The Motley Fool has a disclosure policy.