3 Charts Showing Why Apple Stock Cratered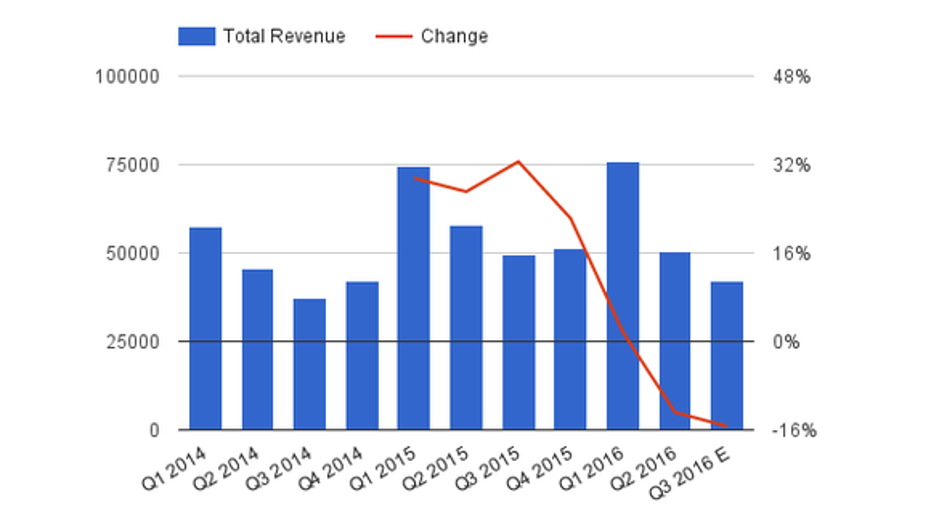 Apple stock was crushed by a staggering 8% in a single day, after the company reported disappointing earnings for the second quarter of fiscal 2016 last week. At current prices, shares of the tech juggernaut are down by more than 30% from their highs of the last year. Let's look at why this is happening and, perhaps more importantly, what it could mean for investors going forward.
Sales are moving in the wrong directionThe biggest reason for the drop, to put it simply, is that Apple reported declining sales. Total revenue during the quarter ended in March was $50.56 billion, a 13% decline from the same period in the prior year. That number was near the low end of the company's guidance and also below Wall Street expectations.
Adding to the concerns, management is expecting revenue in the range of $41 billion to $43 billion in the third quarter of fiscal 2016, which would be a 15% decline over the same period last year at the middle of the range. Understandably, the prospect for continued weakness in the coming earnings report is putting considerable downward pressure on Apple stock.
DATA IN MILLIONS of dollars. SOURCE: SECFILINGS.
Apple is a victim of its own successThe iPhone accounts for 65% of total revenue for Apple, so it has a huge impact on the overall financial performance. The company is therefore a victim of its own success in this important division.
DATA IN THOUSANDS of UNITS. SOURCE: SEC FILINGS.
The iPhone 6 enjoyed booming demand in fiscal 2015, as many customers eagerly embraced the new models with larger screen sizes. iPhone sales in the second quarter of fiscal 2015 amounted to a staggering 61.2 million, a 40% increase over the same period in 2014.
As for the second quarter of fiscal 2016, Apple sold 51.2 million devices. That's a 16% decline from 2015 levels, though it's still up by 17% from the same quarter in 2014.
From China with no loveChina is Apple's second biggest market behind North America, accounting for 25% of total revenue. In fact, China has been a powerful growth engine for the company over the past several quarters. Things changed abruptly last quarter, though, as Apple registered a steep 26% revenue decline from the Greater China region.
DATA IN MILLIONS of dollars: SOURCE: SEC FILINGS.
Unfortunately, the smartphone market in China is getting saturated. Moreover, comparisons were already particularly difficult for Apple last quarter, as China sales in the second quarter of fiscal 2015 had increased by a massive 81%. In addition, performance was hurt by channel inventory reductions and currency weakness during the period.
It's hard to tell what could happen with smartphone demand in China over the coming quarters, but Apple still has considerable room for expansion in emerging markets if the company plays its cards right. Based on data from IDC, Apple has a market share of only 15.3% on a global scale, and that means plenty of opportunity to gain market share in the future.
CEO Tim Cook sounds quite confident about the company's ability to produce sustained growth in emerging markets. In his own words: "The iPhone is still attracting millions of first-time smartphone buyers each quarter, especially from emerging markets. For example, in India our iPhone sales were up 56% from a year ago.
What this means going forwardThe deceleration in growth is real and probably here to stay. Chances are that Apple won't go back to delivering the kind of explosive performance it was generating when the smartphone industry was going through its initial growth stage. On the other hand, current negativity regarding the company's growth potential could be exaggerated, and there are strong reasons to believe the sales decline is a transitory phenomenon, as opposed to a permanent trend.
Apple is facing enormously challenging comparisons because of the massive success the iPhone 6 produced in fiscal 2015, but comparisons should get easier over the medium term. Even if sales are down from fiscal 2015, they're still up considerably from 2014. That should put the numbers in context. So should this: The iPhone 6s isn't doing as well as the iPhone 6, but it's selling much better than all other previous models.
As long as the company keeps launching solid products in 2016 and beyond, consumers will continue upgrading their iPhones over the years, and Apple still has a lot of room for growth in emerging markets. The most likely scenario is that sales will start growing again in the middle term, which should provide considerable upside fuel for Apple stock from current price levels.
The article 3 Charts Showing Why Apple Stock Cratered originally appeared on Fool.com.
Andrs Cardenal owns shares of Apple. The Motley Fool owns shares of and recommends Apple. Try any of our Foolish newsletter services free for 30 days. We Fools may not all hold the same opinions, but we all believe that considering a diverse range of insights makes us better investors. The Motley Fool has a disclosure policy.
Copyright 1995 - 2016 The Motley Fool, LLC. All rights reserved. The Motley Fool has a disclosure policy.