3 Charts Show Why This Marijuana Stock Is Risky Business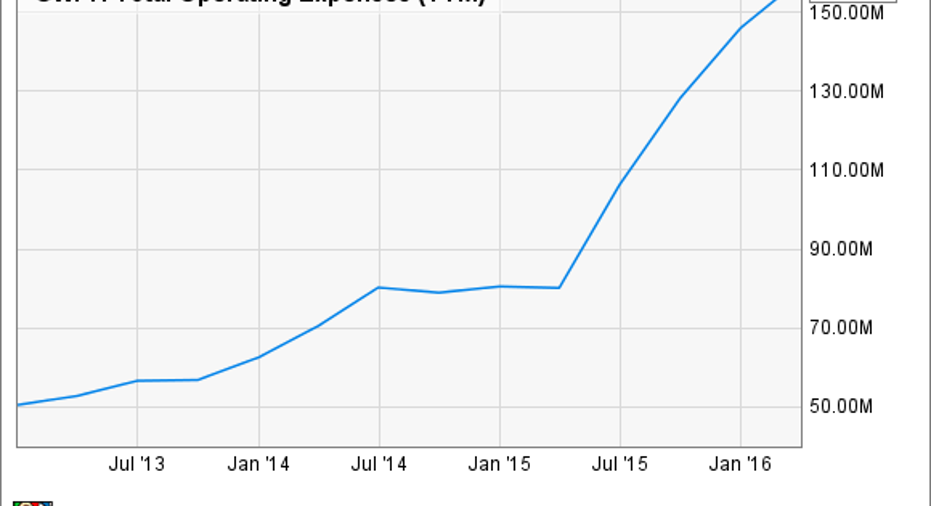 Image source: GW Pharmaceuticals PLC.
GW Pharmaceuticals plc is knee-deep in developing medicine that's derived from marijuana. It's been researching the medical benefits of marijuana cannabinoids since the 1990s, and it already has one marijuana drug on the market in Europe. However, there are some risks facing GW Pharmaceuticals that may indicate investors ought to sit on the sidelines.
Here are three charts explaining why I think this company is too risky to buy right now.
Tepid sales of its marijuana drug
GW Pharmaceuticals has been marketing Sativex as a treatment for muscle spasms in multiple sclerosis patients for years in Europe, but despite Europe being home to about half of the global population of MS patients, sales remain a trickle.
Over the past five years, trailing-12-month sales reported by the company has slipped to about $31 million from a peak of over $50 million. However, lackluster performance by Sativex is only partially to blame for the drop in revenue. The biggest reason for slumping sales is the end of collaboration revenue from Otsuka Pharmaceuticals on Sativex.
Otsuka Pharmaceuticals paid GW Pharmaceuticals $18 million up front back in 2007 to license rights to Sativex for cancer pain, and under an agreement that ended in 2013, Otsuka had been providing GW Pharmaceuticals with funding for Sativex research ever since. Unfortunately, Sativex studies failed to show that it works better than placebo in curtailing cancer pain, and as a result, the Otsuka revenue spigot is shutting off.
GWPH Revenue (TTM) data by YCharts.
Mounting expenses
GW Pharmaceuticals' marijuana research efforts are at all-time highs, and trials spanning indications from diabetes to epilepsy are costing it millions of dollars every quarter.
In Q1, research and development expenses hit $37.5 million, up 60% year over year, at current exchange rates. Overall expenses clocked in at nearly $160 million over the past 12 months. As a result, the U.K.-based company lost $95 million in 2015 (at current exchange rates).
Unless the company's spending on current trials starts to pay off, management's spending pace won't be able to continue indefinitely. Fortunately, the company reported earlier this year results from a phase 3 trial of its CBD drug, Epidiolex, in dravet syndrome patients that were impressive. Patients taking Epidiolex saw a 39% decrease in monthly seizures. If other ongoing trials produce similar results, a FDA approval in 2017 is a possibility, and that could take a lot of the heat off GW Pharma's income statement.
GWPH Total Operating Expenses (TTM) data by YCharts.
Worrisome valuation
Companies researching innovative new medicine typically trade at a premium valuation, and that appears to be the case for GW Pharmaceuticals.
The company's shares tumbled after its cancer pain trials failed to pan out, but a rally following the Epidiolex trial results has pushed GW Pharma's valuation to an ear-popping $1.7 billion.
Admittedly, a victory in Epidiolex could translate into significant revenue that helps justify that valuation, but sales of Epidiolex would need to be in the hundreds of millions of dollars per year for that to be the case.
I'm not sure how much GW Pharma will eventually charge for Epidiolex if it wins FDA approval, but the patient population Epidiolex targets totals about 20,000 people in the United States. If Epidiolex is priced at $10,000 per year, and it's used by all of those patients, that works out to $200 million in annual revenue.
GW Pharma's valuation was a bigger concern when the company's market cap was flirting with $2.7 billion last year, but its current market cap may still be too high.
GWPH Market Cap data by YCharts.
Overall, only time will tell if GW Pharmaceuticals' efforts to commercialize marijuana medicines will pan out, and if they'll be able to effectively market them at prices high enough to warrant the stock's current valuation. Regardless, the risk associated with buying shares in GW Pharma are high enough for me to think other investment options might be better.
The article 3 Charts Show Why This Marijuana Stock Is Risky Business originally appeared on Fool.com.
Todd Campbell has no position in any stocks mentioned.Todd owns E.B. Capital Markets, LLC. E.B. Capital's clients may have positions in the companies mentioned. Like this article? Follow him onTwitter where he goes by the handle@ebcapitalto see more articles like this.Todd owns E.B. Capital Markets, LLC. E.B. Capital Markets' clients may have positions in the companies mentioned. The Motley Fool has no position in any of the stocks mentioned. Try any of our Foolish newsletter services free for 30 days. We Fools may not all hold the same opinions, but we all believe that considering a diverse range of insights makes us better investors. The Motley Fool has a disclosure policy.
Copyright 1995 - 2016 The Motley Fool, LLC. All rights reserved. The Motley Fool has a disclosure policy.