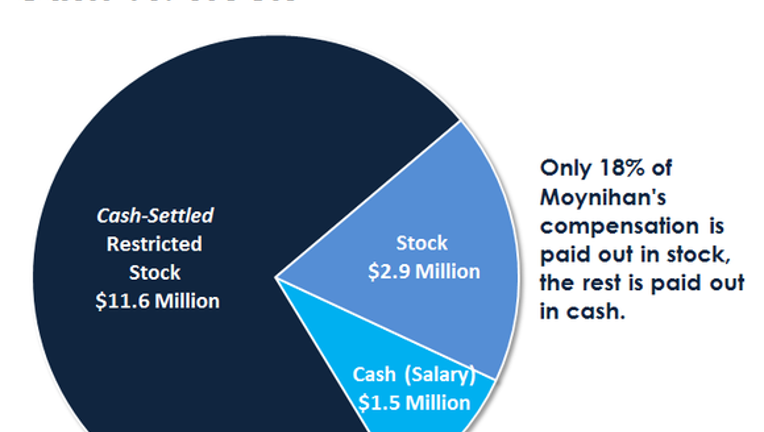 Bank of America CEO Brian Moynihan. Image source: Bank of America.
Bank of America announced last month that its CEO, Brian Moynihan, received a $3 million pay raise in 2015. It also disclosed details of how that pay was structured. Here are three charts that cast light on this:
1. Comparison to other bank CEOsMoynihan earned a total of $16 million last year, split between cash- and stock-based compensation. That ranked him last among the major Wall Street banks in terms of total pay. The list was topped by JPMorgan Chase'sJamie Dimon, who, in my opinion, deserves to be the highest-paid bank CEO in the country.
Data source: JPMorgan Chase, Bank of America, Citigroup, and The Wall Street Journal.
The one wild card is Wells Fargo, which tends to release details of its executive compensation when it files its proxy statement in March. That said, it's reasonable to assume that Wells Fargo CEO John Stumpf will get a bigger compensation package than Moynihan. And he should, given Wells Fargo's consistently superior performance.
2. Immediate vs. deferred compensationThe thing that Bank of America shareholders should be happiest about in terms of Moynihan's compensation package is the fact that most of it is in the form of deferred compensation. Leaving skin in the game incentivizes Moynihan to take a longer-term approach to running the bank, which is important in an industry where short-term revenue gains often come at the expense of long-term solvency.
The majority of Moynihan's compensation, or 51%, is in the form of performance-based restricted stock units that vest three years from now. To earn this, Bank of America must generate a three-year average return on assets of 0.80% and a three-year average growth of adjusted tangible book value of 8.5%. The former metric in particular is nothing to write home about, but it would nevertheless mark an improvement over last year.
*Assumes assume a similar allocation schedule to 2014, which Bank of America reported to be the case. Data source: Bank of America.
The rest of Moynihan's compensation vests either immediately or at some point over the next two years. His $1.5 million base salary was paid out presumably on or about Feb. 12, 2016, when the bank published its compensation figures. Then, assuming an identical allocation to 2014, which Bank of America intimated was the case, Moynihan will earn $5.3 million over the next 12 months. Finally, two years from now, he'll get approximately $1 million in the second of three installments of time-based restricted stock units.
3. Cash- vs. stock-based compensationThe final distinction that's relevant to shareholders is the division between cash- and stock-based compensation. Like deferred compensation, the latter keeps more of a CEO's skin in the game, so to speak, and is thus good from the perspective of shareholders.
In Moynihan's case, the vast majority of his compensation is either cash, or consists of restricted stock units that pay out in cash upon vesting. Assuming again that the allocation and particulars of Moynihan's compensation mirror 2014, which we'll learn in Bank of America's 2016 proxy statement, then 82% of his compensation will be paid out in cash, with only 18% paid out in stock.
Data source: Bank of America.
This obviously minimizes Moynihan's equity-based stake in the bank. On top of this, he's required to retain only 50% of the stock that he's awarded. He'll hopefully do the right thing and leave the entirety of it in the bank. But if he doesn't, shareholders should consider that a red flag and a reason to sell its stock.
The article 3 Charts About Bank of America Corp. CEO Brian Moynihan's Compensation originally appeared on Fool.com.
John Maxfield owns shares of Bank of America and Goldman Sachs. The Motley Fool owns shares of and recommends Wells Fargo. The Motley Fool has the following options: short March 2016 $52 puts on Wells Fargo. The Motley Fool recommends Bank of America. Try any of our Foolish newsletter services free for 30 days. We Fools may not all hold the same opinions, but we all believe that considering a diverse range of insights makes us better investors. The Motley Fool has a disclosure policy.
Copyright 1995 - 2016 The Motley Fool, LLC. All rights reserved. The Motley Fool has a disclosure policy.