3 Charts About Apple's Sales Growth in China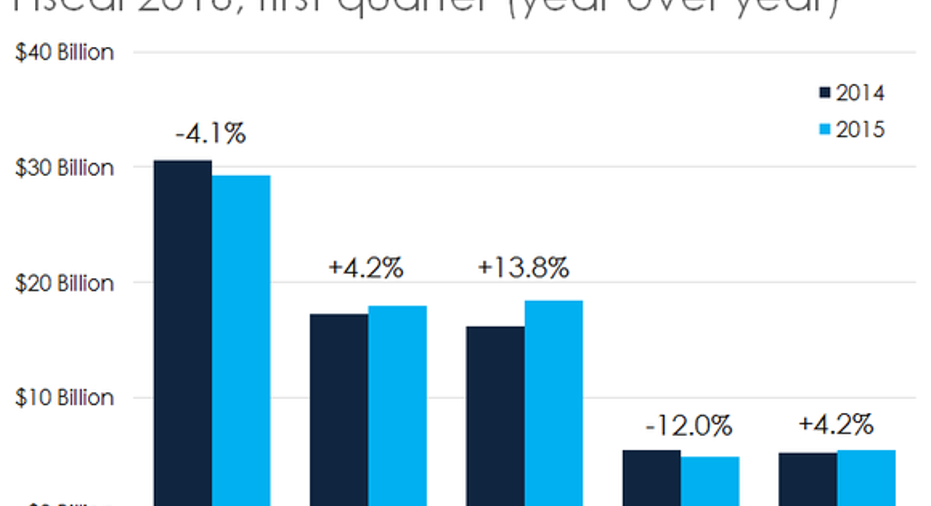 An Apple retail store in Shanghai, China. Image source: Apple.
If you read Apple's latest annual report, one thing that will stick out is the increasing importance of China to the iPhone maker's top and bottom lines. As I illustrate in the three charts below, sales growth in region, which includes Hong Kong and Taiwan, is handily outpacing Apple's other geographic divisions and has transformed the East Asian country into the tech giant's second largest market.
1. Sales growth in China is outpacing other regionsChina's contribution to Apple's top line was on display in its latest quarterly results. For the three months ended December 26, 2015, Apple's sales in China increased by 13.8% over the year-ago period. That's less than the 84% growth rate recorded in the region for all of fiscal 2015, but it's still more than the tech company's other reporting segments: Americas, Europe, Japan, and rest of Asia-Pacific.
Data source: Apple.
Sales in the Americas and Japan did particularly poorly throughout Apple's first quarter. They declined by 4.1% in the Americas, which is dominated by the United States, and by 12% in Japan. In fact, were it not for China's contribution, Apple's overall net sales would have fallen last quarter by approximately $1 billion.
2. China is now Apple's second most important marketThanks to this rapid growth, China eclipsed Europe last year as Apple's second biggest market. This isn't because sales in Europe contracted in 2015. Just the opposite was in fact the case. Sales grew on the continent by 14% last year compared to 2014.
Data source: Apple.
But even though Europe's 14% increase is nothing to shake a stick at, it paled in comparison to the performance in China. Thanks to the addition of China Mobile in the second quarter of 2014 as well as the rollout of the iPhone 6 and 6 Plus, Apple's sales in the world's most populated country soared by 84% in fiscal 2015.
As you can see in the chart above, the relative growth rates in China and Europe in 2015 allowed the former to surpass the latter when it comes to the contribution to Apple's top line.
3. China's bottom-line contributionAfter the region's incredible success in 2015, Greater China now accounts for more than a quarter of Apple's net operating income. That outpaces Europe's contribution by seven percentage points, and trails only the Americas, from which Apple derives 37% of its earnings.
Data source: Apple.
China's importance to Apple's bottom line is bound to grow. Apple's market share in the country is meaningfully less than its share in the United States. Additionally, with the release of the iPhone SE, which is designed specifically to entice buyers in emerging markets, there's every reason to believe that the East Asian region could become Apple's biggest sales source at some point in the next few years.
The article 3 Charts About Apple's Sales Growth in China originally appeared on Fool.com.
John Maxfield has no position in any stocks mentioned. The Motley Fool owns shares of and recommends Apple. Try any of our Foolish newsletter services free for 30 days. We Fools may not all hold the same opinions, but we all believe that considering a diverse range of insights makes us better investors. The Motley Fool has a disclosure policy.
Copyright 1995 - 2016 The Motley Fool, LLC. All rights reserved. The Motley Fool has a disclosure policy.