3 Chains Weathering the Restaurant Recession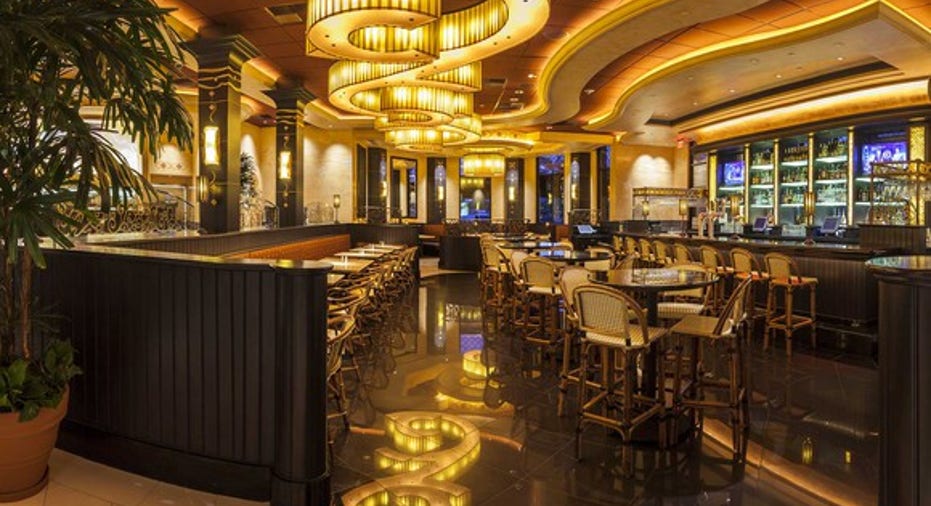 The U.S. restaurant industry just wrapped up another month of declines. According to TDn2K's monthly industry report, comparable sales fell for the fifth straight quarter to kick off 2017. Foot traffic was down 3.6% during the first three months of 2017.
Chart by author. Data source: TDn2K.
You can read up on the cause of this so-called "restaurant recession" in an article I wrote here. But that's enough of the negative talk -- this discussion is a positive one. In spite of the overall industry pain, some brands are still kicking. Here are three of them.
The "creator" of upscale casual dining
Cheesecake Factory (NASDAQ: CAKE) just reported quarter number 28 of rising comparable sales in a row, up 1.1% at the end of last year. TDn2K's industry report has been showing California as bucking the restaurant pullback trend, so it comes as no surprise that the Southern California-based chain is doing well, with 37 of its 194 Cheesecake Factory locations in the U.S. are in the Golden State.
Image source: The Cheesecake Factory.
Industry trends have also been showing that casual fine dining is doing well during the downturn compared to other dining experiences. For example, explosive growth in the mid-market fast-casual segment has begun to cannibalize itself, with some growth chains opening new locations at double-digit rates. The new openings have begun to outstrip local consumers limited eating-out budget growth, pushing comparable sales into the negative.
By contrast, fine dining growth has been at a more measured pace. Case in point, Cheesecake Factory opened seven new locations last year, only a 3.7% increase. The company has also enjoyed falling food costs, which helped boost profits 6.1% in 2016. This slow-and-steady growth is the plan going forward, with another eight openings slated in the year ahead, four of which will be overseas.
The "better burger" getsbigger
Another California native,The Habit Restaurants (NASDAQ: HABT), is experiencing a similar story as above. With three out of everyfour of its 188restaurants in the booming state, The Habit has been killing it.
It opened 30 new stores in 2016, a 21% increase in total count, to great success in spite of the crowded better-burger niche. The chain had 23.1% and 1.9% increases to revenue and comparable sales, respectively, in the last year. The stock struggled shortly after its IPO in late 2014, but it has been making a comeback as thebusiness grows.
Image source: The Habit Restaurants.
The Habit is just getting started in its expansion into new markets, and as many as 40 new openings are planned for 2017. Its key ingredient to success thus far has been the burger itself, often mentioned in surveys as near or at the top of America's best. Well-anchored on the West Coast, a showdown with expanding East Coast rival Shake Shack could be around the corner, though, as the two chains have begun to overlap. Only time will tell who the winner is, but The Habit has a head start.
Some people never grow up
Dave and Buster's Entertainment (NASDAQ: PLAY) is unique in that it's part restaurant, part gaming establishment. On the food side, the chain touts American gastro-pub style cuisine and an extensive bar, but the experience is what really sets Dave and Buster's apart. Who says arcades are only for kids?
Image source: Dave and Buster's.
That combination of food and fun has been a winning strategy. Last year, it translated into 15.9% and 3.3% expansion to revenue and comparable sales, and the bottom line rose 52%.
Dave and Buster's isn't content with its record score set in 2016. The brand is still pretty small, at only 95 total locations, but the plan is to open another 12 or 13 during 2017. Longer term, the goal is to double the count to over 200 just in North America alone. Ambitious, yes, but the company demonstrated it can stillwin even when overall dining budgets shrink.
The overall news about restaurants has been trending negative for a year now, but that doesn't make all restaurants unworthy of investor money. These brands have built winning menus and guest experiences that have weathered the storm and won over an increasing number of diners. If your restaurant stocks are struggling, put these names on your radar.
10 stocks we like better than Dave & Buster's EntertainmentWhen investing geniuses David and Tom Gardner have a stock tip, it can pay to listen. After all, the newsletter they have run for over a decade, Motley Fool Stock Advisor, has tripled the market.*
David and Tom just revealed what they believe are the 10 best stocks for investors to buy right now and Dave & Buster's Entertainment wasn't one of them! That's right -- they think these 10 stocks are even better buys.
Click here to learn about these picks!
*Stock Advisor returns as of April 3, 2017
Nicholas Rossolillo has no position in any stocks mentioned. The Motley Fool recommends Dave & Buster's Entertainment. The Motley Fool has a disclosure policy.