3 Catalysts for PayPal Holdings Inc in 2017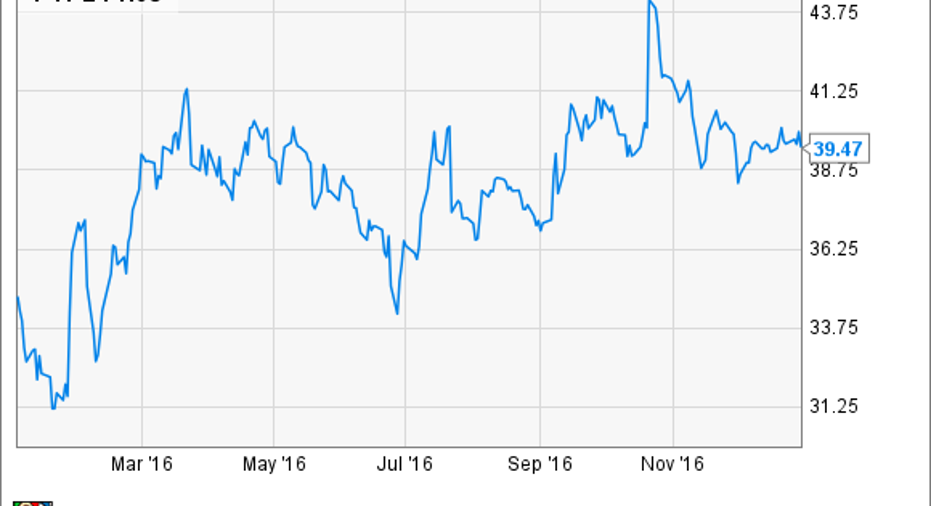 Investors in PayPal Holdings Inc (NASDAQ: PYPL) didn't have much to be disappointed about in 2016. PayPal's stock price opened the year at just a shade over $35 and closed 2016 with a share price just below $40. For long-term investors who held the entire year, this represented a tidy gain of about 12.5%.
PayPal's business performance mirrored that of the stock price. In the company's most recently reported quarter, revenue was up 18% and non-GAAPearnings per share were up 14% (both year over year). Perhaps more importantly, the number of active accounts grew to 192 million, up 11% from the year before, and transactions per account increased to 30.2, up 13%.
Of course, all this is looking to the past. What PayPal investors really need to know is how the company will perform going forward. With that in mind, here are three possible catalysts for PayPal's stock in 2017.
Pay with Venmo
Venmo, PayPal's peer-to-peer payment app, is hugely popular with millennials, who use it continually to split pizza among friends and share Uber fares. In 2016's third quarter, Venmo processed $4.9 billion in payment volume, up 131% year over year, and up more than 22% from the prior quarter.
Image source: PayPal Holdings Inc.
PayPal obviously doesn't have a problem driving user growth on Venmo. The company's dilemma has been to find ways to make a profit through the app without jeopardizing its popularity. PayPal management believes the solution is Pay with Venmo, a program that allows Venmo account holders to make purchases from participating merchants.
At the beginning of 2016, PayPal reported approximately 550,000 Venmo users were participating in the program. By the end of the year, it was available for all Venmo users. PayPal management has said they are actively growing the merchant base for the program.
Early data is encouraging: CEO Dan Schulman said in the company's third-quarter conference call that account holders who use Pay with Venmo are 30% more engaged than other Venmo users. Given its popularity, any method the company finds to monetize Venmo could prove to be a financial boon.
PayPal One Touch
PayPal's One Touch allows account holders to authenticate their accounts the first time they use the platform to make an online purchase, and then skip the log in process in subsequent uses. Consumers love the product because it saves them the time and hassle of retrieving their usernames and passwords and entering in all other pertinent information for every single purchase. Retailers love the product because it crushes the competition at online sales conversions.
According to a comScore study released last April, PayPal's One Touch converts an astounding 87.5% of all customers who enter a payment method during an online checkout process into an actual sale. The closest competitor converted 51%. It's no wonder that One Touch is the most rapidly adopted product in PayPal's history.
One Touch is now available in over 200 markets. In PayPal's third-quarter conference call, Schulman stated that 32 million consumers and more than 4 million merchants were using the product. By the end of 2016, Schulman projected that would increase to 36 million consumers and 5 million merchants. E-commerce is PayPal's bread and butter. With the rapid adoption and use of One Touch, PayPal could well continue to dominate this arena for years to come.
Stronger profits from Xoom
In November 2015, PayPal completed its acquisition of Xoom, the international remittance company. In the third-quarter earnings report, PayPal announced the addition of 10 new countries available for the Xoom platform. This means Xoom's domestic customers can now send money to friends or loved ones in over 50 countries. In 29 of those countries, Xoom recipients can now send requests for money or bill payments.
Image source: PayPal Holdings Inc.
Consumers also can now link their PayPal and Xoom accounts, a move that should drive account growth for both platforms. In the 2016 first-quarter conference call, CEO Schulman acknowledged Xoom was currently "margin dilutive" and would likely remain so for the rest of 2016. In the third-quarter call, he again admitted Xoom had been a "drag on our margins."But, he stated, he fully expected Xoom to "start generating more significant profits in 2017."
Given the additional countries available to the platform, the new request feature, and the integration of PayPal and Xoom accounts now available, I wouldn't bet against that prediction this year.
10 stocks we like better than PayPal Holdings When investing geniuses David and Tom Gardner have a stock tip, it can pay to listen. After all, the newsletter they have run for over a decade, Motley Fool Stock Advisor, has tripled the market.*
David and Tom just revealed what they believe are the 10 best stocks for investors to buy right now... and PayPal Holdings wasn't one of them! That's right -- they think these 10 stocks are even better buys.
Click here to learn about these picks!
*Stock Advisor returns as of January 4, 2017
Matthew Cochrane owns shares of PayPal Holdings. The Motley Fool owns shares of and recommends PayPal Holdings. The Motley Fool has a disclosure policy.