3 Cars Detroit Should Bring Back From the Dead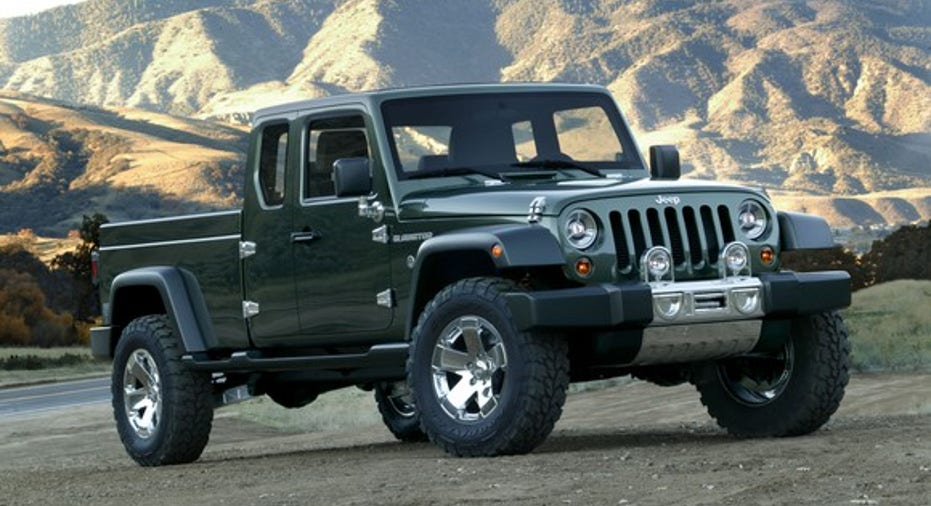 Ford last tried reviving the Thunderbird name with this slow-selling retro model in 2002. A more radical rethink might work better now. Image source: Ford Motor Company.
Detroit has coined dozens of great nameplates for its vehicles over the last century-plus of auto-making. Many of those great names live on, in models that have evolved to meet the changing wants and needs of car shoppers. But some of theDetroit Three's very best names have been laid to rest, atleast for now.
Here are three iconic names thatcould -- and should -- berevived for all-new up-to-date models that preserve the spirit of the originals.
Ford's Thunderbird made its debut in 1955 as a sporty two-seater. Image source: Ford Motor Company.
A new spin on one of Ford's best-ever names
Over the last century-plus, Ford Motor Company (NYSE: F) has come up with some of the greatest model names to ever grace automobiles. Some, like Mustang, are still around and aren't going anywhere. But one of the most evocative model names Ford ever came up with hasn't been seen in a while: Thunderbird.
Ford's first Thunderbird, launched in 1955, was an Americanized take on the European idea of a sporty two-seat convertible. Those early T-Birds are now much-desired collector's items.
This 1964 Thunderbird shows how Ford evolved the model's design while staying close to the original idea of a personal luxury car. Image source: Ford Motor Company.
It gained a back seat in 1958, after which sales soared
Four seats made the Thunderbird a lot more practical, boosting sales. The model kept its two-door shape, but it got bigger (and more square-edged) over the years, until it was revitalized with a trim new aerodynamic shape in 1983.
The Thunderbird continued to evolve as asort of two-door family car until Ford ended its run in 1997.The name was briefly revived for a modernized take on the original T-Bird from 2002 through 2005, but it has been gone from Ford's global lineup since.
The sleek-edged 1983 Thunderbird was far more aerodynamic than the car it replaced, but it was considered radical for the time. Image source: Ford Motor Company.
The T-Birdnamedeserves a reboot
Unfortunately, the reality of today's market is that there probably isn't a place in Ford's lineup for an upscale rear-wheel-drive coupe like the original Thunderbirds. (If there were, it would probably be in the Lincoln division.)
But what if we think a little bit outside the box? What if Ford gave the Thunderbird a reboot, on a dramatically styled, powerful, plush electric coupe? What if Ford took a big step into the future, going head-to-head with the likes of Teslawith one of the greatest names from its past?
A coupe-styled four-door might be a little more realistic in today's market. I think that would be fine if the styling were right. How about it, Ford?
The 1983 Chevrolet S-10 Blazer might be a good template -- and name -- for a modern Jeep fighter. Image source: General Motors.
GM could use a great Jeep fighter
Ford's Bronco is another classic icon, but a Bronco revival is already in the works. Ford has confirmed that an all-new Bronco in the spirit of the original Jeep competitor will go into production in 2019.
I think that's a great move, given the huge global demand for SUVs and the enduring popularity of Fiat Chrysler Automobiles' (NYSE: FCAU) own icon, the Jeep Wrangler. But it raises a question: How might General Motors (NYSE: GM) jump into this market?
GM is no off-road slouch, but the closest things it has right now to something like the Wrangler (or Bronco) are the 4x4 versions of its midsize Chevrolet Colorado and GMC Canyon pickups. They're well-regarded, but they're not the same thing.
But what if GM used those pickups' frames as the basis for a new off-roader?
A 1969 Chevrolet K5 Blazer. Image source: General Motors.
We could call it...the Chevrolet Blazer
The original Chevy K5 Blazer, as it was called, was based on GM's full-size pickup architecture. But it was very much in the spirit of the Bronco -- a two-door short-wheelbase SUV with (for a few years, anyway) a convertible top. (Think of a shorter, two-door version of the Tahoe and you'll have the idea.)
A later "S-10 Blazer" used a smaller pickup frame. Eventually, it evolved into just another four-door kid-hauler SUV, called TrailBlazer, which was phased out in the U.S. in 2009 in favor of GM's car-based crossovers. (The name lives on in some foreign markets.)
But now, the time might be just right for GM to take the Blazer name back to its roots, with a Colorado-based SUV that could go head-to-head with Jeep's best. What do you think?
The Jeep Gladiator Concept pickup from 2005. Image source: Fiat Chrysler Automobiles.
It's time to take this Jeep tease to production
Speaking of Jeep, back in 2005, the company now known as FCA absolutely stole the North American International Auto Show with a Jeep concept vehicle called the Gladiator.
The Gladiator is a pickup with styling andfeatures that echo the most iconic Jeep of all, the Wrangler. The show truck was built on a Ram pickup frame, but the idea was that a production version might be a Wrangler sibling. The Gladiator had a short pickup bed that could be extended into the cabin via a "midgate" (a retractable canvas roof that gave it some of the appeal of a Wrangler) -- and a great name.
The original Jeep Gladiator combined off-road ability with a pickup's practicality. This one's a 1968 model. Image source: Fiat Chrysler Automobiles.
Jeep has a long history of building pickups
Best of all, that Gladiator name had a history with Jeep. The original Jeep Gladiator was a pickup based on the big Jeep Wagoneer frame, built from 1962 to 1971 (and under other names until 1988). It's one of several different Jeep pickups to have come and gone over the years.
None sold in anything like the numbers that we associate with big pickups today, but they had a following -- because like all of the best Jeeps, they were both fun and useful.
Last year's Jeep Crew Chief 715 Concept pickup was a brawnier riff on the Gladiator theme. Image source: Fiat Chrysler Automobiles.
Jeep's latest hint that a pickup is in the works
FCA has dropped more Jeep-pickup hints in recent years, including a very Gladiator-like concept based on the Wrangler Unlimited last year. The Jeep Crew Chief 715 Concept, built on the idea of the 2005 Gladiator show truck, incorporates some of the styling cues fromthe original 1960s Gladiators.
After years of hints, FCA finally confirmed in January that it will build a Jeep pickup alongside the next-generation Wrangler. The new "JL" Wrangler is set to debut as a 2018 model, but the pickup may not arrive until late 2019 or 2020. Will it carry the great Gladiator name and the spirit of that wonderful 2005 concept truck? We'll find out.
10 stocks we like better than Ford Motor CompanyWhen investing geniuses David and Tom Gardner have a stock tip, it can pay to listen. After all, the newsletter they have run for over a decade, Motley Fool Stock Advisor, has tripled the market.*
David and Tom just revealed what they believe are the 10 best stocks for investors to buy right now... and Ford wasn't one of them! That's right -- they think these 10 stocks are even better buys.
Click here to learn about these picks!
*Stock Advisor returns as of February 6, 2017
John Rosevear owns shares of Ford and General Motors. The Motley Fool owns shares of and recommends Ford and Tesla. The Motley Fool recommends General Motors. The Motley Fool has a disclosure policy.