3 Biotechs With Save-the-Date Catalysts on Tap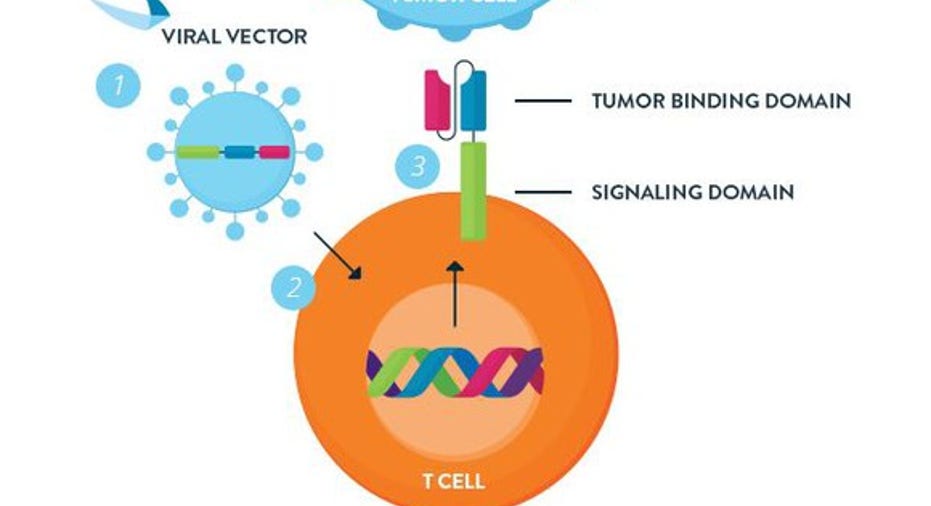 Image source: Getty Images.
If a potential catalyst brings good news in a biotech stock, investors can make a fortune. In fact, if the market likes what it hears, expect investors tostampede into the stock in masses.But what if the newson a key data release or FDA decision disappoints?That'sa big ouch in the short term, but it's also possible that if the biotechhas other promising prospects for growth, share price will likely recover and head upward again.
In other words, pick the right biotech and, if you're patient,the company doesn't always have to be on the right side of the news for you toseea nice profit.With that in mind, here are three biotechs -- Kite Pharma (NASDAQ: KITE), bluebird bio (NASDAQ: BLUE), and ACADIA Pharmaceuticals (NASDAQ: ACAD)-- with decisions on potential catalysts approaching. Better yet, these biotechshave multiple prospects for growth that should help them achieve long-term gains, even if they end up on the wrong side of the news.
Expect rocket action if Kite Pharma stays on track for 2017 launch
Kite Pharma investors should seepivotal trial data releasedon lead investigation candidate KTE-C19 during the American Society of Hematology (ASH) meeting Dec. 3-6. The event is going to be abuzz with analysts,so expect the news totrigger price action in this stock.In addition,KTE-C19's Zuma-1 study shouldform the basis for a rolling submission for accelerated approval that the company said it is planning before the end of the year.
Right now, Kite appears to be signaling itsnear-term catalyst won't disappoint. Recently, the company met with the FDA to discuss plans to file for a broader label for KTE-C19 to include aggressive non-Hodgkin lymphoma. That's something the company likely would not have done had it felt insecure about the coming data release.
Even if the data is subpar,investors shouldn't have to bail on this biotech. CAR-T therapies are a novel type of cancer treatment that (in aggregate) could see peak sales of $10 billion annually. Kite has a dual platform to address hematological and solid tumor cancers, a number of therapies in studies, as well as acash hoard of over $500 million, up against an estimated 2016 net cash burn of $235-$250 million. Meanwhile, CAR-T developer Juno Therapeutics has its own lead CAR-T treatment for lymphoblastic leukemia (a cancer of the blood and bone marrow), as well as a validating partner in Celgene. But Juno has been bedeviled by trial-participant deaths, including several recent cases. Thus, Kite is in the driver's seat for now, and it will likely to be the first to file for FDA approval.
Bluebird's fortunes in CAR-T are thrown in for free
Bluebird Bio will also be making presentations at ASH, but more interesting to me will bean early study of therapy bb2121presented at a conference in Munich on Dec. 1. The data will be from the first human multicenter study of Bluebird's anti-BCMA CAR-T treatment for relapsed multiple myeloma, a marrow cancer.
Bluebird's stock could get a lift, what with the ASH presentations on its other therapies, as well as datapresented in Germany. What I particularly like about Bluebird'sMunich catalyst is that there's likely little downside. Bluebird is valued by the Street mostly for its lead products in another disease field (genetic disorders), so bad news in Munich shouldn't change future analyst expectations or price targets. In fact, at this point, investors can pretty much get this company's fortunes in CAR-T prospects thrown in for free.
Longer term, Bluebird's gene-editing capabilities and T-cell immunotherapy expertise give this company multiple opportunities in severe genetic diseases and cancer. Investors shouldalso note that savvyCelgenehas licensed Bluebird's bb2121, which bodes well for the therapy'sfuture potential.
Another plus for bb2121 is that Bluebird'sother version ofCAR-BCMAtherapyshowed promisingresults inpatients with highly advanced blood cancerslast year.Bluebird has cited that as a type of proof of concept, as well as to justify believing bb2121 couldbe more powerfulsince it exploitsthe company'slentiviral vector platform.
Bluebird's immuno-oncology platformfocuses on a cell-surface protein(BCMA) expressed in malignantand healthy plasma, but absent in otherhealthy tissues.Image source: Bluebird.
Major blockbuster opportunity for ACADIA Pharmaceuticals
Another stock with a save-the-date catalyst rapidly approaching is ACADIA Pharmaceuticals. The biotechhas the first and only medication approved for the treatment of Parkinson's disease psychosis. Approved last April, the drug, Nuplazid, exploded out of the launch gate with salesin the third quarter at $5.3 million, almost doubling analysts' expectations for a measly $2.9 million.
The coming catalyst for ACADIA Pharmaceuticals' investors is top-line results for Nuplazid's phase 2 study for Alzheimer's disease psychosis (ADP). The company said it should release that data by the end of 2016, and if Nuplazid succeeds with ADP, the drug's new opportunity could be off the charts.Peak sales estimates for Nuplazid reach up to $3 billion, based on its prospects in PDP, but while around 130,000 people in the U.S. suffer from Parkinson's disease psychosis (PDP), approximately 5.3 million have Alzheimer's, and 25% to 50% of them have the related psychosis.
The downside is that while Nuplazid works in a unique way, its effectiveness isn't as high as some had hoped, and it carries a black box warning for increased risk of mortality. But as anyone who has a loved one with either Parkinson's or Alzheimer's knows, hallucinations and delusions associated with these diseases are disabling, and they're terrifically disturbing to both patients and caregivers. They are also a primary reason these patients are placed in nursing homes, according to physicians interviewed in a study by Decision Resources Group (DRG).
According to the DRG report, interviewed physicians indicated Nuplazid is badly needed, and they expect it to become a first-line treatment for PDP, and even ADP, assuming it nets approval in that indication. Nuplazid is also being tested in schizophrenia, which affects roughly 1% of the U.S. population, and it's also slated for a phase 3 study in Alzheimer's disease agitation, which should begin soon.
Investors can expect that even if the results are subpar in the upcoming catalyst, the drug could well see a huge and expanding addressable market in other indications. If so, patient investors will have a big winner on their hands.
Nogain, without some risk of pain
Since none of us has a crystal ball, no one knows which way these high-risk stocks are headed next. But because eachhas multiple reasons for recovery and outperformance going forward, a short-term market reaction is nothing to fear and shouldn't prompt you to sell in a panic. Another, often better, choice is to use the market's knee-jerk reaction as an opportunity to takea small positionat a better price point.
But be aware that these stocks are notfor the timid. Be sure to check your guts at the door before you make a decision, do your own homework, and stay tuned.
10 stocks we like better than ACADIA Pharmaceuticals When investing geniuses David and Tom Gardner have a stock tip, it can pay to listen. After all, the newsletter they have run for over a decade, Motley Fool Stock Advisor, has tripled the market.*
David and Tom just revealed what they believe are the 10 best stocks for investors to buy right now... and ACADIA Pharmaceuticals wasn't one of them! That's right -- they think these 10 stocks are even better buys.
Click here to learn about these picks!
*Stock Advisor returns as of November 7, 2016
Cheryl Swanson owns shares of Celgene.The Motley Fool owns shares of and recommends Celgene. The Motley Fool recommends Bluebird Bio and Juno Therapeutics. Try any of our Foolish newsletter services free for 30 days. We Fools may not all hold the same opinions, but we all believe that considering a diverse range of insights makes us better investors. The Motley Fool has a disclosure policy.