3 Biotech Takeover Targets That Could Get Bought Soon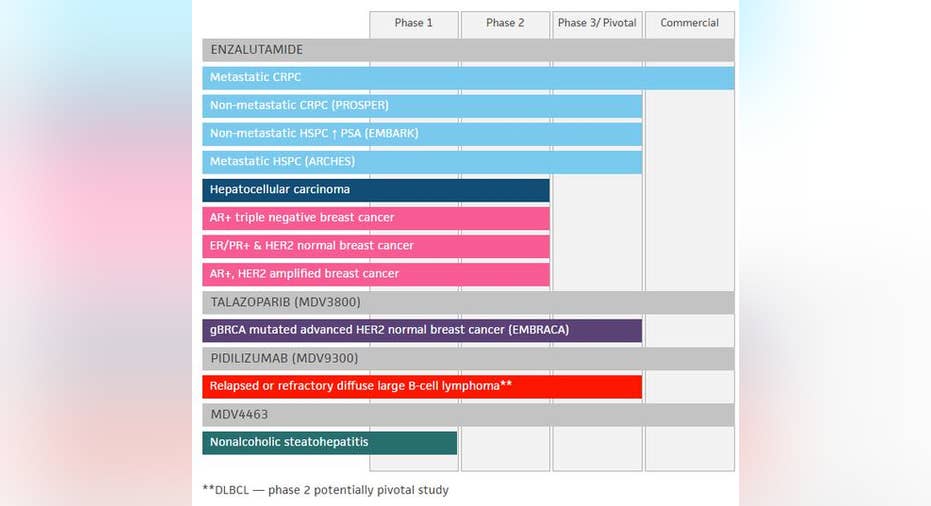 SOURCE: FLICKR USER ELLIOTT BROWN
Biotech stocks have been especially hard hit over the past six months because of concerns over drug prices, and the sell-off within the industry has resulted in bargains that big pharma might find compelling. Among the list of biotech stocks that could eventually get targeted for an acquisition are Kite Pharma , Medivation, Inc. , and Portola Pharmaceuticals . Read on to find out why.
No. 1: Clinical milestones comingKite Pharma is a leader in the development of next-generation cancer drugs that harness the power of the immune system. The company is developing a class of drugs known as chimeric antigen receptor T-cell therapies (CAR-T) that make cancer cells easier to identify and destroy.
The company expects interim data from a pivotal mid stage study of its lead product, KTE-C19, in diffuse large B cell lymphoma before year end and if that data is solid, it thinks it can serve as the basis for a FDA filing for accelerated approval. Additional trial data is expected on KTE-C19 over the coming year in various hematological indications too.
Given the potential for an accelerated timeline to market in a multibillion dollar indication, Kite Pharma could be attractive to a number of larger companies. Amgen, is already collaborating with Kite Pharma and Chief Medical Officer David Chang is the former head of Amgen's oncology program.
Obviously, no one knows if a suitor like Amgen will come knocking, but given that Kite Pharma's C-suite is packed with executives that have formerly worked for companies that have been acquired, including Cougar Biotechnology, Next Wave Pharmaceuticals, and Pharmacyclics, it wouldn't shock me if a deal eventually gets done.
SOURCE: FLICKR USER STOCKMONKEYS.COM
No. 2 Expanding its footprintMedivation is best known as the maker of Xtandi, a widely used prostate cancer drug that's selling at an annualized $2 billion clip, but Medivation has some new drugs in the works that could be top sellers too.
Last October, it acquired a PARP inhibitor from BioMarin that its studying in BRCA mutation positive breast cancer patients. A phase 3 trial is expected to offer up data next year.
Medivation also owns pidilizumab, an intriguing (if not confounding) cancer therapy that's in phase 2 trials for blood cancers, including diffuse large B cell lymphoma. Previously, pidilizumab was thought to be a PD-L1 inhibitor, but its precise mechanism of action is now unknown. If pidilizumab performs in clinical trials, it could offer a novel approach that differentiates itself in this soon-to-be-crowded market.
And, Medivation is evaluating the use of Xtandi in non-prostate cancer indications too. Specifically, late stage trials are evaluating it as a treatment for advanced breast cancer. A phase 2 trial in that indication could offer up data either late this year or early next year.
Recently, Medivation shares toppled over scrutiny of Xtandi's price, but assuming that price scrutiny fades over time, Xtandi and its mid and late stage cancer pipeline could make this a very compelling company for a larger player to target.
SOURCE: MEDIVATION, INC.
No. 3 Regulatory decision approachingPortola Pharmaceuticals shares got crushed after management reported mixed results for its factor Xa anticoagulant drug, betrixaban, in acute medically ill patients.
The phase 3 trial evaluated betrixaban head to head against former $3 billion per year Lovenox in an over 7,500 patient trial that included two cohorts. The first cohort included 62% of evaluatable patients that tested high for the likelihood of blood clots and the second cohort included everyone else. In order to evaluate the second cohort and the overall trial population, betrixaban had to show that it significantly outperformed Lovenox with a p-value of 0.05. Unfortunately, the p-value was 0.054. Management still ran the numbers on the second cohort and total patient population and in both of those groups the p-value was much lower and therefore, more significant.
SOURCE: BRISTOL-MYERS SQUIBB
However, because of the result in the first cohort there's no telling how the FDA will view this data and that puts in jeopardy the company's timeline to file the drug for approval this year and launch it next year.
Since betrixaban caused Portola shares to sell-off sharply, an acquirer like Bristol-Myers Squibb could step in and make a bid. Bristol-Myers Squibb already co-markets a $2 billion factor Xa anticoagulant, Eliquis, and they may like the idea of eliminating a competitor and capturing any potential FDA green light on betrixaban.
Bristol Myers Squibb could also be interested in buying Portola Pharmaceuticals to get its hands on its other drug, andexanet alfa, a factor Xa reversal agent.
Bristol-Myers Squibb was part of a slate of factor Xa drugmakers that helped Portola with andexanet alfa's development and if approved, andexanet alfa would be the only factor Xa antidote on the market. Given the market for anticoagulants is worth $10 billion and an antidote could expand factor Xa market share to include more patients at risk of bleeding events, owning it could make for a nice fit. Adding conviction to that idea is the fact that Bristol-Myers Squibb already co-licensed andexanet alfa in Japan, agreeing earlier this year to a deal that could be worth $90 million plus royalties to Portola. Since Portola estimates that as many as 100,000 people could benefit from andexanet alfa every year, a patient population of this size suggests this drug could be worth hundreds of millions of dollars in sales per year, globally.
The article 3 Biotech Takeover Targets That Could Get Bought Soon originally appeared on Fool.com.
Todd Campbell owns shares of PORTOLA PHARMACEUTICALS INC COM USD0.001. Todd owns E.B. Capital Markets, LLC. E.B. Capital's clients may have positions in the companies mentioned. The Motley Fool recommends BioMarin Pharmaceutical. Try any of our Foolish newsletter services free for 30 days. We Fools may not all hold the same opinions, but we all believe that considering a diverse range of insights makes us better investors. The Motley Fool has a disclosure policy.
Copyright 1995 - 2016 The Motley Fool, LLC. All rights reserved. The Motley Fool has a disclosure policy.