3 Biotech Stocks to Buy on Sale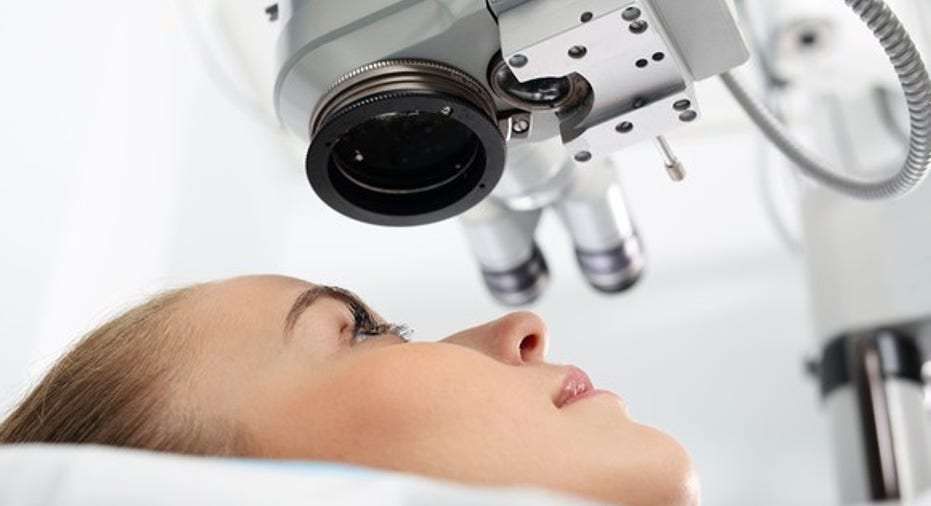 After a years-long bull market, finding cheap stocks to buy is a daunting task. Luckily, you can still find a variety of companies in the biotech industry with under-appreciated potential.
Investors seeking a well established company with steady profits will want to take a closer look at Gilead Sciences, Inc. (NASDAQ: GILD). Those of you with a heightened sense of adventure might want to focus on tiny Celldex Therapeutics, Inc. (NASDAQ: CLDX) and its clinical-stage cancer drugs. If your appetite for risk lies somewhere between these two, then I suggest a closer look at Omeros Corporation (NASDAQ: OMER).
Image source: Getty Images.
Patience a virtue, not a stock price catalyst
Gilead Sciences stock has been taking shots in light of declining sales and an inability to select a large acquisition target. The assault worsened earlier this year, when the company projected further losses for its hepatitis C treatments that will cut deeper than expected. The company predicted that total sales will fall from $29.5 billion last year to between $24.5 billion and $22.5 billion this year.
A pessimistic outlook combined with a lack of headline-grabbing M&A has beaten the stock down to an ultra-low valuation of just 5.6 times trailing free cash flow. At this discounted price, Gilead's stock now offers a juicy 3.1% dividend yield that it just raised by 10%, and further increases of this scale shouldn't be too difficult in the years ahead. Last year's dividend payments of about $2.5 billion required just 15.3% of free cash flow generated during the period. Investors generally don't begin fretting until this ratio approaches 60% or higher. The company also returned $11 billion to shareholders in the form of share repurchases, which helped lower the outstanding share count by about 8.5% last year.
Looking ahead, investors will want to look out for expanding sales from its leading HIV franchise, while its hepatitis C franchise finds a bottom. Unlike hepatitis, HIV still requires lifelong treatment to keep the virus at bay. Gilead appears well-positioned to continue dominating this space with a slate of new antivirals based on tenofovir alafenamide that are a bit more effective with far fewer long-term side effects than previous options.
Gilead's hepatitis C sales aren't about to evaporate, but it's still too early to call a bottom. Although between 130 million and 170 million people are infected with the virus, an estimated 350,000 lose their life to the disease each year.It's not uncommon for hepatitis C carriers to delay pricey medications until their disease begins showing symptoms, and relatively short treatment durations don't lead to much recurring revenue.
When it comes to forward estimates, Gilead has a reputation for underselling and overdelivering. If this year's guidance turns out to be another example, this stock could generate market-thumping gains. If not, though, knowing the cash it generates will probably flow straight into your brokerage account and not into an empire-building overpriced acquisition should make it easy to hold.
Targeting cancer, staying under the radar
Unlike Gilead, small-cap biotech Celldex has nothing to sell, and a high-profile clinical trial failure about a year ago led to a market beatdown that has persisted through the present. Although I wouldn't put Celldex in my list of top cancer drug stocksahead of a successful commercial launch, right now, it has one of the most under-appreciated clinical-stage pipelines in the space.
Image source: Getty Images.
Celldex's recent enterprise value of around $211 million is so low you might be surprised to learn that the company is enrolling patients in a trial that could support a new drug application for the treatment of a well-defined group of breast cancer patients. Glembatumumab vedotin, or glemba, already showed a highly significant survival benefit versus the standard of care, but the sample was a small portion of a medium-sized trial.
Glemba could be a first-in-class drug that targets gpNMB, a protein found on the surface of tumor cells. Among a small group of patients that lack three common treatment targets, those with lots of gpNMB on their tumors survived more than twice as long without signs of disease progression. Repeating these findings in the ongoing pivotal trial would send the stock soaring.
Finding and enrolling enough patients that fit this description into a pivotal study hasn't been easy for the tiny biotech, but we won't need to wait much longer. The study should complete enrollment by the end of September, which means we could have results around the end of the year.
Glemba is also in mid-stage studies as a treatment for three additional types of cancer. Even adjusting for risk, I'd say this candidate alone justifies Celldex's recent price, but there's plenty more. The biotech has a drug that stimulates the immune system to attack cancer, called varlilumab, currently in a mid-stage combination study with Opdivo.
Celldex also boasts three more candidates in early clinical-stage testing. All of the candidates Celldex is developing aim at separate targets. That's a lot of shots on goal, but at its current price, only one needs to slip past the goalie to generate massive returns on an investment at its recent price.
The in-betweener
Sometimes it's good not to fit in.Omeros Corporation already launched its first drug, but it hasn't been able to turn a steady profit yet. Value-diluting share offerings to raise capital pressured the stock last year, and it's still looking cheap after a recent run-up.
Positive news has lifted Omeros' stock about 56% this year to a market cap of about $680 million at recent prices. Despite the gains, I think this stock still has plenty of room to continue climbing. The commercial launch of Omidria took a while to get off the ground, but last year, sales of the pupil-dilating solution jumped 212% to $41.4 million.
Image source: Getty Images.
Omidria assists surgeons in performing some of the most common procedures in the U.S. at the moment: cataract removals and lens replacements. These procedures are performed millions of times each year, and with a list price of about $465 per vial, Omidria could eventually generate over $1 billion in annual sales. I'd say the stock's recent price is justified by Omidria's potential alone, but it might have an even more valuable asset in late-stage clinical trials right now.
Omeros has been funneling Omidria revenue toward development of a fairly large pipeline, and the most interesting candidate could apply pressure to Alexion Pharmaceuticals' lead drug, Soliris. Currently, Soliris is the only available treatment for a rare blood-based disorder called atypical hemolytic uremic syndrome (aHUS). Sales of Soliris, which costs about $440,000 per year, reached $2.8 billion last year.
Omeros' candidate, OMS721, has already shown a significant benefit for a small number of patients taking the drug.Another case study recently described a patient unable to tolerate Soliris that responded extremely well to treatment with the experimental therapy.
A pivotal trial currently underway will decide whether or not OMS721 will eventually compete with Soliris in the commercial setting. With one drug heading for the clouds, and a possible second not far behind, this sale-priced biotech stock could dilate your portfolio.
Find out why Gilead Sciences is one of the 10 best stocks to buy nowMotley Fool co-founders Tom and David Gardner have spent more than a decade beating the market. (In fact, the newsletter they run, Motley Fool Stock Advisor, has tripled the market!*)
Tom and David just revealed their 10 top stock picks for investors to buy right now. Gilead Sciences is on the list -- but there are nine others you may be overlooking.
Click here to get access to the full list!
*Stock Advisor returns as of April 3, 2017.
Cory Renauer owns shares of Gilead Sciences. The Motley Fool owns shares of and recommends Gilead Sciences. The Motley Fool has the following options: short June 2017 $70 calls on Gilead Sciences. The Motley Fool recommends Celldex Therapeutics. The Motley Fool has a disclosure policy.