3 Biggest Opportunities for Walt Disney Co.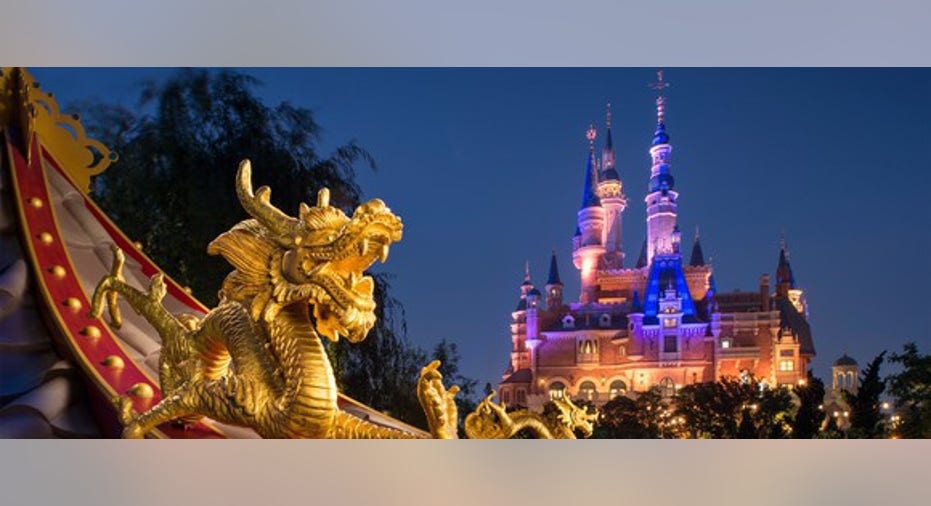 Kids of all ages have loved Walt Disney's (NYSE: DIS) iconic movies, theme parks, and other offerings for generations -- and there's no reason to believe that this won't continue. Investors have been sharing in the fun, too, as Disney's stock has returned 270% vs. the S&P 500's 96.3% over the 10-year period through April 21.
Most investors are likely quite aware that Disney's movie-making business is firing on all cylinders across its brands -- from Star Wars and Disney to Marvel and Pixar -- and that this should continue given its impressive movie slate for the next few years, which includes several more Star Wars films. So, we're going to focus on three other big (and related to varying degrees) opportunities.
Image source: Disney.
1. China
Last June, Disney opened the massive $5.5 billion Shanghai Disney, its first park in mainland China. The park has huge growth potential given how new it is. Moreover, the park can be viewed as a gateway into the Chinese market. This is a delectable market because China's population of about 1.4 billion makes it the most populous country in the world and because the country's middle class is rapidly increasing.
From its opening through the company's first-quarter earnings call in early February, the park has totaled more than 7 million visits, with CEO Bob Iger predicting that attendance could exceed 10 million by the park's one-year anniversary.(Investors will get an update soon, as Disney is scheduled to report its Q2 earnings on May 9.) What's remarkable is that the park is expected to come very close to breaking even during fiscal year 2017, which ends in October. So investors should be able to bank on the park adding to Disney's earnings in fiscal 2018 and beyond.
As to the park acting as a gateway, Iger has said several times that the company believes the success of Shanghai Disney will open the door to additional opportunities in Shanghai and around China.
2. Video streaming
Last August, Disney announced that it was plunking down $1 billion to acquire a 33% stake in BAMTech, a leading video streaming company formed by Major League Baseball. It has the option to buy a controlling stake in the future.
The main benefit of the BAMTech stake is that it provides the entertainment giant with the capability to bring its TV shows, movies, and other media directly to consumers via subscription video streaming services. This is critical in light of the steadily declining subscriber counts for Disney's lucrative ESPN and other cable properties due to the industrywide trends of cable cord-cutting and cord-slimming. As of the last earnings call, the company still plans to launch in 2017 a direct-to-consumer ESPN-branded multisport subscription video streaming service with unique ESPN cable content.
A secondary benefit of the BAMTech stake is that it should allow Disney to eventually profit from the popularity of streaming in general. BAMTech already has some big-name clients across industries and Disney's investment should help it grow and improve its platform.
Image source: Jaunt.
3. Virtual reality
Virtual reality (VR) and augmented reality (AR) are still quite nascent technologies. VR in particular is widely expected to explode in the not-too-distance future. Several big tech companies have entered the space in the last few years, including Alphabet, Sony, and Facebook, with devices that allow consumers to view VR content. Media companies are also getting into the action, as they'll bring VR content to the table (or, more aptly, to viewing devices).
Given Disney's top tech chops, it's not surprising that Disney Research and Disney Imagineering (the group that designs and builds the company's theme parks, resorts, etc.) have for some time been exploring VR/AR, as well as just about every tech with massive growth potential. In September 2015, Disney ramped up its involvement in VR when it led a $66 million Series C investment round in Jaunt, which brought the start-up's total funding to $101 million. Jaunt's hardware, software, and other tools produce cinema-quality content in a 360-degree VR format.
It's only a matter of time before VR will be making notable inroads into Disney's various entertainment offerings starting with its movies and TV shows.
10 stocks we like better than Walt DisneyWhen investing geniuses David and Tom Gardner have a stock tip, it can pay to listen. After all, the newsletter they have run for over a decade, Motley Fool Stock Advisor, has tripled the market.*
David and Tom just revealed what they believe are the 10 best stocks for investors to buy right now... and Walt Disney wasn't one of them! That's right -- they think these 10 stocks are even better buys.
Click here to learn about these picks!
*Stock Advisor returns as of April 3, 2017
Suzanne Frey, an executive at Alphabet, is a member of The Motley Fool's board of directors. Beth McKenna has no position in any stocks mentioned. The Motley Fool owns shares of and recommends Alphabet (A shares), Alphabet (C shares), Facebook, and Walt Disney. The Motley Fool has a disclosure policy.