3 Biggest Opportunities for Nike Inc.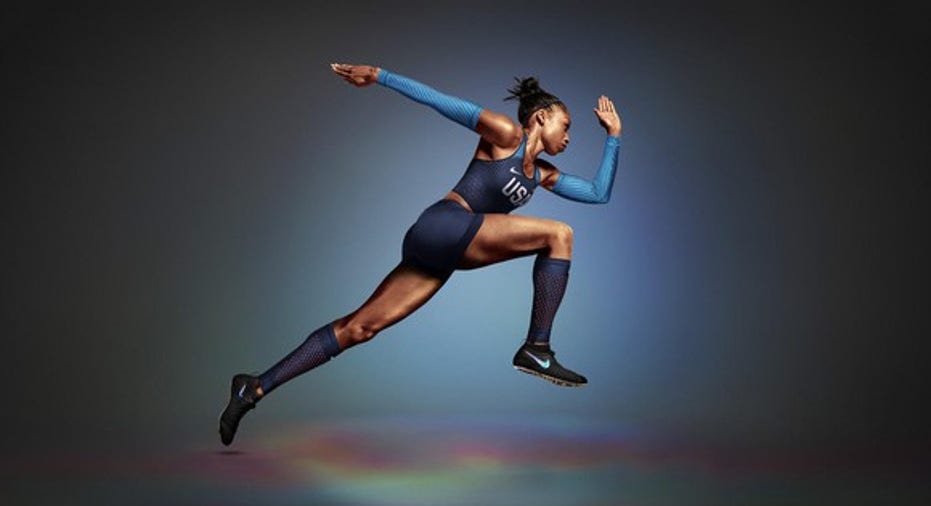 Nike(NYSE: NKE)had a rough 2016. Its stock fell 18% throughout the year, as Wall Street worried about its future growth prospects amid a changing consumer market and stiff competition from Under Armour (NYSE: UAA)(NYSE: UA) and a resurgent Adidas (NASDAQOTH: ADDYY).Things have started to turn around for Nike in 2017, already one of the best-performing large-cap stocks of the year, and it could get much better from here. The company has many growth opportunities ahead of it, but these three look like some of the most interesting now.
Image source: Nike Inc.
Continued international growth
Nike already gets more than half of its sales from outside the country, but it could still grow further internationally. Nike's sales inChina jumped 17% year over yearin the quarter when adjusted for currency fluctuations, and the company believes that's just getting started. "The Greater China marketplace continues to be fueled by higher sports participation, with 38,000 runners taking part in the Shanghai marathon, while nearly four times that many consumers tried to sign up," said Nike Brand President Trevor Edwards in the most recent earnings call.
Western Europe, which is Nike's biggest international segment, has been another outstanding region lately. That might seem odd, given the region's own relatively slow growth, but sales in Western Europe grew 12% year over year, the 13th consecutive quarter of double-digit sales growth there. Of course, Adidas is a powerhouse in Europe, particularly in soccer. Nike is facing that situation head-on, and as Edwards said during the call, "With the start of our new relationship with Chelsea Football Club next season, our brand is Europe is only getting stronger."
Digital investments
Nike famously killed its wearable segment and strategy in 2014, but it hasn't stopped investing in digital growth. Nike's focus now is on increasing its digital sales strategy to drive sales through Nike.com. Online sales have multiple benefits, including the ability to meet more customers who might not be in a Nike store or third-party retailer, and Nike also gets to keep all of that valuable information about the customer. In addition, it has the benefit of higher gross margin by allowing Nike to create customized gear and other higher-priced items, as well as keep the full sale rather than letting a percentage go to a third-party retailer. Nike.com sales nearly doubled year over year in the most recent quarter.
Nike announced that in fiscal 2016, Nike.com went live in 20 additional countries, doubling from a year ago, which should help that international expansion as more of those localized online stores go live in 2017. The company has also made advancements in connecting its digital strategy to its new concept physical locations. The first of that concept -- the massive new Soho New York location -- integrates mobile check-in and shopping features, as well as touchscreens on the walls to allow consumers to order and ship gear home if they prefer.
Nike+ mobile app. Image source: Nike Inc.
Nike also launched a Nike+ smartphone app last summer. It has a social media-like feed, customized content around fitness and Nike-sponsored athletes, a feature for booking appointments at Nike stores and events, and, most importantly, it has amobile shopping section that gives users tailored recommendations and alerts for new items that are dropping. This is just one more way the company is looking to meet its customers where they are and grow its online sales strategy further.
Manufacturing revolution
Nike management has started to hype up what it refers to in the most recent earnings call as "Man Rev," which is short for "manufacturing revolution." From the earnings call and elsewhere in the company's releases, we know that this is a focus on innovative materials, assembly procedures, and advancements with interesting technology such as 3D printing that the company believes will overhaul the ways its products are made in the years to come.
There are a few reasons this could be a huge opportunity for the company and its future earnings. Part of the reason Nike had such a rough 2016 was that its gross margin continued to fall throughout the year because of higher-priced input goods and inventory challenges that led to reduced prices to get product cleared out. Innovation in terms of the materials used, and also the speed with which new products can get from concept to market -- an initiative the company is calling Express Lane -- could help on both fronts.
Many companies are looking at manufacturing and supply chain and how investments in those areas could drive new growth in the years ahead. Under Armour launched a manufacturing innovation center in Baltimore in 2016 called Lighthouse, which features 3D printers, body scanners, and other technology. The company recently launched the first true product of that center, a line of women's wear called UA Arris Project. Nike hasn't given a lot of insight into the specifics of its Man Rev, but investors can probably expect to learn more in the earnings calls to come.
Nike's drop in 2016 was certainly a shock, but it could also have provided a great opportunity. For long-term bulls who believe all these initiatives and other big growth opportunities can move the stock back to where it was in late 2015 and higher, Nike continues to look like a great long-term play.
10 stocks we like better than NikeWhen investing geniuses David and Tom Gardner have a stock tip, it can pay to listen. After all, the newsletter they have run for over a decade, Motley Fool Stock Advisor, has tripled the market.*
David and Tom just revealed what they believe are the 10 best stocks for investors to buy right now... and Nike wasn't one of them! That's right -- they think these 10 stocks are even better buys.
Click here to learn about these picks!
*Stock Advisor returns as of February 6, 2017
Seth McNew owns shares of Nike, Under Armour (A Shares), and Under Armour (C Shares). The Motley Fool owns shares of and recommends Nike, Under Armour (A Shares), and Under Armour (C Shares). The Motley Fool has a disclosure policy.