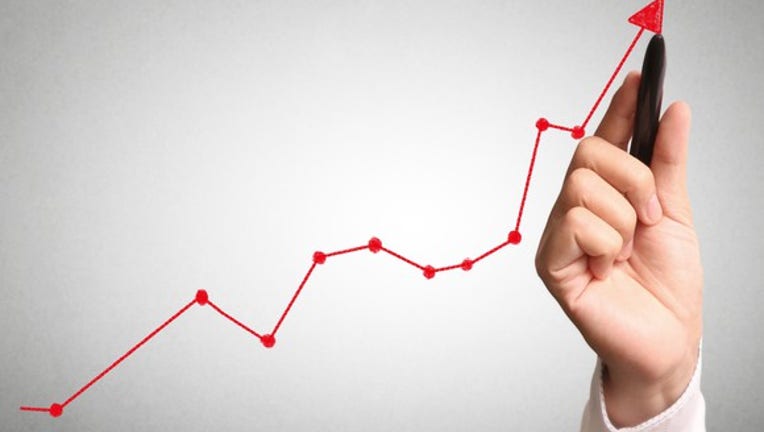 Rapid earnings growth typically translates to higher stock prices. But can big healthcare stocks grow earnings (and presumably share prices) at impressive levels?Wall Street thinks so.
Analysts ranked Vertex Pharmaceuticals (NASDAQ: VRTX), Incyte (NASDAQ: INCY), and Celgene (NASDAQ: CELG) as the top healthcare stocks with market caps above $20 billion that are expected to generate earnings growth of more than 20% annually over the next five years. Here's why the prospects for these stocks appear so bright.
Image source: Getty Images.
Vertex Pharmaceuticals: A breath of fresh air for cystic fibrosis patients
Wall Street analysts project that Vertex will grow its earnings by a whopping 67% average annual rate over the next five years. The biotech's cystic fibrosis franchise is simply that solid.
Vertex currently has two cystic fibrosis drugs on the market, Orkambi and Kalydeco. Orkambi has the wider reach, targeting an estimated25,000 patients who have two copies of the F508del mutation in their cystic fibrosis transmembrane conductance regulator (CFTR)gene. The potential market size for Kalydeco consists of roughly 4,000 patients whohave the G551D mutation or other specified mutations in theirCFTRgene.
The company's primary path to growth for the immediate future is securing reimbursement for Orkambiin more European countries. Over the longer run, though, Vertex hopes to expand the approved indications for both of its current drugs and advance its pipeline.
Vertex recently announced positive results from a late-stage clinical study of a combination of Kalydeco andtezacaftor. The combo treatment showed significant improvement in lung function for cystic fibrosis patients with few respiratory side effects. Vertex expects to file for U.S. and European regulatory approval for the Kalydeco-tezacaftor combo in the third quarter of 2017.
Incyte: All JAK'd up and then some
Analysts think that Incyte will increase its earnings by an average annual rate of more than 39% over the next five years. One linchpin of the biotech's growth prospects is JAK1/JAK2 inhibitor Jakafi. The drug is currently approved for two indications, myelofibrosis and polycythemia vera, and it's being studied for two more indications.
Another JAK1/JAK2 inhibitor soon to be launched is baricitinib in treating rheumatoid arthritis. Incyte licensed the drug to Lilly in 2009. Other clinical studies are also under way evaluatingbaricitinib in treating psoriatic arthritis, atopic dermatitis, and systemic lupuserythematosus.
Perhaps Incyte's biggest opportunity other than Jakafi, though, lies with epacadostat. The experimental ID01 inhibitor is currently in a pivotal late-stage study for treating melanoma. Other indications targeted in additional clinical studies include lung cancer, renal cancer, head and neck cancer, and bladder cancer.
Incyte's pipeline is loaded with additional candidates. The biotech has 13 experimental drugs in various stages of clinical development.
Celgene: Multiple growth engines
Wall Street's estimates call for Celgene to grow its earnings by an annual average rate of 22% over the next five years. That's less than the projected pace for Vertex and Incyte, but still quite impressive for a biotech with a market cap of close to $97 billion.
The main drug that has driven Celgene's growth in the past should continue to do so in the future. Revlimid hasn't lost any momentum. The company hopes to expand the approved indications for the blood cancer drug if late-stage clinical studies go well.
Celgene's current bright star is Otezla. Sales are soaring for the drug, which is approved for treating psoriatic arthritis and psoriasis. Late-stage studies are in progress evaluating Otezla in treating two other indications -- ankylosing spondylitis and Behcet's disease.
Then there's Celgene's pipeline. The biotech expects to launch 10 drugs that should have annual revenue potential topping $1 billion by 2022. One of the most promising is ozanimod, which targets treatment of multiple sclerosis, ulcerative colitis, and Crohn's disease.
Is Wall Street right?
It's possible, however, that Wall Street analysts could be way off on their estimates. I don't think that's the case, though. All three of these biotechs appear to have clear pathways to tremendous earnings growth.
I like Vertex and Incyte, and view both as possible acquisition targets. My favorite of the group, however, is Celgene. Celgene's management team has proven that it can deliver growth in the past.The company also agrees with Wall Street's future growth projections based on what it's seeing with its products and pipeline.
10 stocks we like better than CelgeneWhen investing geniuses David and Tom Gardner have a stock tip, it can pay to listen. After all, the newsletter they have run for over a decade, Motley Fool Stock Advisor, has tripled the market.*
David and Tom just revealed what they believe are the 10 best stocks for investors to buy right now... and Celgene wasn't one of them! That's right -- they think these 10 stocks are even better buys.
Click here to learn about these picks!
*Stock Advisor returns as of February 6, 2017
Keith Speights owns shares of Celgene. The Motley Fool owns shares of and recommends Celgene. The Motley Fool recommends Vertex Pharmaceuticals. The Motley Fool has a disclosure policy.