3 Beaten-up Driverless Cars Stocks: Are They Bargains?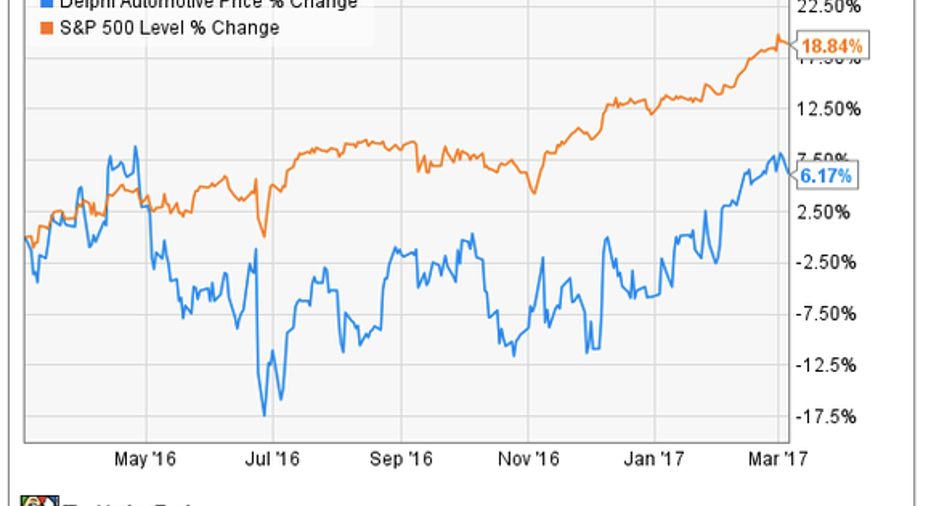 By now you probably know that the driverless car is poised for huge growth in the coming years, hitting an estimated market size of $77 billion by 2035.
Companies spanning the technology and automotive sectors are jumping on board to ensure that they don't fall behind dominant players like NVIDIA (NASDAQ: NVDA) and Tesla.Investors looking for driverless cars stocks that both have huge potential and are bargains should considerBaidu (NASDAQ: BIDU), Ford (NYSE: F), and Delphi Automotive (NYSE: DLPH).
Image source: Getty Images.
Baidu
Over the past few years, Baidu has been working on self-driving vehicle technology and positioning itself to be a leader in the autonomous car space in China. Late last year, the company set up a real-world test of its driverless cars with 200 members of the public. It was one of the first of its kind in China, and was one of the biggest self-driving car moves Baidu made since first testing its autonomous vehicles.
The company plans to launch a self-driving shuttle service as early as next year, with the goal of mass producing driverless cars by 2021.
Image source: YCharts.
Unfortunately for Baidu,the company's stock has remained flat over the past 12 months, with less than 1% gains.. In the company's most recent fourth-quarter 2016 earnings report, revenues fell by 2.6%, mainly due toincreasing regulations by the Chinese government on how it conducts online searches.
But despite the temporary hit to revenue and margins, Baidu's long-term position as a search powerhouse in China and a leader in driverless car technology remains intact.
Baidu has a small fleet of semi-autonomous vehicles and has plans to launch more later this year. The company is partnering with NVIDIA to pair its mapping data with NVIDIA's driverless technologies, which should enhance Baidu's driverless capabilities.Add to that the company's relatively low forward P/E ratio of just 23 (compared to the tech industry average of 26) and Baidu looks like a bargain right now.
Ford
Ford is taking a slow-and-steady approach to the driverless car market. The company talks a lot about wanting to make sure its technology is safe for its customers before it releases it out into the wild.
But that doesn't mean Ford is lagging behind the competition. The company says it'll have a fleet of about 90 autonomous vehicles -- up from 30 -- by the end of this year, and is on track to begin production of a fully autonomous vehicle by 2021. Ford says the car won't have a steering wheel and will be used for a ride-hailing service.
Image Sourge: YCharts.
Ford's stock has fallen by more than 7% over the past year, with the recent stock price drop coming in part from the company's fourth-quarter 2016 earnings report. Ford reported in January that itsnet income fell by $2.7 billion from the year-ago quarter, and revenues were down by $1.6 billion. But the losses came mainly from one-time charges that the company incurred from canceling a factory in Mexico and pension plan costs.
One-time charges aside, Ford is still in a strong position to grow in the driverless cars space, and its $1 billion investment in its new driverless car AI company Argo last month indicates that Ford is more resolute than ever.
The company's stock currently trades at forward P/E of just 7.28, much cheaper than the automotive industry average of 13, which easily puts it in the bargain bin.
Delphi Automotive
As one of the world's largest automotive suppliers Delphi has a front-row seat to the driverless car transformation -- and the company is taking huge steps to bring it about. Delphi makes radar, cameras, and software that help power some of the driverless tech on the roads today, and the company says it will debut fully autonomous vehicle technology by 2019, and have it in vehicles by 2021 or 2022.
The company showed off some of its autonomous car tech at the Consumer Electronics Show back in January, which included optical cameras and image processors from Mobileye.
Image source: YCharts.
While Delphi's stock hasn't exactly lost any ground over the past 12 months -- it's up about 6% in fact -- it's still significantly trailing the S&P 500 (see chart above).
Revenue for the company's fourth-quarter 2016 was up by 11% year over year and jumped by 10% for the full-year 2016. Delphi's forward P/E of 10.61 is far below the auto parts industry average of 20. The company certainly has an advantage in working with nearly every major automotive manufacturer, and could be a solid long-term play in the driverless car space.
Each of the companies above is betting on the driverless car space in a different way, with varying levels of exposure. But each one's current price, forward P/E, and position in the autonomous car market means they're all worth a look from bargain-shopping investors.
10 stocks we like better than FordWhen investing geniuses David and Tom Gardner have a stock tip, it can pay to listen. After all, the newsletter they have run for over a decade, Motley Fool Stock Advisor, has tripled the market.*
David and Tom just revealed what they believe are the 10 best stocks for investors to buy right now... and Ford wasn't one of them! That's right -- they think these 10 stocks are even better buys.
Click here to learn about these picks!
*Stock Advisor returns as of February 6, 2017
Chris Neiger has no position in any stocks mentioned. The Motley Fool owns shares of and recommends Baidu, Ford, Nvidia, and Tesla. The Motley Fool has a disclosure policy.