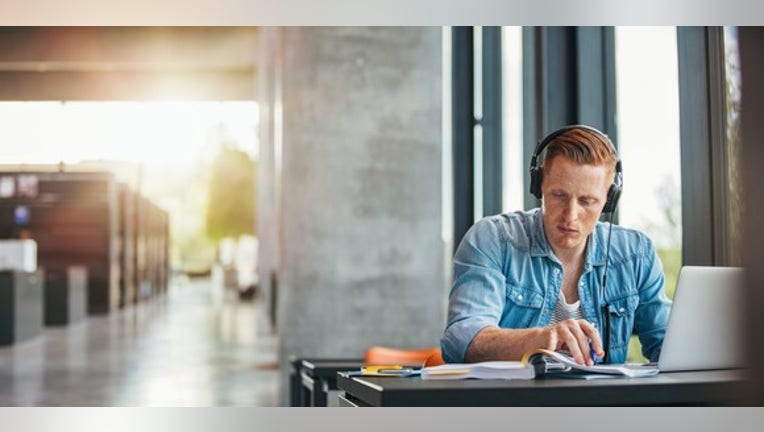 2U Inc.(NASDAQ: TWOU)reported stronger-than-expected fourth-quarter 2016 results Thursday after the market closed. The online education platform company easily outpaced its latest guidance on both the top and bottom lines, with margins continuing to improve in its path to sustained profitability.
Let's grab our pencils, then, and take a closer look what drove 2U's results as it finished the year, as well as what investors can expect from the company going forward.
IMAGE SOURCE: GETTY IMAGES.
2U results: The raw numbers
Data source: 2U Inc.
What happened with 2U this quarter?
On an adjusted (non-GAAP) basis, which adds perspective by excluding stock-based compensation, 2U's generated net income of $2 million, or $0.04 per share, compared to a an adjusted net loss of $0.1 million, or roughly breakeven on a per-share basis in last year's fourth quarter.
Adjusted earnings before interest, taxes, depreciation, and amortization (EBITDA) was $4.5 million, up from $1.9 million in the same year-ago period.
Each of the above figures exceeded 2U's latest guidance, which called for revenue in the range of $56 million to $56.4 million, positive adjusted EBITDA of $3.8 million to $4.2 million, a GAAP net loss of $3.5 million to $3.1 million (or $0.07 per share to $0.06 per share ), and adjusted net income of $1.1 million to $1.5 million (or $0.02 per share to $0.03 per share).
Earlier this week relocated 2U's headquarters to a new facility in Lanham, Maryland, to accommodate rapid growth. 2U aims to create over 900 jobs in the area within the next five years.
Recently announced partnerships include:
A new online Master of Business Administration program through Dayton's School of Business Administration
A new online Master of Information and Cybersecurity (MICS) program through UC Berkeley, School of Information.
A new online master of legal studies (MLS) from Pepperdine University School of Law, and a suite of online degrees in psychology through the Pepperdine University Graduate School of Education and Psychology.
Two new online degrees with Vanderbilt University, including a Master of Education in school counseling, and a Doctorate in Education in leadership and learning in organizations.
What management had to say
According to 2U CEO Chip Paucek:
Paucek added that the company has announced a full slate of 10 program launches in 2017 -- one more than the company initially promised at the start of last year. 2U also maintains a target of at least 12 program launches in 2018.
Looking forward
For the first quarter of 2017, 2U anticipates revenue in the range of $63.6 million to $64 million, positive adjusted EBITDA of $2.9 million to $3.2 million, a GAAP net loss of $4.1 million to $3.7 million (or a loss in the range of $0.09 per share to $0.08 per share), and adjusted net income of $0.1 million to $0.4 million (equating to an adjusted range of roughly breakeven to a penny per share).
Finally, 2U expects full-year 2017 revenue of $267.6 million to $269.8 million, a GAAP net loss of $28 million to $25.6 million (or $0.58 per share to $0.53 per share), and an adjusted net loss of $7.2 million to $5.2 million (or $0.15 per share to $0.11 per share).
By comparison -- and though we don't usually pay close attention to Wall Street's demands -- analysts' consensus estimates predicted a 2017 adjusted net loss of $0.11 per share on revenue near the low end of 2U's expected range.
To be fair -- and as I discussed with Paucek shortly after 2U's IPO in 2014 -- we should keep in mind new program launches are significant investments for the company, as 2U absorbs most of the cost structure of each launch in exchange for the lion's share of tuition revenue over the life of its long-term contracts. As such, with 2U's higher-than-expected revenue guidance for the coming year, it shouldn't be terribly surprising the company projects a slightly wider bottom-line loss than investors were anticipating.
In the end, this was a strong quarter from 2U, which remains a promising long-term bet for investors while maintaining its ultimate goal of achieving sustained, profitable growth.
10 stocks we like better than 2UWhen investing geniuses David and Tom Gardner have a stock tip, it can pay to listen. After all, the newsletter they have run for over a decade, Motley Fool Stock Advisor, has tripled the market.*
David and Tom just revealed what they believe are the 10 best stocks for investors to buy right now... and 2U wasn't one of them! That's right -- they think these 10 stocks are even better buys.
Click here to learn about these picks!
*Stock Advisor returns as of February 6, 2017
Steve Symington has no position in any stocks mentioned. The Motley Fool recommends 2U. The Motley Fool has a disclosure policy.