2019 Can't Come Soon Enough for Disney World and Disneyland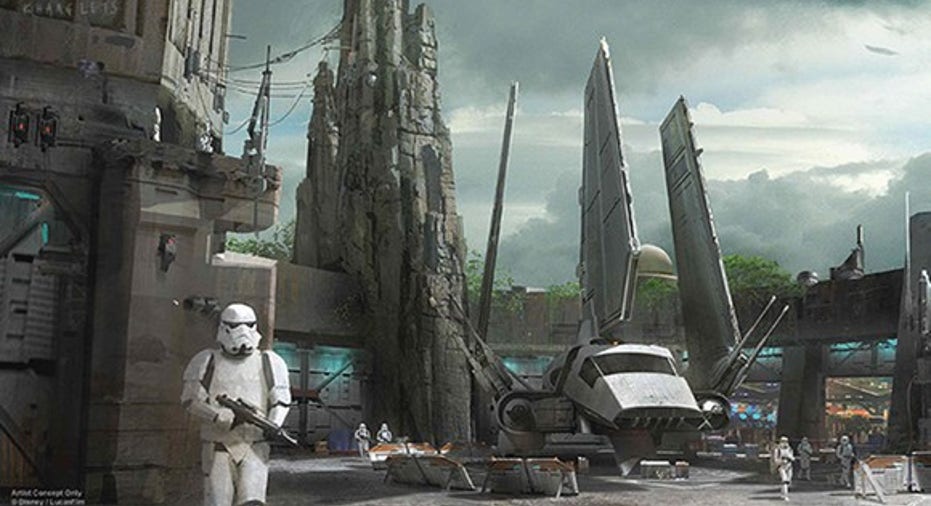 We're now just two years away from the arrival of Star Wars Land on both coasts, and Disney's(NYSE: DIS)domestic theme-park resorts could use a boost. On Tuesday, the media giant announced a 5% year-over-year decline in attendance for its latest quarter, but it also announced that Star Wars Land will begin greeting sci-fi buffs of all ages come 2019.
Incorporating theStar Warsfranchise deeper into its gated attractions was inevitable after Disney acquired Lucasfilm and green-lit the production of several theatrical releases. Disney unveiled plans for Star Wars Land in 2015, but it never offered a timeline for the expansion's debut until Tuesday afternoon's earnings call.
Star Wars Land is going to be transformative, particularly in Florida, where construction is under way at Disney World's least visited park. Disney's Hollywood Studios was already fourth in attendance among the four parks before Disney started shuttering several rides and attractions to pave the way for Star Wars Land and Toy Story Land.
Bob Iger revealed two years ago that Disney's Hollywood Studios will eventually be changing its name. The rumored makeover of what will probably be rebranded as Disney's Hollywood Adventure will probably coincide with the 2019 opening of Star Wars Land. With Disney's theme-park attendance in a rut -- guest counts at Disneyland and Disney World have declined in three of the past four quarters -- Star Wars Land could be "the only hope" for a speedy recovery in two years.
Image source: Disney.
Use the force, Luke
The 14-acre expansion going into Disney's Hollywood Studios in Florida and Disneyland in California will be special. Folks love Star Wars. The record-breaking box-office performance of Star Wars: The Force Awakenslast year confirms that consumer appetite remains strong for the intellectual property.
One of the two rides will involve piloting Han Solo's Millennium Falcon. How can that not be a hit? Folks will be able to grab a specialty cocktail in the iconic cantina, meet droids, and immerse themselves in an interactive universe that they've been relishing on the big screen since the 1970s.
Disney's Hollywood Studios needs Star Wars Land, and it needs it soon. The park has beenguttedover the past few years, and near-term patches that include Frozen singalongs, a Muppets-themed pizzeria, and effects-laden fireworks show aren't enough to justify the park's stiff admission prices. The next two years will drag at the incomplete park. Changing the name will be a necessary step in distancing itself from the shell of a park it's become now that chunks of it are walled off as construction zones.
Disney investors will also need Star Wars Land to be a hit, especially if this year's catalysts don't help turn the stubborn attendance trends around. Somewhere out there, a Princess Leia hologram is telling Obi-Wan that he's her only hope. With nothing major announced at Disney for 2018, it's Star Wars Land or bust for the media giant.
3 companies poised to explode when cable dies Cable is dying. And there are 3 stocks that are poised to explode when this faltering $2.2 trillion industry finally bites the dust. Just like newspaper publishers, telephone utilities, stockbrokers, record companies, bookstores, travel agencies, and big box retailers did when the Internet swept away their business models. And when cable falters, you don't want to miss out on these 3 companies that are positioned to benefit. Click herefor their names. Hint: They're not the ones you'd think!
Rick Munarriz owns shares of Walt Disney. The Motley Fool owns shares of and recommends Walt Disney. The Motley Fool has a disclosure policy.