2017 Box Office Outlook for Investors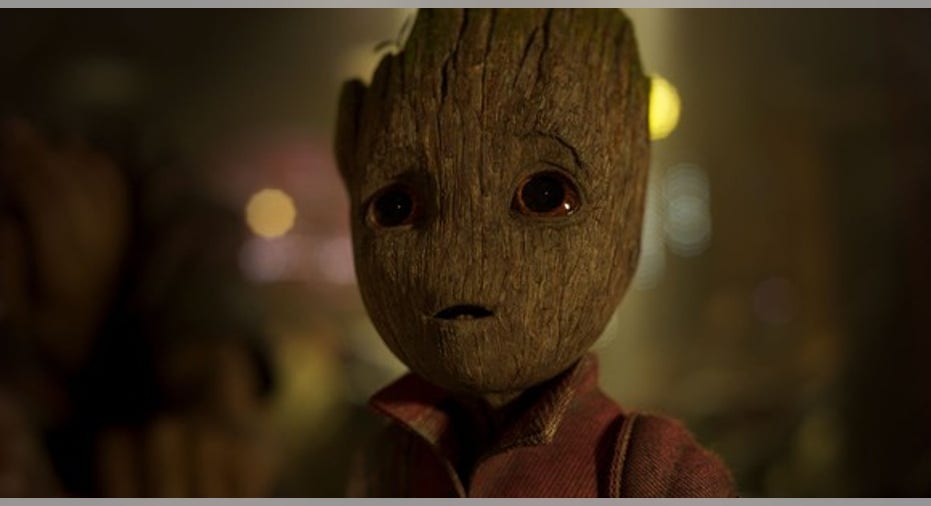 After a breakout 2015, box office ticket sales in 2016 were lackluster. This year could be different, though, with many highly anticipated and big-name films on the schedule. Here is what investors need to know about the movie industry in 2017 and how to invest in it.
Groot, from Disney's upcoming Guardians of the Galaxy: Vol. 2. Image source: Disney.
What is the movie industry up to?
After several years of declines, a slew of blockbuster hits led by Star Wars: The Force Awakens, Jurassic World, and Avengers: Age of Ultron pushed the number of tickets sold 4% higher in 2015. The total value of box office receipts also topped $11 billion for the first time.
2016 was a different story. Ticket volume declined 0.4%, and the number would have looked worse if not for the end-of-year surge provided by Rogue One. Going out to see a movie has become a less appealing option in recent years with cheaper stay-at-home entertainment surging.
In spite of that trend, though, the total value of ticket sales hit new records in 2016 as average ticket prices increased more than the number of tickets fell.
Chart by author. Data source: Box Office Mojo.
Studios and cinemas have been able to justify higher prices by offering fewer but bigger budget productions, especially tried-and-true remakes and sequels of past favorites. High-definition and 3D screens, more comfortable seating, and expanded food and drink menus have also helped lure people into their local cinemaplex.
2017 is set to have a similar theme with big-budget, regurgitated material, recliner-style seating, and more options at the concession stand.
The movies and who is making them
Making a big-budget production costs a lot of money, and only a handful of studios bankroll them. Here is a list of some of this year's big upcoming films and their publicly traded distributors and producers:
| Studio/Distributor | Movies |
| --- | --- |
| Walt Disney | Star Wars: The Last Jedi |
| | Guardians of the Galaxy Vol. 2 |
| | Thor: Ragnarok |
| | Beauty and the Beast |
| | Coco |
| Time Warner | Justice League |
| | Wonder Woman |
| | Blade Runner 2049 |
| | Dunkirk |
| | Kong: Skull Island |
| | King Arthur: Legend of the Sword |
| 21st Century Fox | Logan |
| | Alien: Covenant |
| | War for the Planet of the Apes |
| Sony | Spider Man: Homecoming |
| | Life |
| | The Dark Tower |
| | Jumanji |
| Lionsgate | John Wick: Chapter 2 |
| | Power Rangers |
| Comcast | The Fate of the Furious |
| | The Mummy |
| Viacom | Ghost in the Shell |
| | Transformers:The Last Knight |
Data source: Screenrant. Chart by author.
Many of this year's blockbusters will again run budgets totaling in the hundreds of millions. But dropping nine figures on a movie is no guarantee it will be profitable, nor does it mean smaller-budget films won't be successful at the box office either.
For example, Disney's John Carter and The Lone Ranger from a few years back costnearly $300 million each, but neither brought in more than $300 million in theaters worldwide. By contrast, Sony's distribution of xXx from 2002 cost a much more modest $70 million and grossed nearly $300 million worldwide, prompting another recently released sequel. John Wick is also getting a follow-up after its $20 million production budget led to a nearly $100 million worldwide gross.
Betting on which movies will provide the most bang for the buck can be a fool's errand for investors. Instead, movies that provide residual value outside of box office ticket sales could be a better bet.
Two options to consider
For those looking to profit on the movie industry, Disney (NYSE: DIS) and Hasbro (NASDAQ: HAS) could be big winners in the years ahead. Disney has purchased and developed two strong pipelines of profitable movie franchises with the Marvel superhero and Star Wars universes. Those movies don't rely on the box office alone, with merchandise sales and Disney's theme park business also getting a big boost from the steady stream of releases.
Image source: Hasbro.
Hasbro, in partnership with Viacom, has its own movie franchise in Transformers, with a fifth installment getting released this spring. Hasbro's primary business, though, is selling toys, which could get boosted from the upcoming action flick. The company is also riding Disney's coattails as the primary maker of both the Marvel and Star Wars toys and action figures.
The American box office is wild and unpredictable, but it's still possible to take advantage of a busy year at the movies without the ups-and-downs of ticket sales. Rather than betting on individual producers and distributors, look for companies that can win without relying on moviegoers alone.
10 stocks we like better than Walt DisneyWhen investing geniuses David and Tom Gardner have a stock tip, it can pay to listen. After all, the newsletter they have run for over a decade, Motley Fool Stock Advisor, has tripled the market.*
David and Tom just revealed what they believe are the 10 best stocks for investors to buy right now... and Walt Disney wasn't one of them! That's right -- they think these 10 stocks are even better buys.
Click here to learn about these picks!
*Stock Advisor returns as of February 6, 2017
Nicholas Rossolillo has no position in any stocks mentioned. The Motley Fool owns shares of and recommends Hasbro, Lions Gate Entertainment, Lions Gate Entertainment (B Shares), and Walt Disney. The Motley Fool recommends Time Warner. The Motley Fool has a disclosure policy.