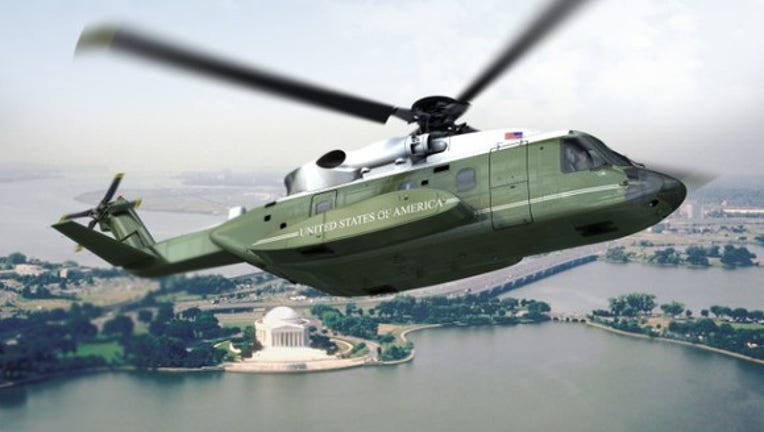 Get ready to lift off with our annual round-up of the top 10 best-selling military helicopters in the world. Image source: Defenseimagery.mil.
Remember our top 10 fighter jet report that ran a couple months back? In it, we looked at the 10 best-selling fighter jets in the world, complete with pretty pictures, fascinating facts, and some deep thoughts about the companies that make the fighter jets themselves.
Our follow-up review of the top 10 most popular military transport aircraft came out last week. Today, we'll complete the trifecta and run down the top 10 combat helicopters, as reported in Flightglobal Insight's latest "World Air Forces" report.
Why jump from fixed-wings to whirlybirds? Simple. While American-made fighter jets and cargo planes are in high demand around the world, it turns out American-made military helicopters are even more popular.
Around the world, four of the top 10 fighter jets are made here in America, and four of the top 10 transports as well. But seven of the world's best-selling military helicopters are made in the USA. Together, they command an astonishing 45% market share around the globe.
Which helos are these, who makes them, and what does this all mean for investors? Read on and find out.
10. Aerospatiale SA341 Gazelle -- List price: $220,000on the resale market
British Royal Air Force Gazelle. Image source: Mike Freer via Wikimedia Commons.
First introduced in 1973, the French Gazelle hasn't been in production since 1992 -- but there are still a lot of the old birds whirling around. According to Flightglobal's data, 501 Gazelles remain in service around the globe today, making up 3% of the global market for military helicopters.
9. Textron Bell AH-1 Cobra -- List price: $29.9 million
Cobras, Vipers, and Venoms -- oh my! What is it with Marines and snakes? Image source: LCpl. Jeff Sisto for the U.S. Marine Corps.
Rising one slot on Flightglobal's top 10 list this year is Textron's (NYSE: TXT) AH-1 Cobra. Including both older models of the attack helicopter and the Marines' latest take -- dubbed the "AH-1Z" Viper -- 566 units are in service around the world today.
That's equivalent to a 3% market share worldwide.
8. Textron Bell OH-58 Kiowa -- List price: $13 million
Danger in a small package -- the Bell Kiowa. Image source: SSgt Shane A. Cuomo for the U.S. Army.
Once one of the U.S. Army's most popular attack helicopters, the ranks of OH-58 Kiowas are thinning, with 18% fewer units (582) flying this year than last. Global market share has dropped to 3%, and that's just the start.
The Army's plans to retire its entire Kiowa fleet are now well under way. Soon, the Kiowa's light attack helicopter mission will be entirely taken over by the Apache (see below). Don't be surprised if next year, the Kiowa falls entirely off the top 10 list.
7. MD Helicopters MD500 -- List price: $3.5 million
MD 500 buyers can do a lot with this little bird. Image source: MD Helicopters.
S&P Global Market Intelligence reports that MD Helicopters is privately held -- not publicly traded. The company's versatile MD500 light helicopter serves multiple transport and combat roles in the U.S. (and other) armed forces. Around the world, 675 are in use -- flat against last year -- allowing the MD500 to retain a 3% market share.
6. Boeing CH-47 Chinook -- List price: $29.8 million
Just how big is Boeing's Chinook? Just this big. Image source: Spc. Russell J. Good for the U.S. Army.
After dropping briefly in the rankings last year, Boeing's (NYSE: BA) famed CH-47 Chinook caught an updraft in 2016. The number of Chinooks in service inched up 2.5% to 898 this year, growing the Chinook's global market share to 5%.
5. Mil Mi-24 Hind -- List price: $12.5 million
During the Soviet occupation, the Afghans had a saying: "We don't fear the Russians,but we fear their helicopters." The Mi-24 Hind was one reason why. Image source: Jakub Halun via Wikimedia Commons.
Russia's most famous helicopter (albeit not its best-selling -- see below) is growing as well. Owing in part to Russia's recent military buildup, 918 Mi-24 Hinds are in service globally today, up 21 from last year. The Hind still commands 5% global market share.
4. Boeing AH-64 Apache -- List price: $35.5 million
Boeing's AH-64 Apache just might be the most feared attack helicopter in the world. Image source: Petty Officer 3rd Class Shawn Hussong for the U.S. Navy.
Retaining its fourth-place position for the third year running is Boeing's ever-popular Apache attack helicopter. In service globally today are 1,116 of them, up 33 from last year, and the helicopter has 6% market share. Adding to Boeing's revenue stream is the continuing need to refurbish, upgrade, and remanufacture this huge existing fleet of aircraft.
3. Textron Bell UH-1 Huey -- List price: $25.4 million
The Bell "Huey" has been a staple of the U.S. military since Vietnam. Image source: U.S. Army.
Placing third in this race is Textron's venerable UH-1 Huey utility helicopter. A certified Vietnam Vet, Textron has produced more than 16,000 copies of the Huey and its successor aircraft, including the latest model UH-1Y Venom (price indicated above).
Four dozen have been retired since Flightglobal's last report came out, leaving just 1,404 in service today. That's still enough to give the Huey 7% market share.
2. Mil Mi-8 Hip -- List price: $3.2 million
Russia's Mil Mi-8 sells well all around the world. For example, this one made it all the way to Mexico. Image source: Photographer's Mate Airman Jeremy L. Grisham for the U.S. Navy.
First introduced in 1961, the Mi-8 Hip remains popular to this day. With 2,555 units in service (up nearly 5% from last year), the Hip commands a 13% global market share. That's still 1,027 helicopters behind the market leader, however.
Without further ado, then, we bring you the No. 1 best-selling military helicopter in the world...
1. Lockheed Martin Sikorsky UH-60 Black Hawk -- List price: $17 million
Lockheed Martin's Sikorsky UH-60 Black Hawk (and its cousins, like this Pave Hawk pictured here) are the best-selling military helicopters in the world. Image source: Staff Sergeant Aaron Allmon II for the U.S. Air Force.
For the umpteenth time running, the most popular military helicopter on the planet remains the Sikorsky Black Hawk (and its derivatives). With 3,582 units in service around the world (down slightly from an even 3,600 last year), the Black Hawk and its cousins dominate the world with 18% global market share -- and that share could even grow over time.
You see, when Lockheed Martin (NYSE: LMT) acquired Sikorsky from United Technologies (NYSE: UTX) last year, it also acquired Sikorsky's backlog of $15.6 billion in signed deals to acquire new Black Hawks. At an average purchase price of $17 million per chopper, that works out to another 900-plus Black Hawks still waiting to be assembled.
If I were a betting man, I think I'd happily place a bet on Lockheed Martin, and Sikorsky, continuing to dominate the global market for military helicopters for years to come.
Why investors care about military helicopters
So, why is all of this important to investors in the defense industry? It works like this: The more helicopters a company sells, the broader the base over which it can spread research and development costs, and the less it can charge per helo.
The lower the cost, the cheaper the helicopter.
And the cheaper the helicopter, the easier it is to sell more helicopters, growing market share further, and expanding profit margins.
Sikorsky, now owned by Lockheed, has sold more than 4,700 Black Hawk-family helicopters over its history, and amazingly, 76% of these helicopters are still flying today. Flying, and therefore continuing to generate revenue for Lockheed Martin from maintenance, parts, and upgrades. As part of Lockheed Martin's Aeronautics business, it's generating 10.9% operating profit margins, outclassing the 10.1% margin at Textron's Bell unit, and the 7.7% margin at Boeing Military Aircraft as well (all data from S&P Global).
It's also worth pointing out that, with Sikorsky now in hand, Lockheed Martin owns the top brand of military helicopter (Black Hawk), the top-selling military transport aircraft (C-130 Hercules), and the best-selling fighter jet (F-16 Falcon) as well. All under one corporate roof.
The moral of this story: If you're looking for a pure-play way to invest in the defense industry, you don't have to look any further than Lockheed Martin stock.
A secret billion-dollar stock opportunity The world's biggest tech company forgot to show you something, but a few Wall Street analysts and the Fool didn't miss a beat: There's a small company that's powering their brand-new gadgets and the coming revolution in technology. And we think its stock price has nearly unlimited room to run for early, in-the-know investors! To be one of them, just click here.
Did I mention that Sikorsky has won the contract to build the next "Marine One?" If Sikorsky is good enough for the U.S. President, shouldn't it be good for you, too? Image source: United Technologies.
Fool contributorRich Smithdoes not own shares of, nor is he short, any company named above. You can find him on CAPS, publicly pontificating under the handleTMFDitty, where he's currently ranked No. 295 out of more than 75,000 rated members.
The Motley Fool has no position in any of the stocks mentioned. Try any of our Foolish newsletter services free for 30 days. We Fools may not all hold the same opinions, but we all believe that considering a diverse range of insights makes us better investors. The Motley Fool has a disclosure policy.