2 Winners From the Concealed Carry Act (Hint: It's Not Just Smith & Wesson or Ruger)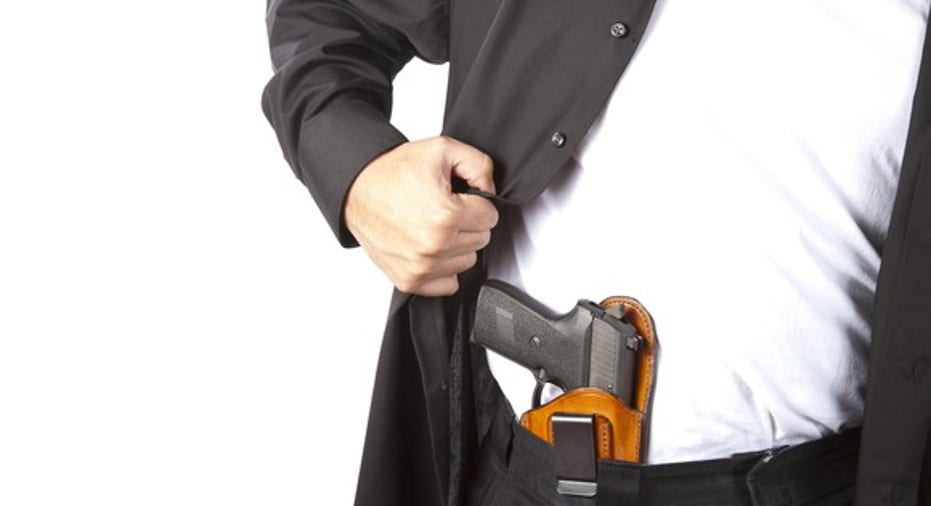 Proponents of concealed carry laws make the case that having more guns on the street, not less, will actually reduce crime. Not knowing whether an intended victim or the people in the vicinity are carrying a concealed weapon will have criminals thinking twice before acting out.
Legislation to make that a reality has been introduced in Congress. Senator John Cornyn's Constitutional Concealed Carry Reciprocity Act would make it legal to carry a concealed weapon in any state so long as the gun owner was entitled to do so in his home state.Yet even with Republican control of the Senate and the House, as well as reportedly gun-friendly president in the White House, the bill's passage is not assured.
Image source: Getty Images.
Should it become law, however, there might be some surprising winners beyond the usual suspects you'd expect to gain from its passage.
A well-armed citizenry
There's certainly logic behind the thinking that guns can help reduce the scourge of violent crime. Between 1993 and 2015, the number of violent crimes per 1,000 persons age 12 or older has plummeted 77% even as the number of guns sold has soared. The FBI processed more than 252 million criminal background checks on potential gun buyers over the last 17 years.
The National Instant Criminal Background Check System (NICS) data isn't a perfect proxy for gun sales since someone might buy more than one gun at a time (or get denied), and because some states regularly check current permit holders to see if they've committed any crimes since being issued one (which are included in the FBI numbers). That being said, it's still considered a good indication of gun demand.
In 1999, the first full year the FBI began tracking the data, it conducted 9.1 million investigations, a figure that had grown to over 27.5 million last year. While 2017 is running almost 20% below those numbers, it's still on track for being an historically high year for gun sales.
Pumping iron
These kinds of record-breaking numbers have been a boon for the gun manufacturers. Sturm, Ruger (NYSE: RGR) was the biggest U.S. gunmaker in 2015 (the latest year for which data is available), manufacturing some 1.66 million firearms, though Smith & Wesson was the largest handgun maker, producing 1.26 million small arms, or 28% of the total.
But both Ruger and S&W's parent American Outdoor Brands (NASDAQ: AOBC) have been in a funk since the surprise electoral upset last November. As the threat of great gun control measures has been mostly taken off the table, it has delayed consumers' desire to purchase a firearm right away. While both gunmakers see the industry remaining on an upward trajectory, it just won't be at the breakneck pace it had been on.
Image source: Getty Images.
Good things in small packages
Which is why the proposed concealed carry law has many supporters in and around the industry. Small firearms have been the preferred weapon of choice for many gun buyers, with concealed carry weapons, or CCWs, topping most ofbest-selling gun lists. Theyhave also helped pushed the gunmakers to new record sales, and Ruger even credited its CCW-designed LC9s pistol as one of the factors in it achieving 21% higher firearms sales in 2016.
While gunmakers would certainly benefit from the buyers being able to carry a firearm no matter where they traveled, there are other beneficiaries, too: the ammunition makers. Without ammo, a gun is just a club or heavy object to throw at someone, so easing restrictions on gun ownership would benefit those that create the weapon's lethality.
Ammo dump
In its fiscal third-quarter earnings conference call with analysts last month, the CEO of Federal Premium ammunition maker Vista Outdoor (NYSE: VSTO) noted his company's ammo business was suffering from weak sales since the election, a trend that was carrying over into its fourth quarter and would likely continue well on into 2017. Similarly, Olin (NYSE: OLN)said it also experienced a significant slowdown in sales after the election and it anticipates the drought to run through the current year.Olin makes the Winchester brand of ammunition.
Image source: Federal Premium.
Getting sales back on track higher is an important consideration for these companies, as ammunition comprises a large share of their revenue. Vista, for example, generates 54% of itstotal revenue from its shooting sports division, most of which is ammunition sales, while ammo accounted for 13% of Olin's $5.5 billion total annual sales.
Although most investors will focus on the gun manufacturers when considering how a particular law will impact the industry, the ammo makers are riding shotgun with them and can be considered something of another play on the industry. If the Constitutional Concealed Carry Reciprocity Act does overcome the odds and become law, we may see both Vista Outdoor and Olin benefit.
10 stocks we like better than Vista Outdoor When investing geniuses David and Tom Gardner have a stock tip, it can pay to listen. After all, the newsletter they have run for over a decade, Motley Fool Stock Advisor, has tripled the market.*
David and Tom just revealed what they believe are the 10 best stocks for investors to buy right now... and Vista Outdoor wasn't one of them! That's right -- they think these 10 stocks are even better buys.
Click here to learn about these picks!
*Stock Advisor returns as of February 6, 2017
Rich Duprey has no position in any stocks mentioned. The Motley Fool has no position in any of the stocks mentioned. The Motley Fool has a disclosure policy.