2 Warren Buffett Stocks to Buy in January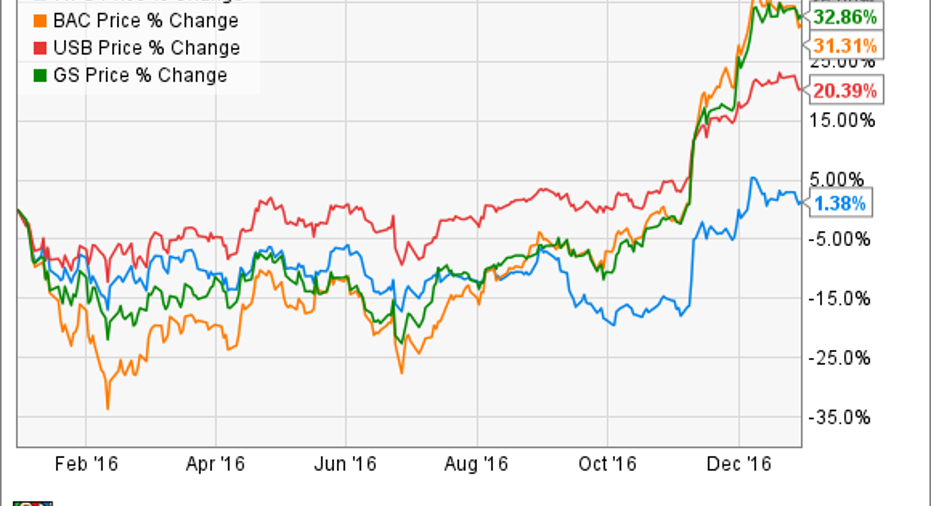 Over the last two months of 2016, the stock portfolio of Warren Buffett-led Berkshire Hathaway (NYSE: BRK-A) (NYSE: BRK-B) did extremely well, as many were big beneficiaries of the "Trump rally." However, there are still some bargains to be found among the Oracle of Omaha's stock holdings. Here are two in particular that look like good buys right now.
Image source: The Motley Fool.
A solid bank that has lagged the sector
Berkshire has several bank stocks in its portfolio, and since banking was one of the biggest beneficiaries of the "Trump rally," Berkshire's stock portfolio appreciated by several billion dollars because of these investments. However, Wells Fargo (NYSE: WFC), its largest bank holding, dramatically underperformed in 2016. Just look at how its performance last year compared with three other major Buffett bank stocks:
If you follow the financial news (or even the regular news for that matter), you know that there is one big reason for this. In early September, it was revealed that Wells Fargo employees had opened millions of fake accounts for customers, in response to aggressive sales goals. Several years ago, I wrote an article on how Wells Fargo was the master of cross-selling its products to existing customers. As it turns out, there was a not-so-good reason for that.
In response to the scandal, Wells Fargo got rid of sales goals for its branch employees, changed its CEO, and has taken prudent steps to put the mess behind it.
While Buffett was obviously disappointed, he announced soon after the news broke that he had no intention of selling any of his Wells Fargo stock. Buffett called the bank's incentive system a "terrible mistake," but referred to Wells Fargo as an "incredible institution."
As my colleague John Maxfield wrote, Wells Fargo has experienced a considerable drop in new accounts. However, I believe the scandal may not have as much of a long-lasting effect on the bank's performance as many critics think it will. Besides, Wells Fargo churns out the best profitability metrics of any of the "big four" banks on a consistent basis -- one of its key advantages -- and there's no reason to believe it won't continue to do so.
WFC Return on Equity (TTM) data by YCharts
Finally, the Trump presidency should greatly help the banking sector, in terms of profit margins, volume of business, and lower regulations. Because of this, Wells Fargo is on my radar as we head into 2017, as it may be worth a look before it catches back up to the rest of its sector.
The energy stock Buffett can't get enough of
Buffett has been aggressively and continuously accumulating a stake in oil refiner Phillips 66 (NYSE: PSX) over the past couple years, and in fact, Berkshire Hathaway is now the company's largest shareholder. Although the stock has risen quite a bit lately in the wake of the election, it could still be a great time to join Buffett in his investment.
Phillips 66 is a diverse company. In addition to its massive refining business, the company also has large marketing and chemicals businesses. This diversification sets up the company to make money no matter what oil prices are doing. The company has spent considerable capital on several assets under construction, and we should see these investments start to translate into an increase in earnings during 2017.
Another reason I love Phillips 66 going into 2017 is its potential to benefit from the incoming Trump administration during the coming years. Trump has pledged to help oil and gas companies by getting rid of excessive regulation and encouraging more drilling. An increase in production volume could be a positive catalyst for several aspects of Phillips 66's business.
Finally, Phillips 66 has done a great job of returning capital to shareholders, a quality Buffett loves to see in his stocks. The company has bought back shares aggressively -- more than 10 million through the first three quarters of 2016, and a total of $7.2 billion in buyback spending since 2012. The stock also pays a strong 2.9% dividend yield, which it has increased in every year since its split from ConocoPhillips (NYSE: COP).
PSX Dividend data by YCharts
The right way to use Buffett's portfolio
To be clear, I'm not saying that you should buy a certain stock just because Warren Buffett, or any billionaire investor, owns it. Rather, the important lessons to learn are why he owns his stocks. You can then apply these valuable lessons not only to Buffett's portfolio like we did here, but to any stock you're considering buying.
10 stocks we like better than Berkshire Hathaway When investing geniuses David and Tom Gardner have a stock tip, it can pay to listen. After all, the newsletter they have run for over a decade, Motley Fool Stock Advisor, has tripled the market.*
David and Tom just revealed what they believe are the 10 best stocks for investors to buy right now... and Berkshire Hathaway wasn't one of them! That's right -- they think these 10 stocks are even better buys.
Click here to learn about these picks!
*Stock Advisor returns as of January 4, 2017
Matthew Frankel owns shares of Berkshire Hathaway (B shares). The Motley Fool owns shares of and recommends Berkshire Hathaway (B shares). The Motley Fool has a disclosure policy.