2 Top Stocks for 2017 and Beyond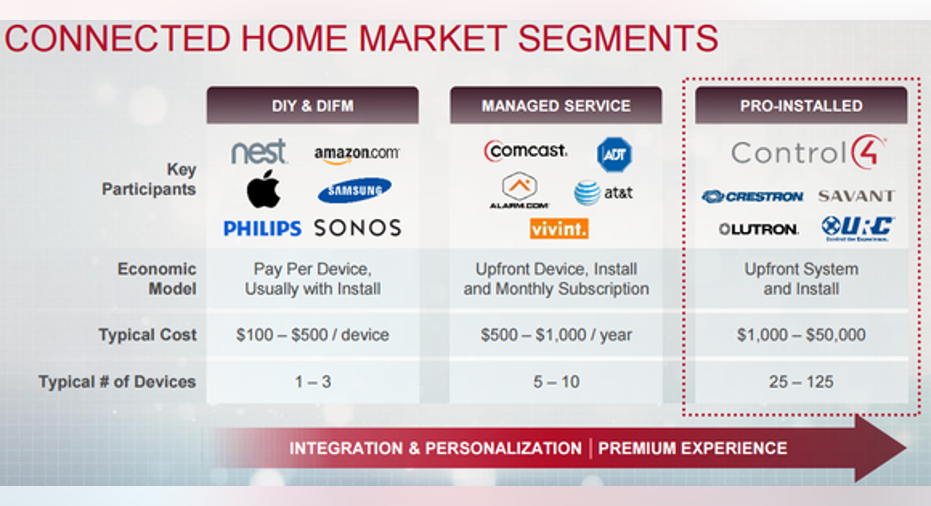 When you're looking for stocks that can carry your portfolio to strong gains over the long term, it pays to get in on developing trends. One of these two top stocks should be able to take advantage of a U.S. automotive industry that is heading toward driverless vehicles, and the second is well positioned to lure in premium consumers as more and more homes become "smart."
Rubber meets the road
Image source: Getty Images.
Many people take their tires for granted -- speaking from personal experience after hitting some holiday travel speed bumps -- but Goodyear Tire & Rubber (NASDAQ: GT) is a stock investors shouldn't overlook. The company develops, manufactures, markets, and distributes tires, but it has some intriguing catalysts in both the near and long terms.
Let's start with the near term. Most of us probably haven't noticed, but the rims and wheels on our vehicles have slowly started to get larger. In fact, the global market for tires bigger than 17 inches doubled between 2010 and 2015 and is expected to double again from 2015 to 2020. If you're wondering why that matters, it's because tires bigger than 17 inches are disproportionately profitable compared to tires smaller than 17 inches. Goodyear's internal estimate for the industry's average gross margin per rim size is $9 for tires smaller than 17 inches and $25 for tires larger than 17 inches.
Another Goodyear Tire growth story is located overseas, in the world's largest automotive market: China. Goodyear was the first global tire manufacturer to enter China back in 1994, and it just broke ground on a $485 million expansion of its factory in Pulandian, Dalian,China, which will expand the plant's capacity by about 5 million tires annually. Goodyear has more than doubled its store count from 1,000 in 2010 to 2,160 in 2015, and management expects the more profitable larger-than-17-inch tires to generate nearly 60% of its sales in China by the end of 2020, up from 22% in 2010.
Those are near-term catalysts that will help drive Goodyear's top and bottom lines, but autonomous vehicles could be an intriguing catalyst in a decade or two. Goodyear's Eagle-360 spherical tire concept for autonomous vehicles was named one of Time magazine's "Best Inventions of the Year 2016." While it's a far-out concept, and a decade or two away, if the future of driverless vehicles changes the way we drive, it could change the tires required -- and if those tires are anything like the Eagle-360 concept, my guess is that they'll demand a juicy margin.
Alexa, find me a top smart-home stock
Image source: Getty Images.
Control4 (NASDAQ: CTRL) is a leading provider of automation and networking systems for homes and businesses, with products to personalize control of music, video, lighting, comfort, security, communications, and more in a premium smart-home system. The stock might not be on your radar, but it has established a sizable footprint in 91 countries and a network of nearly 5,000 retailers and distributors.
There are a number of participants in the connected smart-home world; here's a good look at where they're positioned in the industry:
Image source: Control4's November 2016investor presentation.
As you can see, Control4 aims for a more complete solution, with multiple devices and a higher price point. Control4 markets to a higher-end customer who's college-educated with children and a strong income. Management notes that there are roughly 14.1 million U.S. households with annual income higher than $150,000, and it has penetrated only 1.4% of that market, leaving a long runway for growth.
From a consumer perspective, Control4 is convenient because it's "interoperable with 10,000 third-party products" and averages more than 40 devices per home. Yes, even Amazon's Echo, Dot, and FireTV will let Alexa personalize your smart home through voice control.
That's what Control4 is and does; here's a glimpse into the business side. It has posted steady top-line growth from $109.5 million in 2012 to 2016's guidance between $205 million and $207 million. Its gross margins have expanded from 48.1% in 2012 to 52% during the first nine months of 2016, with a target of hitting 54% as management reduces costs and realizes returns on investments made last year in research and development as well as sales and marketing.
Control4 ended the third quarter with a strong balance sheet, $50 million of cash, net of debt, and a record non-GAAP net income that topped guidance and was a strong 80% increase year over year. While you'll find Control4 in roughly 250,000 homes across the U.S., the company's stock seems well positioned to move higher.
10 stocks we like better than Control4 When investing geniuses David and Tom Gardner have a stock tip, it can pay to listen. After all, the newsletter they have run for over a decade, Motley Fool Stock Advisor, has tripled the market.*
David and Tom just revealed what they believe are the 10 best stocks for investors to buy right now...and Control4 wasn't one of them! That's right -- they think these 10 stocks are even better buys.
Click here to learn about these picks!
*Stock Advisor returns as of Nov. 7, 2016.
Daniel Miller has no position in any stocks mentioned. The Motley Fool has no position in any of the stocks mentioned. Try any of our Foolish newsletter services free for 30 days. We Fools may not all hold the same opinions, but we all believe that considering a diverse range of insights makes us better investors. The Motley Fool has a disclosure policy.