2 Top Growth Opportunities for Intel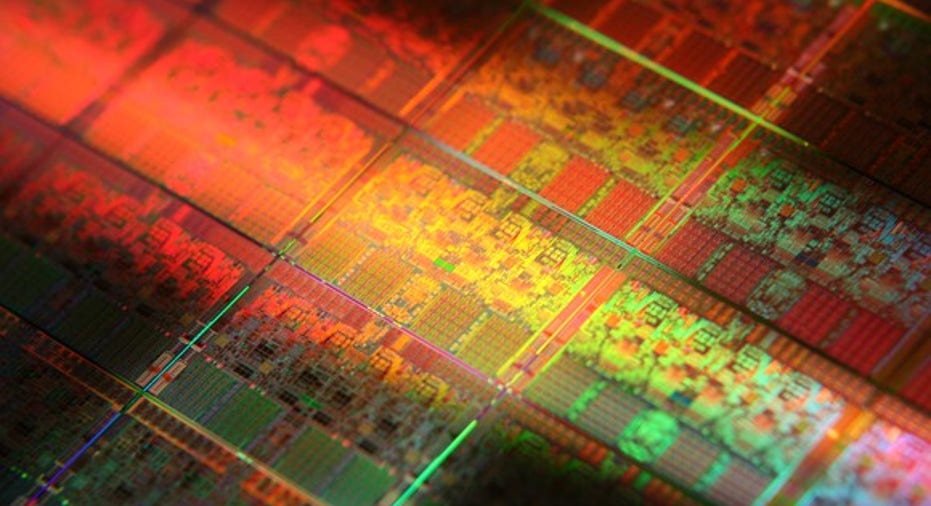 Microprocessor giant Intel (NASDAQ: INTC) has had to cope with the unfortunate reality that the market for personal computers has been on the decline for years. Since much of Intel's revenue base, north of 50%, relies on that market, this trend has served as a large headwind to the company's ability to grow its revenues.
I'd like to highlight two large opportunities the chipmaker is going after that could help it in its quest to be able to deliver consistent, profitable revenue growth even if the PC market stays weak.
Image source: Intel.
Non-volatile memory
Much of Intel's revenue comes from the sale of processors, but it's a major player in the market for NAND flash-based storage drives. In 2015, Intel's non-volatile memory solutions group generated nearly $2.6 billion in revenue and threw off $239 million in operating profit.
During the first nine months of 2016, the financial performance of this business deteriorated significantly, with revenue contracting to $1.76 billion from $1.943 billion during the first nine months of 2015. The $215 million operating profit this group generated over that time last year turned into an ugly $453 million loss.
Those poor financial results, Intel Executive Vice President Stacy Smith explained at a recent investor conference, are due to a relatively weak NAND flash market, heightened research-and-development investments, and significant factory start-up costs associated with bringing its new non-volatile memory manufacturing plant in Dalian, China, online.
Smith did explain to investors that the losses in its memory business are "a temporary phenomenon" and that the company aims to "make very good money"from non-volatile memory products, such as NAND flash, as well as its upcoming 3D XPoint memory technology, over time.
I'm confident that the market for NAND flash will grow over the long term, as hard disk drives are being replaced by NAND-based solid state drives in PCs, and the opportunity for Intel's high-value 3D XPoint technology could prove significant, particularly in data-center applications, as well as in high-end personal computers.
At this point, it's hard to guess how large this business will ultimately be for Intel, but it's not hard to imagine that it could generate anywhere from $4 billion to $6 billion in annual revenue in the not-too-distant future. Even if we assume 12% operating margins in this business longer term, like where they were in 2014, $4 billion to $6 billion in revenue could throw off anywhere from $480 million to $720 million in operating income.
Operating margin expansion from the levels seen in 2014 could further bolster the profitability of this segment. Investors should keep a close eye on the performance of this segment over the next couple of years.
Internet of Things
Intel recently started breaking out financial results for its Internet of Things, or IoT, business. This, like the non-volatile memory business, generates a relatively small amount of revenue compared with Intel's core PC and data-center businesses. However, it's fast-growing, profitable, and exposed to several notable secular growth trends.
During the first nine months of 2016, this segment grew by more than 14% over that same period in 2015. Operating profit was up by 5.5% in that same period. Intel says it increased its investments in research and development related to its IoT group, hence the revenue growth that outpaced operating profit growth.
This business is exciting because the markets it serves today seem to be doing quite well for the company, and the opportunities ahead of it look even brighter. For example, Intel recently formed an automated-driving group, an organization within its IoT group that Intel says "will be solely dedicated to innovating the future of driving and designing the next generation of advanced driver-assist systems and autonomous driving solutions."
It will probably be some time before this business starts generating significant revenue and profits, but the opportunity seems to be there.
"Even if you take a very cautious view of the market out four, five years," Smith explained, "if it's 1 million to 10 million units at $1,000 ...per car, it's an enormous market for us and we're treating it as such."
If Smith's estimate that between 1 and 10 million cars will each be imbued with approximately $1,000 worth of computing capability, this would translate into a revenue opportunity of between $1 billion and $10 billion. If Intel can get a significant piece of that pie, it'd be a big deal for its IoT business, which generated about $2.3 billion of revenue in 2015.
10 stocks we like better than Intel When investing geniuses David and Tom Gardner have a stock tip, it can pay to listen. After all, the newsletter they have run for over a decade, Motley Fool Stock Advisor, has tripled the market.*
David and Tom just revealed what they believe are the 10 best stocks for investors to buy right now... and Intel wasn't one of them! That's right -- they think these 10 stocks are even better buys.
Click here to learn about these picks!
*Stock Advisor returns as of Nov. 7, 2016
Ashraf Eassa owns shares of Intel. The Motley Fool recommends Intel. Try any of our Foolish newsletter services free for 30 days. We Fools may not all hold the same opinions, but we all believe that considering a diverse range of insights makes us better investors. The Motley Fool has a disclosure policy.