2 Tech Stocks That Could Make You Rich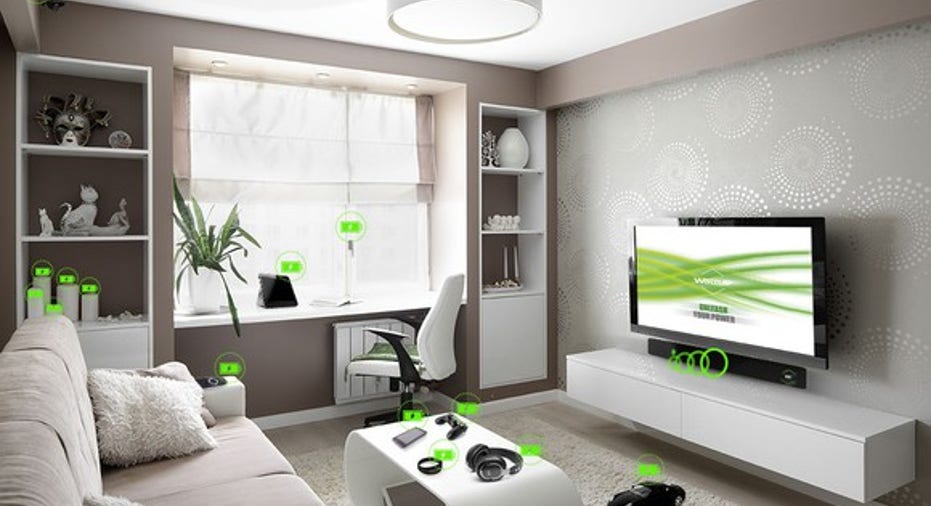 Many tech investors dream about buying the next "multibagger" stock which grows from a small cap to a mega cap stock. But investors rarely notice these growing companies when they're still small or mid cap plays, and sometimes only buy them after they've become household names.
So today, we'll take a closer look at two lesser-known tech stocks with high growth potential -- Energous (NASDAQ: WATT) and Twilio (NYSE: TWLO).
Energous
If you've ever wished that wireless charging technology could make all the cables behind your TV or computer disappear, then you should pay close attention to Energous. Energous' WattUp technology powers stationary charging pads which can charge devices from up to 15 feet away. The FCC approved the miniature version of the tech for Internet of Things devices lastMay.
Image source: Energous.
Energous hasn't launched any commercial products yet, but it will start integrating its WattUp transmitter designs into its partners' consumer products this year. It believes that those orders can lift its free cash flow to break even levels by the third quarter. For now, Energous' only source of revenue is "engineering revenue" from potential customers and partners. That total came in atjust $1 million last quarter.
On the bright side, Energous has secured deals with some major players so far. Last year, Dialog Semiconductor signed a deal with Energous, which includes $10 million investment and co-marketing deals. Thetwo companies launched a small wireless charging RF circuit in early February, which some industry watchers believe might be used in the next iPhone. Numerous partners also showcased WattUp-enabled prototypes atCES this year.
Until Energous actually generates revenue, it's impossible to tell if it can justify its enterprise value of nearly $300 million. But if its partners deliver working products this year -- and it reveals some even bigger partnerships -- the stock could skyrocket.
Twilio
Anyone who has used Facebook's WhatsApp, Messenger, Uber, and Airbnb has likely already used Twilio's cloud-based technology -- which integrates voice call, SMS, video, and other features directly into apps for developers. It's the platform that lets you look up WhatsApp users by their phone numbers, send SMS messages to Uber drivers, or contact your Airbnb host from within the app.
In the past, developers developed those services from scratch, which was a costly and buggy process. Twilio's platform allows developers to add those pre-packaged services from its cloud, which were cheaper, easier to integrate, and more scalable. Skyrocketing demand for Twilio's services boosted its revenue by 60% annually last quarter, and it expects its full-year revenue to rise 31%-34% -- beating expectations for 27% growth.
The problem with Twilio is that it still isn't profitable, and it expects to remain in the red for the foreseeable future. That pressure is attributed to the low margins of its cloud services, the cost of securing new customers, and the costs of developing or acquiring new services (like voice analytics, voice recording, and programmable video tools) to widen its competitive moat.
The stock's price-to-sales ratio of 11 also remains lofty relative to the industry average of 5 for software companies, and indicates that the stock could stumble if it misses its revenue growth targets. However, investors who believe that more app developers will integrate Twilio's features in the future could be richly rewarded as its customer base -- which already grew 44% annually last quarter -- continues expanding.
But should you buy Energous and Twilio?
Investors certainly shouldn't buy Energous or Twilio as core holdings for their portfolios, since they're pretty risky stocks. But both stocks are interesting speculative plays which could rise much more over the next few years.
Energous' tech could be a game-changer if it's used in future iPhones and its pads start replacing unsightly wires and power strips. Twilio's first-mover dominance of its field also means that its business could keep growing and evolving as apps become increasingly dependent on third-party cloud services.
10 stocks we like better than EnergousWhen investing geniuses David and Tom Gardner have a stock tip, it can pay to listen. After all, the newsletter they have run for over a decade, Motley Fool Stock Advisor, has tripled the market.*
David and Tom just revealed what they believe are the 10 best stocks for investors to buy right now... and Energous wasn't one of them! That's right -- they think these 10 stocks are even better buys.
Click here to learn about these picks!
*Stock Advisor returns as of February 6, 2017
Leo Sun owns shares of Twilio. The Motley Fool owns shares of and recommends Facebook. The Motley Fool recommends Twilio. The Motley Fool has a disclosure policy.