2 Stocks to Buy With Dividends Yielding More Than 3%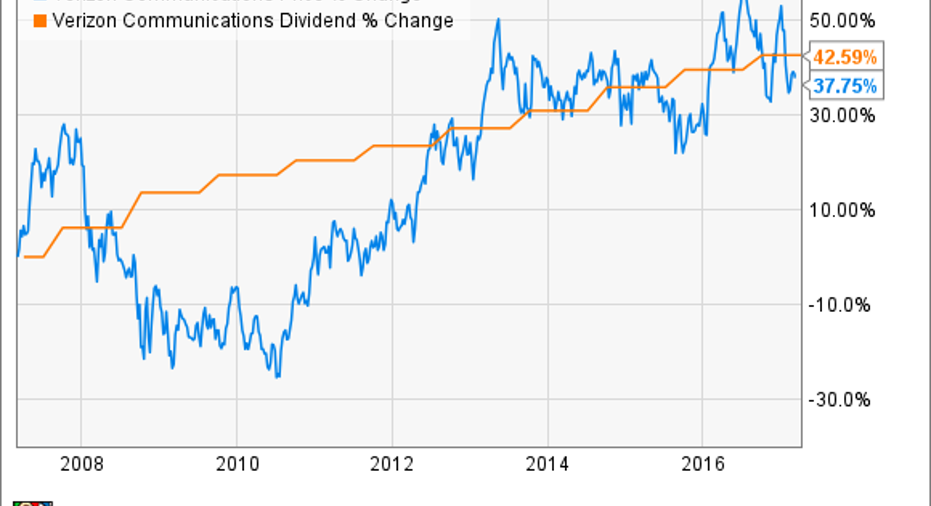 With interest rates still at historically low levels in most developed economies, the hunt for yield can be a challenging endeavor for investors. Fortunately, there are some high-quality businesses that currently offer dividend yields of more than 3% -- a sizable bounty in a world where interest rates paid by bank deposit accounts and short-term government bonds are often measured in basis points. In this regard, here are two excellent high-yield stocks worthy of your consideration.
Image source: Anheuser-Busch InBev.
The beer king
In the world of beer,Anheuser-Busch InBev(NYSE: BUD) is as dominant as they come. After its recent $100 billion acquisition of its former No. 1 competitor, SABMiller, AB InBev now commands nearly 30% of the global beer market. The combined company has a portfolio of more than 500 beers, including seven of the top 10 global beer brands and 18 brands that generate more than $1 billion in retail sales.
AB InBev is now the world's first truly global brewer with operations in virtually every major beer market. And while growth in beer consumption has recently been sluggish in developed markets such as the U.S., the merger with SABMiller gives AB InBev a stronger position in high-growth developing regions, particularly in Africa.
AB In Bev has also been snatching up craft beer brands to expand its presence in this fast-growing segment of the massive U.S. market. Although this is still a small portion of its business, it makes the craft beer craze less of a threat than the bears would have you believe. In fact, higher-priced craft beer has made it easier for AB InBev to raise prices for its popular macrobrews, which has helped the company's revenue growth outstrip volume growth in recent years.
But where the beer king really excels is in wringing profits out of each beer it sells. 3G Capital -- the Brazilian group that runs AB InBev -- has a strong track record of helping acquired businesses slash costs and boost profits, and investors should expect more of the same in the coming years. In fact, in its fourth-quarter earnings release, management increased its guidance for synergies and cost savings related to the SABMiller merger to $2.8 billion, up from previous estimates of $2.45 billion. The company has already delivered on more than $800 million of that goal, and it expects to realize the remaining $2 billion over the next three to four years.
During that time, management will be (wisely) prioritizing debt repayment, so AB InBev's dividend increases may be modest for the next few years. But its current yield is already sizable, at 3.6%, and the dividend should be well secured by the more than $20 billion in EBITDA (earnings before interest, taxes, depreciation, and amortization) the company expects to achieve once SABMiller is fully integrated.
Even better, with its shares down about 20% from their 52-week highs due largely to some macroeconomic related -- and likely short-term -- struggles in Brazil, AB InBev's stock is currently trading at about 24 times analysts' earnings estimates for 2017 and 21 times 2018's estimates. That's quite a bargain for such a dominant company that's expected to grow earnings by more than 24% over the next half decade. As such, investors may wish to consider taking a sip of AB In-Bev stock today.
The telecom titan
Like AB InBev, Verizon Communications (NYSE: VZ) offers investors the potential for solid income generation and capital appreciation. The telecom giant's subscription-based, utility-like business generates strong and stable cash flow that it's then able to pass on to shareholders in the form of a steadily rising -- and currently 4.7% -- cash dividend stream.
Verizon's wireless network consistently ranks as the best in the industry, even as rivals such as T-Mobile US (NASDAQ: TMUS) and Sprint (NYSE: S) claim that they're chipping away at Verizon's lead. That ha helped Verizon continue to add postpaid wireless subscribers -- who are generally the most profitable and sought-after customers -- despite heavy promotions from T-Mobile, Sprint, and other competitors.
Moreover, after largely ignoring the competition's heavy promotions and competing almost solely on the reputation of its best-in-class wireless network, Verizon has recently moved to meet its challengers head on. The company announced an unlimited data plan that's likely to prove popular with consumers and that could win some customers away from its rivals. At the very least, it should help to preserve Verizon's high customer retention.
Verizon is also making moves to diversify its revenue streams. One exciting area of focus is the Internet of Things space, where Verizon is acquiring assets to strengthen its technology and service offerings. The company's IoT ambitions appear promising, with revenue growth from Verizon's IoT services rising 21% year over year on a comparable basis -- and 60% when including acquisitions -- to $243 million in the fourth quarter. Although the business is currently small (by Verizon's standards), the massive potential of the Internet of Things could help this segment grow to become a significant portion of Verizon's revenue and profits in the years ahead.
Verizon is also rumored to be considering beefing up its pay-TV assets. Cable giant Charter Communications (NASDAQ: CHTR) is one company that's rumored to be a potential acquisition target, but I'd rather see Verizon snatch up Dish Network (NASDAQ: DISH). With a market cap of less than $30 billion (compared to nearly $87 billion for Charter), Dish would be much less expensive and likely easier to integrate. Dish's popular Sling TV product is a gem that could help Verizon advance its beachhead in the rapidly growing Internet TV market and expand its popular "skinny bundle" offerings. Moreover, obtaining Dish Network's valuable spectrum as part of the deal would be an added sweetener for Verizon.
Regardless of whether any of these rumored acquisitions come to fruition, Verizon's core wireless business -- and more than $40 billion in annual EBITDA -- should allow the telecom titan to continue to do what it has done consistently over the past decade: reward its shareholders with steadily growing dividend income. And with its stock trading at only about 12 times forward earnings -- a significant discount to the S&P 500's forward P/E of 18 -- investors can buy this dividend dynamo at a fantastic price today.
10 stocks we like better than Verizon CommunicationsWhen investing geniuses David and Tom Gardner have a stock tip, it can pay to listen. After all, the newsletter they have run for over a decade, Motley Fool Stock Advisor, has tripled the market.*
David and Tom just revealed what they believe are the 10 best stocks for investors to buy right now...and Verizon Communications wasn't one of them! That's right -- they think these 10 stocks are even better buys.
Click here to learn about these picks!
*Stock Advisor returns as of February 6, 2017.
Joe Tenebruso has no position in any stocks mentioned. The Motley Fool owns shares of and recommends Anheuser-Busch InBev NV and Verizon Communications. The Motley Fool recommends T-Mobile US. The Motley Fool has a disclosure policy.