2 Stocks That Pay You More Than 4%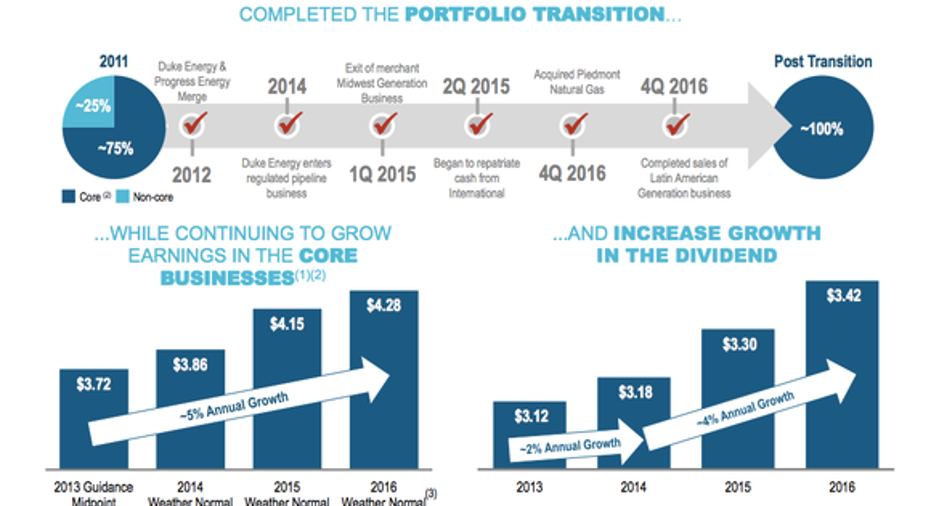 Utility industry giants Duke Energy (NYSE: DUK) and Southern Co (NYSE: SO) have dividend yields above 4% and have each raised their dividend annually for more than 10 years. Investors looking for stocks that pay them should do a deep dive into this pair of high-yielding utilities, with a particular focus on the changes they've made over the past couple of years.
The construction haze
Southern Company operates in the Southeast U.S., serving roughly 9 million customers. If you've paid attention to the headlines over the past couple of years, though, much of the big news has been about two of the company's construction projects -- and it hasn't been very good. Southern is building a clean coal plant and a new nuclear facility, and both giant projects have faced cost overruns and delays. For example, Kemper, the clean coal effort, was slated to cost $2.8 billion but is now up to $7 billion. Investors have been paying the price with one-time charges.
Image source: Southern Co.
Despite those troubles, Southern has been actively adjusting its portfolio of assets for the future. For example, in 2010, coal generated nearly 60% of Southern's power. That number was down to 34% just five years later. Cleaner-burning natural gas, meanwhile, made up most of the slack, increasing from 25% to 46%. The company also bought a natural gas utility last year, giving it exposure to midstream assets and adding millions of regulated gas customers to its portfolio. And it has been investing heavily in clean power within its independent power subsidiary, with plans for more.
So, there are negatives impacting the company's big construction plans, but Southern has been making important, and successful, changes elsewhere. And it really hasn't skipped a dividend beat. The company has increased or maintained its dividend since 1948, with an increase annually for the last 15 years. While the big projects, and the AGL gas acquisition, have left Southern with a lot of debt (long-term debt makes up roughly 60% of the capital structure, not unreasonable for a utility), it's got a solid rate base, and it covers its interest costs by a solid 3.5 times (or so).
Southern Co's earnings expectations and historical dividends. Image source: Southern Co.
It's also expecting earnings per share to grow at roughly 5% through around 2021. That should support continued slow and steady dividend hikes. Add in the roughly 4.4% dividend yield, and investors will be paid well for sticking with Southern through the tough times.
Another gas move
Duke Energy operates in the Southeast and Midwest, with around 7.4 million electric customers and another 500,000 natural gas customers. The company has paid a dividend for 90 consecutive years and increased it annually for the last 12 years. Like Southern, Duke has also had some problems with big construction projects in recent years, notably its Edwardsport coal gasification plant.
But that's not the only thing going on here. Duke completed its acquisition of Piedmont Natural Gas in 2016, broadening its portfolio, like Southern. But that's just one of many changes. The company also merged with Progress Energy in 2012 and sold its Midwest merchant business and foreign operations. Basically, Duke has had a complete makeover, with regulated operations and long-term contracted business taking center stage.
Duke's changing business. Image source: Duke Energy.
Today, the company is expecting earnings growth of around 5% built off its regulated electric utility assets, natural gas business, and renewable power investments within its merchant power business. Like Southern's, it's a balanced approach. And Duke looks financially strong enough to pull it off, with long-term debt at roughly 50% of its capital structure, slightly better than Southern Co, and interest coverage of nearly three times. And you'll get paid a 4.2% yield to hang around.
Good companies, big yields
I wouldn't characterize Duke or Southern Co as the best utilities in the country. However, they are reasonably well run, despite their construction woes, and they are changing as the utility business evolves. Most important, the changes they're enacting should make their businesses more conservatively focused on regulated assets. And that should, in turn, make their dividends even more secure. If you can stand some bad press, Duke and Southern Co are two utilities that pay you well to own them, with a solid opportunity for slow and steady earnings and dividend growth in the future.
10 stocks we like better than Southern CompanyWhen investing geniuses David and Tom Gardner have a stock tip, it can pay to listen. After all, the newsletter they have run for over a decade, Motley Fool Stock Advisor, has tripled the market.*
David and Tom just revealed what they believe are the 10 best stocks for investors to buy right now...and Southern Company wasn't one of them! That's right -- they think these 10 stocks are even better buys.
Click here to learn about these picks!
*Stock Advisor returns as of February 6, 2017.
Reuben Brewer has no position in any stocks mentioned. The Motley Fool has no position in any of the stocks mentioned. The Motley Fool has a disclosure policy.