2 Stocks That Could Soar Under a Donald Trump Presidency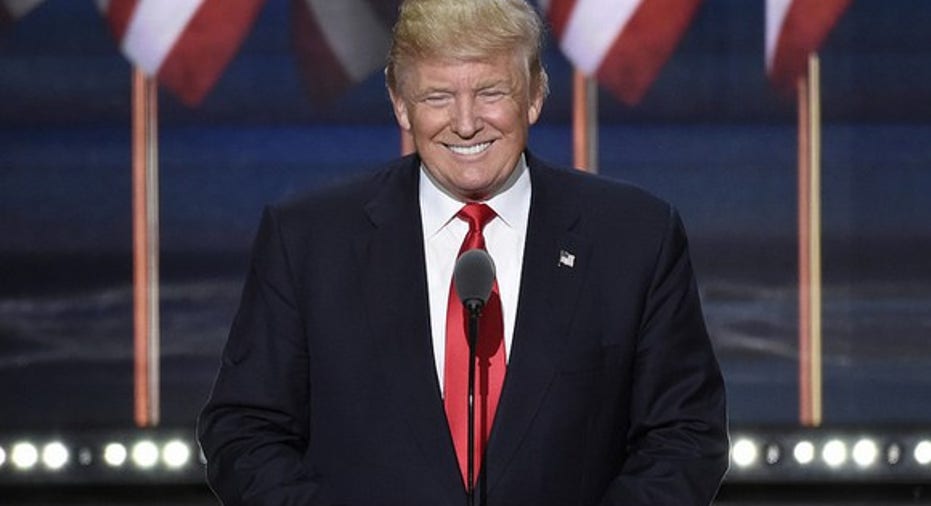 President-elect Donald Trump's plans for healthcare reform are starting to take focus with his nominations of Tom Price assecretary of Health and Human Services andSeema Verma to head theCenters for Medicare and Medicaid Services. Suffice to say, the new administration appears fixated on lowering healthcare costs in the U.S. and seems willing to take extreme measures to achieve this goal.
With Trump's policy proposals beginning to take shape, I think it's a perfect time to consider grabbing shares of bothTeva Pharmaceutical Industries Ltd.(NYSE: TEVA) and Pfizer (NYSE: PFE). Here's why.
Image source: Disney-ABC Television Groupvia Flickr.
Bring on the generics
Trump's healthcare team is proposing to cut the "red tape" at the FDA to speed up the review times for Abbreviated New Drug Applications (ANDAs) for generic drugs. The crux of the situation is that the FDA has a backlog of something along the lines of 3,000 ANDAs, reflecting the industry's stupendous rate of generic drug submissions, along with the FDA's inadequateresources to handle this deluge.
To take advantage of this potential uptick in generic drugs coming on the market, I think the best pick has to be the world's largest generic drug company, Teva Pharmaceutical Industries Ltd. As the undisputed king of generic drugs, Teva has the scale necessary to shape the pricing landscape moving forward, especially after its acquisition of Allergan's generic drug unit earlier this year.
Teva also has over 300 ANDAs on file with the FDA at present, making it one of the biggest potential beneficiaries of Trump's forthcoming regulatory reforms. As an added bonus, around a third of these ANDAs are forso-called first generic drugs, or drugs that would be the first generic version of their branded counterpart. These types of first-wave generic drugs tend to have a brief period of market exclusivity, making them enormously profitable over the short term.
The era of biosimilars could be upon us
According to the RAND Corporation, biosimilars, or copycat versions of biologic drugs, could produce a whopping $44 billion in drug-related costs in the United States. However, the onerous regulatory and legal landscapes in the U.S. have essentially kept biosimilars from replacing many costly biologic drugs that have lost patent protection.
After all, the FDA has approved only four biosimilars to date, despite the regulatory framework being in place for nearly five years. Worse still, many brand-name drugmakers believe that they can successfully keep biosimilar versions of their top drugs from entering the market for years through various legal challenges.
Keeping Trump's mandate to dramatically lower costs firmly in mind, it only seems logical that clearing these enormous legal and regulatory hurdles for biosimilars would become a prime objective for the new administration. If that prediction plays out, my view is that Pfizer is perhaps the best way to gain exposure to a possible biosimilar gold rush.
The reason is that Pfizer instantly became one of the largest biosimilar players in a fairly crowded field after acquiring Hospira. In fact, the drugmaker is expecting to announce numerous pipeline developments for its broad biosimilar platform next year, putting it in the catbird seat when these regulatory walls finally come tumbling down.
Tying it all together
The big-picture issue is that a Trump administration promises to usher in a new era of fewer regulations at the FDA and perhaps innovative ways to bring cheaper medicines to patients. As things stand, investors may want to take advantage of these overarching themes by upping their exposure to a generic drugmaker such as Teva and a biosimilar giant like Pfizer.
10 stocks we like better than Pfizer When investing geniuses David and Tom Gardner have a stock tip, it can pay to listen. After all, the newsletter they have run for over a decade, Motley Fool Stock Advisor, has tripled the market.*
David and Tom just revealed what they believe are the 10 best stocks for investors to buy right now... and Pfizer wasn't one of them! That's right -- they think these 10 stocks are even better buys.
Click here to learn about these picks!
*Stock Advisor returns as of November 7, 2016
George Budwell owns shares of Allergan and Pfizer. The Motley Fool recommends Teva Pharmaceutical Industries. Try any of our Foolish newsletter services free for 30 days. We Fools may not all hold the same opinions, but we all believe that considering a diverse range of insights makes us better investors. The Motley Fool has a disclosure policy.