2 Stocks Actually Rising After the Brexit Vote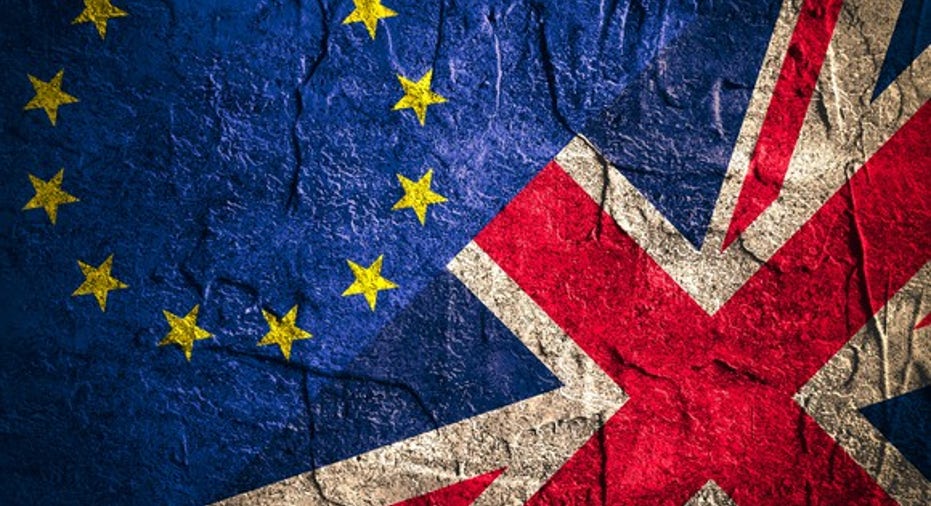 Image Source: Getty Images.
If you've been following the markets in the wake of the Brexit vote, then you know it hasn't been the best of days for buy-and-hold investors. However, there are a few companies that are actually up on one of the worst days for stocks in recent history. Two of them are retail REITs Realty Income and National Retail Properties . These stocks have the potential to perform well in good times and bad, and I actually own both in my own portfolio.
Here's why.
The Dow is down more than 500 points. Why are these REITs up?
There's no company-specific or sector-specific news out today that would send these companies higher, and a 2.6% move to the upside is pretty impressive performance on a day when the Dow is down 500 points.The reason behind the upside move in these retail REIT giants is simple: The Brexit creates a lot of uncertainty, and in uncertain times, investors will gravitate toward safe investments. This is why bonds become more attractive to investors when interest rates rise.
Realty Income and National Retail Properties are not guaranteed winners -- they carryrisks, just like any other stock -- but they're likely to maintain their revenue no matter what the Brexit's ultimate effects on the economy may be.
Reasons to buy retail REITs in turbulent times
Essentially, these two REITs have a business model designed to produce steady revenue and growing income in good times and bad. Both invest primarily in high-quality freestanding retail properties whose tenants are generally in one of three types of competition- and recession-resistant businesses:
Service-oriented businesses: These are businesses whose customers need a physical location to go to. This minimizes the threat of online competition. Examples include fitness centers and automotive service businesses.
Non-discretionary businesses: These businesses sell things people need, as opposed to things they want. Gas stations and convenience stores are excellent examples. After all, if you need toilet paper at 11 p.m., then you're not likely to order it on Amazon (at least not yet).
Deeply discounted businesses: These businesses offer products at prices even online retailers usually can't match. Warehouse clubs like Costco and Sam's Club are good examples, as are dollar stores.
Image Source: The Motley Fool.
In addition, these REITs' tenants sign long-term triple net leases. These leases generally have initial terms of 15-20 years and have rent increases built in, creating a long-term, growing income stream. The tenants are responsible for property taxes, building insurance, and any maintenance expenses, eliminating the varying costs of property ownership. Realty Income and National Retail Properties simply find a tenant and collect a predictable rent check.
Both REITs maintain solid balance sheets with relatively low leverage, they and have investment-grade debt ratings, allowing plentiful access to low-cost financing for attractive acquisitions.
This business model has kept occupancy high in good times and bad. Realty Income's occupancy is currently 97.8%, and it has never dropped below 96%. National Retail Properties' numbers are even more impressive: Itsoccupancy is currently 99.1%, and it hit a "low" of 96.4% during the Great Recession.
Rock-solid income and growth
The result of all this has been an incredibly predictable income stream for both companies. Realty Income pays its dividends on a monthly basis and just declared its 86thdividend increase since its 1994 IPO. In July, the company will have made 552 consecutive monthly dividend payments to shareholders.
Just as impressive, National Retail Properties has increased its quarterly dividend payments for 26 consecutive years. Both REITs have annual yields of about 3.7% as of this writing. It's no wonder that investors gravitate toward consistency like this when the market is volatile.
Better yet, there's incredible potential for investors who stick with high-quality REITs like this for the long term. Realty Income has generated 17.8% annualized total returns for investors in its 22-year public history, and National Retail isn't far behind with a 15.7% annualized return over the past 25 years. These are both incredible performance figures to sustain over such a time periods.
The bottom line is that these retail REITs both have solid business models that can generate strong performance in your portfolio no matter what's going on in the market.
The article 2 Stocks Actually Rising After the Brexit Vote originally appeared on Fool.com.
Matthew Frankel owns shares of National Retail Properties and Realty Income. The Motley Fool has no position in any of the stocks mentioned. Try any of our Foolish newsletter services free for 30 days. We Fools may not all hold the same opinions, but we all believe that considering a diverse range of insights makes us better investors. The Motley Fool has a disclosure policy.
Copyright 1995 - 2016 The Motley Fool, LLC. All rights reserved. The Motley Fool has a disclosure policy.