2 Reasons Why Skyworks Solutions Inc Can Run Higher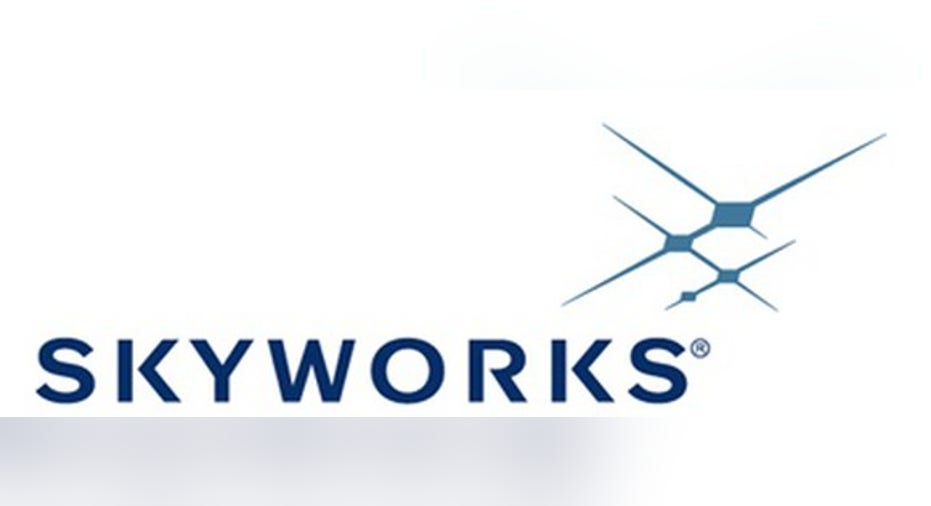 Skyworks Solutions (NASDAQ: SWKS) is trying hard to shed the tag of "Apple supplier". The Cupertino-based smartphone giant accounted for 40% of Skyworks' revenue in the first quarter, but so much reliance on a single customer is risky.
That explains why Skyworks management is looking elsewhereto grow the business, and its latest product launch appears to be part of this strategy.
Image source: Skyworks Solutions.
China will bear fruit
Skyworks recently launched the SkyOne Ultra 2.5 front-end LTE solution -- used to process the incoming signal in a connected device -- to tap the Chinese LTE market. The new solution is based on the company's SkyBlue platform, which aims to deliver a longer battery life and better performance. The company claims that this front-end LTE module can be deployed by different smartphone manufacturers according to their needs.
This product launch targets China's growing LTE market, which already boasts 762 million subscribers. LTE subscriber growth in the region was 84% last year, well ahead of global growth at 64%.Quite a few Chinese companies -- Huawei, Oppo, Vivo, Xiaomi, and Meizu -- are already on its client list, and all of them are using LTE content from Skyworks.
In fact, Skyworks expanded its LTE content across all these Chinese manufacturers in the last-reported quarter. Huawei became Skyworks' second-largest customer, as it has been using the SkyBlue platform in its Mate 9 devices.
The company now needs to push more LTE content to these smartphone companies in order to increase its dollar content. This is where the development of new solutions such as the Ultra 2.5 will come into play.Customers will want to deploy better technology in their product offerings, and Skyworks can charge more for upgraded solutions. Chinese manufacturers have been able to raise the prices of their phones, indicating that they are capable of passing the increased cost of components to customers.
Canalys estimates that the average selling price of a smartphone in China was $321 in the third quarter of 2016, up from $255 in 2013. The firm expects that the trend of higher average prices of smartphones in China will continue, as manufacturers tilt toward the premium market to improve brand equity.
Looking ahead, China will continue driving the adoption of LTE technology. GSMA Intelligence forecasts that developing economies will account for 60% of the estimated 2.5 billion LTE connections by 2020, compared to just 30% in 2014.
Moreover, sales of smartphones from the top 10 Chinese manufacturers are expected to rise 39% in 2017. This should lead to increased near-term demand for Skyworks' components, while LTE adoption will power the company's long-term prospects in China.
Image source: Skyworks Solutions.
Gaining traction in automotive
Skyworks is also targeting automotive and machine-to-machine applications with the Ultra 2.5 chip family. Carlos Bori, the vice president of sales and marketing for Skyworks, says: "We are pleased to broadly offer this flexible system solution in response to growing smartphone demand in China as well as the need for highly integrated solutions across adjacent automotive and machine-to-machine applications."
Until last year, Skyworks only had a few contracts in the auto segment. Its deal with LG Electronics to power the infotainment system in the Volkswagen Group's vehicles was the highlight of this business in 2016.
LG will use eight Skyworks chips, including front-end modules, to deliver location-based connectivity and other IoT (Internet of Things) applications such as smart-home controls. The LG deal could be a big win for Skyworks, as Volkswagen is the world's largest automaker and is moving swiftly to connect its cars to the internet.
The good part is that Skyworks' automotive business seems to be gaining traction. It landed a strategic design win at a "leading U.S. electric car OEM" in the recently concluded quarter. Though Skyworks did not name this particular client, as of now, there is only one company leading the field in electric cars in the U.S. Additionally, Samsung is using Skyworks' automotive solutions to enable remote diagnostics.
The Foolish takeaway
Skyworks does not break out how much money it gets from the auto segment, but the design wins should eventually boost revenue in the long run. Chinese smartphones, on the other hand, will give the company another avenue to grow its top line and reduce its dependency on Apple. In all, these two markets present long-term opportunities for Skyworks Solutions that investors should not miss.
10 stocks we like better than Skyworks SolutionsWhen investing geniuses David and Tom Gardner have a stock tip, it can pay to listen. After all, the newsletter they have run for over a decade, Motley Fool Stock Advisor, has tripled the market.*
David and Tom just revealed what they believe are the 10 best stocks for investors to buy right now... and Skyworks Solutions wasn't one of them! That's right -- they think these 10 stocks are even better buys.
Click here to learn about these picks!
*Stock Advisor returns as of February 6, 2017
Harsh Chauhan has no position in any stocks mentioned. The Motley Fool owns shares of and recommends Apple and Skyworks Solutions. The Motley Fool has the following options: long January 2018 $90 calls on Apple, short January 2018 $95 calls on Apple, short August 2017 $87 calls on Skyworks Solutions, and short August 2017 $85 puts on Skyworks Solutions. The Motley Fool has a disclosure policy.