2 Reasons Magellan Midstream Partners, L.P. Is a Better Dividend Stock Than Valero Energy Corporation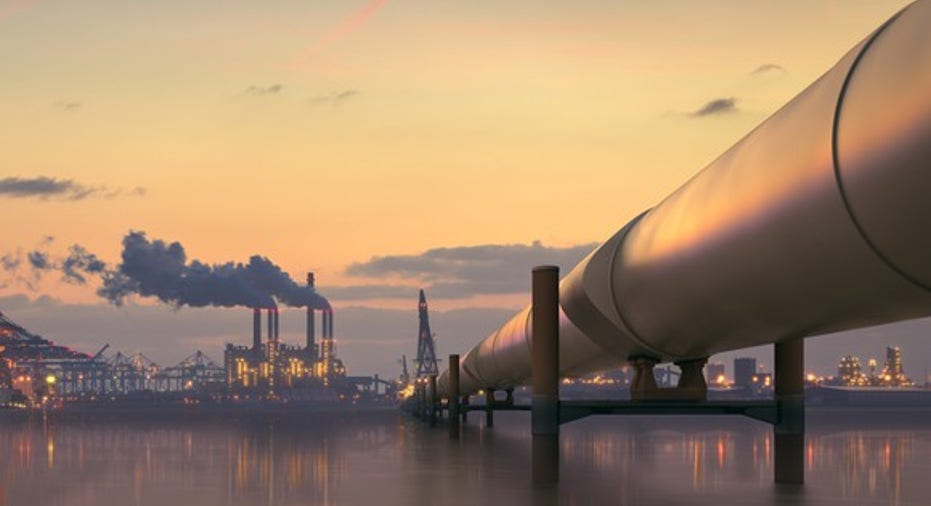 Magellan Midstream Partners (NYSE: MMP) and Valero Energy (NYSE: VLO) both offer investors very similar current yields of 4.45% and 4.3%, respectively. Meanwhile, both companies have sector-leading credit metrics, which improves the security of those payouts. But while each appears to be an excellent candidate for an income investor's portfolio, Magellan has two additional security features that give it the upper hand for investors that value safety above all else.
Cash flow is king
As a refiner, Valero turns oil into refined products such as gasoline and diesel. That's its core business, so the company has direct exposure to commodity prices, which can have a significant impact on its profitability. Last year was one of those years where its exposure to commodity prices had a major impact on earnings and cash flow. In fact, adjusted net income plunged 59.7%, while net cash provided by operating activities slumped 14.1% to $4.8 billion. While the company still generated more than enough money to cover its $1.1 billion individends and $2 billion in capital spending, the concern is that a string of even worse years could jeopardize the company's ability to maintain the dividend.
Image source: Getty Images.
Magellan, on the other hand, has limited direct exposure to commodity prices, because the master limited partnership primarily owns assets that generate stable fees. In fact, last year only 13% of its operating margin came from commodity-related activities, while the other 87% came from fees for services. Magellan's distributable cash flow thus edged up 0.5% last year to $947.5 million despite a very tough year for the energy sector. That ability to deliver stable cash flow in tough years makes it much more likely that Magellan will be able to maintain its payout over the long term.
Visible growth on the horizon
The other factor that plays in Magellan's favor is the clear visibility it has into future cash-flow growth. For example, the company expects to generate roughly $1 billion in distributable cash flow this year as a result of new fee-based projects entering service. Because of that clearly visible cash flow growth, Magellan expects to increase its payout by 8% this year. Further, with $900 million of construction projects already under way through next year, Magellan plans to provide investors with another 8% increase in 2018.
Valero also has clearly visible growth on the horizon, since it's spending $1.1 billion in expansion capital this year, including $265 million on a pipeline joint venture with Plains All American Pipeline (NYSE: PAA). However, while that pipeline project with Plains All American Pipeline will generate stable cash flow once it enters service, the bulk of the company's other projects will only increase its capacity to process commodities. Thus, there's no guarantee that these projects will generate incremental cash flow once they enter service, since prices could collapse. While that's not what Valero expects to happen, it simply can't be ruled out. So investors can't bank on seeing these projects grow Valero's cash flow to the same extent that Magellan's investors can take its projects to the bank.
Investor takeaway
Valero and Magellan Midstream Partners are both good income stocks. However, because of its focus on operating primarily fee-based assets, Magellan generates a much more stable cash flow stream. That not only lowers the risk of it running into trouble maintaining the payout during down times but also increases the visibility of future growth. Those two reasons make Magellan a better dividend stock than Valero, in my opinion.
10 stocks we like better than Magellan Midstream PartnersWhen investing geniuses David and Tom Gardner have a stock tip, it can pay to listen. After all, the newsletter they have run for over a decade, Motley Fool Stock Advisor, has tripled the market.*
David and Tom just revealed what they believe are the 10 best stocks for investors to buy right now... and Magellan Midstream Partners wasn't one of them! That's right -- they think these 10 stocks are even better buys.
Click here to learn about these picks!
*Stock Advisor returns as of April 3, 2017
Matt DiLallo has no position in any stocks mentioned. The Motley Fool recommends Magellan Midstream Partners. The Motley Fool has a disclosure policy.