2 Reasons Behind Johnson & Johnson's 15% Year-to-Date Share-Price Increase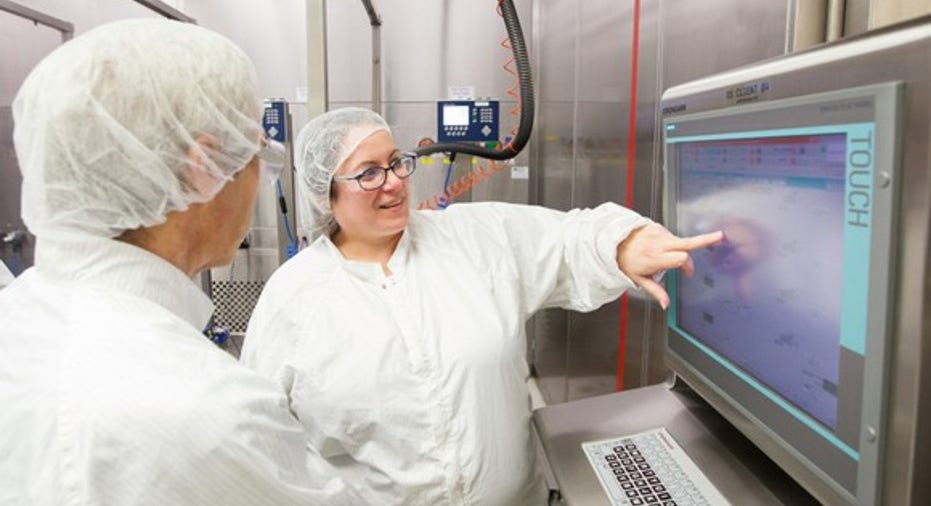 Image source: Johnson & Johnson.
What: Shares of Johnson & Johnson , a global healthcare conglomerate that develops and supplies pharmaceuticals, medical devices, and consumer health products, have surged 15% in 2016, according to S&P Global Market Intelligence. Two reasons, in particular, can account for J&J's spectacular year-to-date performance.
So what: First, Johnson & Johnson's stock has excelled compared to the healthcare sector on account of its defensive nature. Throughout the first half of 2016 we've witnessed the worst two-week start in history to a new year for U.S. markets, and more recently we've been swan-diving following Britain's decision to leave the European Union.
Image source: Johnson & Johnson.
Johnson & Johnson's business model is designed in such a way that it's almost entirely resistant to recessions. For instance, people can't choose when they get sick or what disease they'll be afflicted with, meaning the market for pharmaceuticals and medical devices tends to remain strongly profitable at all times. By a similar token, many of J&J's healthcare products are basic-need goods that consumers will buy regardless of how well or poorly the market is performing. Tack on a superior dividend that's been raised for each of the past 54 years, and we have a perfect defensive play during turbulent times.
The other factor working in J&J's favor is growth in its high-margin pharmaceuticals segment. Type 2 diabetes medication Invokana continues to amaze Wall Street, and the release of long-term cardiovascular data in the second-half of 2016 could further propel sales of its blockbuster higher. Eli Lilly's and Boehringer Ingelheim's SGLT-2 inhibitor Jardiance proved superior to the placebo in the EMPA-REG OUTCOME long-term cardiovascular study, and similar data from J&J's Invokana could demonstrate a class effect of superiority for SGLT-2 inhibitors.
Johnson & Johnson's growing oncology portfolio has also impressed. Blood cancer drug Imbruvica, which J&J helped develop in combination with Pharmacyclics, could be on track to hit as much as $7 billion in peak annual sales assuming continued label expansion.
Now what: Sometimes boring and consistent is the best friend of the long-term investor, and that's precisely what we're getting from Johnson & Johnson.
Image source: Getty Images.
On one hand, J&J is getting plenty of organic growth from its pharmaceutical segment, and there's a long-tail growth opportunity for its medical device segment as America's elderly population explodes higher. The U.S. Census Bureau is estimating that the elderly population in the U.S. could nearly double to 83.7 million by 2050 from 2012. The oldest old population, 85 years of age or older, is expected to more than triple. This should give J&J ample opportunity to expand its device sales and pricing power in the coming decades.
Johnson & Johnson also has the opportunity to grow its business inorganically because of its exceptional cash flow and the better than $18 billion in net cash currently on its balance sheet. J&J has been particularly successful at identifying early and midstage compounds that could become blockbusters (i.e,, Imbruvica), which gives investors hope that its annual pharmaceutical growth can remain in the high single digits.
Even with Johnson & Johnson at an all-time high, it's still worth a look from long-term investors.
The article 2 Reasons Behind Johnson & Johnson's 15% Year-to-Date Share-Price Increase originally appeared on Fool.com.
Sean Williamshas no material interest in any companies mentioned in this article. You can follow him on CAPS under the screen nameTMFUltraLong, and check him out on Twitter, where he goes by the handle@TMFUltraLong.The Motley Fool owns shares of and recommends Johnson and Johnson. Try any of our Foolish newsletter services free for 30 days. We Fools may not all hold the same opinions, but we all believe that considering a diverse range of insights makes us better investors. The Motley Fool has a disclosure policy.
Copyright 1995 - 2016 The Motley Fool, LLC. All rights reserved. The Motley Fool has a disclosure policy.