2 New Technologies That Could Supercharge Corning's Profits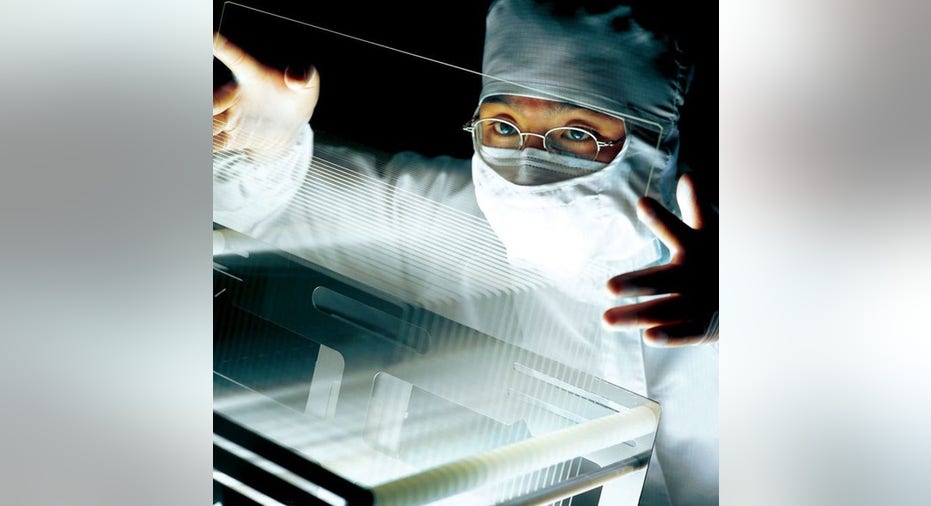 Image source: Corning Incorporated.
Corning needs to branch out.
Yes, even though the glassmaker is a major player in some of today's hottest technologies (fiber-optic Internet cable, smartphone and tablet screens), it derives a majority of its earnings from making TV screens. In fact, the company's display technologies business accounts for 72% of the company's profits.
Luckily, the company has a robust research and development operation, spending 8.4% of the company's revenue on R&D.Here are the two innovations with the biggest potential to impact the company's bottom line:
1. Everything but the tiresWell, OK, maybe noteverything, but Corning already offers automotive filters and now is setting its sights on the most obvious part of the car for its efforts: the windshield.
Corning has been experimenting with using its ultrathin, shatter-resistant, flexible Gorilla Glass as part of a car's windshield. The result has been a windshield that is 25%-50% thinner and 30% lighter, contributing to fuel economy and -- by lowering the car's center of gravity -- handling.It's also more shatterproof and could even result eventually in windshields with display technology, meaning that warnings and gauges could soon be projected onto the bottom or top of the windshield, reducing the need for drivers to look down at the dashboard while driving.
In January, Corning announced a joint venture with automotive glassmaker Saint-Gobain Sekurit to develop, manufacture, and sell such lightweight auto glass. Already,Fordhas announced that it will use Gorilla Glass for "multiple glazing applications" on its Ford GT, including in the windshield and as a rear engine cover to reduce engine noise.BMWis also using the technology in the windows of its i8 sportscar.
The current consumer-electronics market for Gorilla Glass is less than 1 billion square feet per year. By contrast, the total automotive glass market is 5.5 billion square feet per year. According toForbes, capturing just 5% of that market could result in specialty materials segment revenue increases of 25% for Corning.
2. Bendable smartphonesOne trend that showed potential in recent years that has since fizzled is the TV with an organic LED display. OLEDs are biological materials that light up when an electric current passes through them. Because an OLED screen doesn't need to be backlit, it can produce blacker blacks and better differentiation among dark colors than a traditional liquid crystal display. Without the need for backlighting, OLED TVs can be much thinner than LCD TVs.
However, OLED displays are more expensive than LCD displays, making LCD the dominant technology. And as LCD technology has itself advanced, the differences in quality aren't enough to justify the price difference for most consumers. As a result, only one major manufacturer, LG, is still strongly promoting OLED TVs.RivalSamsung, which suspended its own OLED TV manufacturing in 2013,recently cited "tricky production and high costs" as a reason it would not pursue the technology.
However, while OLED technology may not be taking off in the TV market, the mobile market is another story. Certain types of OLED displays can curve, bend, and even have the potential to be flexible. Corning CEO Wendell Weeks smells opportunity. "[Y]ou could potentially conform [OLEDs] behind a nice piece of our Corning Gorilla Glass and get a very different customer experience where you'd have displays bending around corners, and therefore very small bezels, and long term, the potential for a flexible display," he said in the company's most recent earnings call.
Currently, OLEDs make up only about 10% of the mobile market, but according to Weeks, Corning has captured a "very, very, very high market share" in this space. He intimated that new OLED products featuring Corning glass might be coming soon but declined to offer specifics, citing customer confidentiality.
The Foolish bottom lineFor now, Corning's fortunes, and those of its investors, rise and fall with the LCD TV market. Luckily, it appears as though the worst of the falling may be in the rearview mirror.
Also lucky for investors are Corning's moves to diversify its profit streams. Mobile OLED displays and automotive glass are promising areas for the company and should give investors hope that Corning's days as a one-trick pony (at least where profits are concerned) are numbered.
The article 2 New Technologies That Could Supercharge Corning's Profits originally appeared on Fool.com.
John Bromels owns shares of BMW, Corning and Ford. The Motley Fool owns shares of and recommends Ford. The Motley Fool recommends BMW and Corning. Try any of our Foolish newsletter services free for 30 days. We Fools may not all hold the same opinions, but we all believe that considering a diverse range of insights makes us better investors. The Motley Fool has a disclosure policy.
Copyright 1995 - 2016 The Motley Fool, LLC. All rights reserved. The Motley Fool has a disclosure policy.