2 Most Wildly Overvalued Stocks in the Internet of Things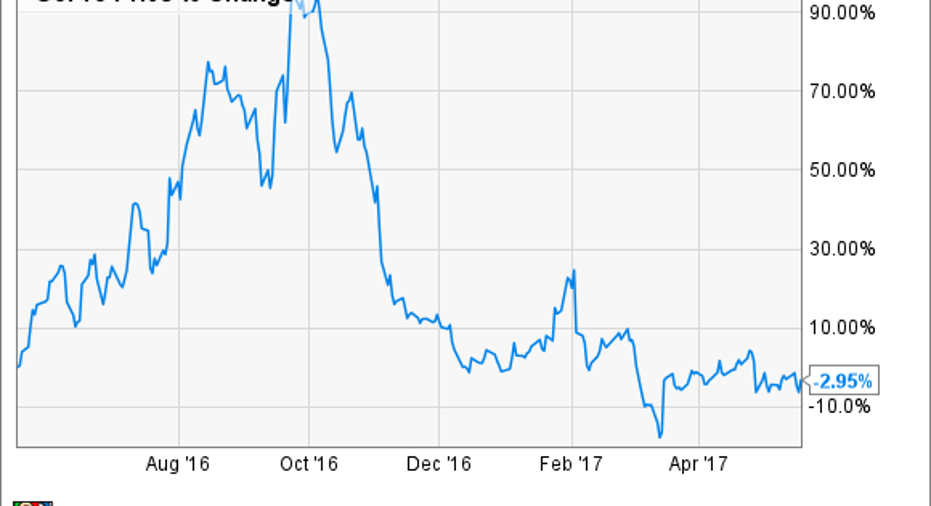 The Internet of Things -- where formerly unconnected things are connected to the Internet -- is on its way to becoming a $1.29 trillion market by 2020. That potential has led a lot of tech companies, and investors, to make big bets on the Internet of Things (IoT), sometimes at the cost of reasonable valuations.
Specifically, GoPro (NASDAQ: GPRO) and Marvell Technology (NASDAQ: MRVL) caught my eye recently. The two companies are hardly pure-plays in the IoT (there aren't many of those), but each is betting on the Internet of Things in its own way, and each looks a bit overpriced right now.
Image source: GoPro.
GoPro currently has a valuation of more than $1.2 billion and is trading at a forward price-to-earnings ratio (what analysts expect the company to earn in the future) of 52. Meanwhile, Marvell trades at a hefty 387 times its current earnings.To put all of these numbers a bit into context, consider that the average P/E ratio in the S&P 500 is about 24.
GoPro is, of course, known for its action cameras, which fall into the connected wearable camera subcategory of the IoT. The problem for GoPro is that the company's current valuation isn't matching up with its performance.
The company sold 5.3 million units in 2016, a drop of about 12% from the 6.6 million the year before.
GoPro's camera sales have not only slipped, but the company suffered a huge setback when it recalled its much-anticipated Karma drone after it was discovered the devices' battery could shift during flight, causing the drone to crash to the ground. The device is back on sale, but the damage to the company's share price and revenues was already done.
GoPro's management has said that it wants to return to profitability in 2017 by increasing efficiencies and reducing costs,but even with those changes, GoPro would need to grow camera sales at an impressive rate to catch back up to the company's current valuation.
Meanwhile, Marvell builds application processors for a variety of markets, including IoT devices. The company's low-power, inexpensive chips are ideal for IoT devices and are used in everything from industrial equipment and wearable tech to connected cars.
Marvell is focusing pretty heavily on the automotive segment of the IoT, and that market is expected to be worth $141 billion by 2022and include 37.7 million vehicles worldwide, up from just 5 million in 2015.
One thing Marvell has going for it that GoPro doesn't is that its forward P/E is much, much lower, coming in at just around 13 right now. The company is in the process of restructuring itself away from its mobile focus to more lucrative businesses in the cloud and data centers. That could eventually pay off for the company, but time will tell exactly how it plays out.
The company has failed to grow revenues consistently, but it beat Wall Street's revenue and earnings estimates in fiscal Q4 2017, which has helped push the company's share price up. Investors should be pleased with the earnings beat, but eventually, Marvell's increased focus on data centers and the cloud market should help bring revenue increases that are more consistent with a growth stock. If not, this company will continue to look overvalued.
10 stocks we like better than Marvell Technology GroupWhen investing geniuses David and Tom Gardner have a stock tip, it can pay to listen. After all, the newsletter they have run for over a decade, Motley Fool Stock Advisor, has tripled the market.*
David and Tom just revealed what they believe are the 10 best stocks for investors to buy right now...and Marvell Technology Group wasn't one of them! That's right -- they think these 10 stocks are even better buys.
Click here to learn about these picks!
*Stock Advisor returns as of May 1, 2017.
Chris Neiger has no position in any stocks mentioned. The Motley Fool owns shares of and recommends GoPro. The Motley Fool has the following options: short January 2019 $12 calls on GoPro and long January 2019 $12 puts on GoPro. The Motley Fool has a disclosure policy.