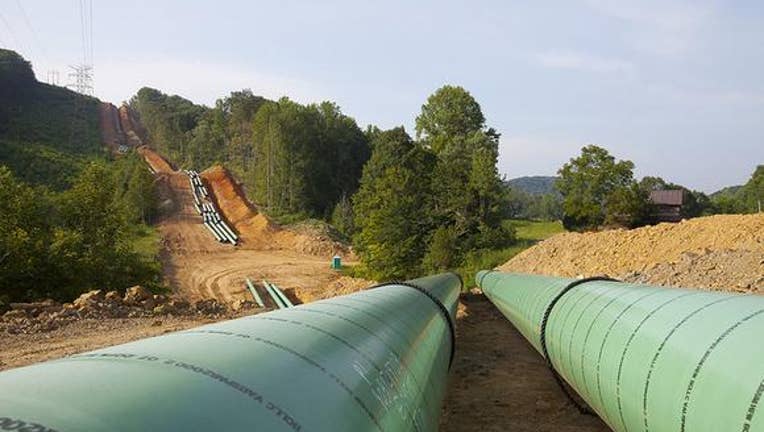 Image Source: Spectra Energy corporate website
Remember when MLP stocks were viewed as good old dividend stocks that widows and orphans could own? Ah, those were the good old days of 2014.
Beginning in the middle of 2015, stock prices of most MLPs started falling and never stopped. If I could sum it up in one word I would say "freefall". The Alerian MLP ETF (NYSEMKT: AMLP) has fallen off a cliff in recent months.
AMLP Total Return Price data by YCharts
What happens next to MLP stocks is going to be greatly affected by two low-profile court cases that you will want to be aware of if you're interested in this sector.
I'm not going to beat around the bush here. The results of these two court cases is going to have a massive (and likely immediate) impact on the share prices of all MLP stocks with exposure. A favorable court result will send this index surging higher. Unfavorable results will push MLP stock prices down further still. We are looking at a little bit of a binary trade here as there are only two possible outcomes.
Why did MLP stock prices hold up as long as they did? What was initially a slow-paced oil price decline turned into a flat-out crash after OPEC signaled on Thanksgiving Day in 2014 it wouldn't be supporting prices. Stock prices of oil and gas producers followed the oil price down quickly. MLP stock prices did not. They held up very well. The reason is that investors felt that the MLPs in general had very little exposure to either fluctuating commodity prices or decreasing production volumes.
The MLP companies themselves believed the same thing.
The majority of the contracts that the MLPs have with the producers call for fixed fee pricing. That means oil and gas prices can go up or down, but the rate that the MLP gets from the producer doesn't change. Additionally, most of these contracts with producers are known as "take-or-pay." That means it doesn't matter how much oil or gas the producer sends through the MLP infrastructure. The producer pays either way.
It may seem strange that producers would risk committing to paying for pipeline space even if they don't use it. We must remember, however, that before the oil price collapse, production was booming and the biggest risk to a producer was not being able to access a pipeline to transport production. The "take-or-pay" contracts guaranteed that pipeline space. This seemingly very stable source of revenue made MLPs a darling among retail investors hungry for yield.
Everything with MLPs seemed pretty cool to most investors through the middle of 2015. Then concerns began to set in.
At that time, oil prices took a second leg downward, and what seemed to be a gradual recovery turned into a deeper and longer crash. MLP investors began to really have to face the fact that there was a very good chance that a significant number of good-sized oil and gas producers could be forced into bankruptcy.
The fixed-fee take-or-pay contracts protected the MLPs from declining commodity prices and declining production volumes. Whether those contracts would survive a bankruptcy proceeding was another matter entirely.
Some clarity on how the contracts will do In bankruptcyThere are currently two court cases in process where bankrupt producers are trying to get out of their contracts with MLPs.
The first is the bankrupt Quicksilver Resources which is trying to free itself from a contract with Crestwood Equity Partners (NYSE: CEQP).
For Quicksilver ending the contract with Crestwood would allow for it to complete a sale of its U.S. assets to BlueStone Natural Resources for $245 million. If the contract isn't broken Quicksilver will not be able to complete the sale to Bluestone Natural Resources and will have to settle for a lesser bid of just $93 million in cash.
The other involves the bankrupt Sabine Oil and Gas and a subsidiary of Cheniere Energy (NYSEMKT: LNG).
Sabine's bankruptcy lawyers are arguing that the contract it has with Cheniere subsidiary Nordheim Eagle Ford should be terminated. Sabine's lawyers are making the case that Nordheim would be replaced with a completely new midstream operator and gathering system. If successful Sabine would immediately save a $35 million deficiency fee that is due to Nordheim for failing to meet minimum volume commitments.
The MLP side of the argument is that these contracts are meant to "run with the land" and transfer with the oil and gas rights from owner to owner. The producer side of the argument is that they don't.
Initial indications from a judge hearing the Sabine/Cheniere case didn't sound good for the MLP side. The judge seemed doubtful about the likelihood that the contract would survive the bankruptcy process, which could mean reduced fees for the bankrupt Sabine and less revenue for Cheniere.
The bottom lineThe entire industry will be watching with bated breath as these cases play out. MLP investors would be wise to do the same. The MLPs that are going to be most negatively affected by this case going against the industry will be the ones that have significant revenue concentrated among producers that are in bankruptcy or are likely to go into bankruptcy.
Adding to the confusion for MLP investors is that it's first very hard to figure out which E&Ps might go bankrupt, and on top of that it's very difficult to figure out which companies each MLP has exposure to. So first an investor would have to determine what the customer base is for specific MLPs, then analysis would have to be done on each of those customers to assess the probability of bankruptcy. To do that is going to then involve making assumptions about where commodity prices are going and how each customers lenders will react.
The reality is that for most investors trying to dive into this sector given all of the moving parts is likely something that should be put into the "too hard pile". Or, if you are really set on getting exposure it should be done with a diversified basket of these MLPs so as to not get too negatively affected if a couple of them turn out to be rotten eggs.
The article 2 Low-Profile Court Cases That Could Send MLP Stocks Crashing originally appeared on Fool.com.
TMFWolfpack has no position in any stocks mentioned. The Motley Fool has no position in any of the stocks mentioned. Try any of our Foolish newsletter services free for 30 days. We Fools may not all hold the same opinions, but we all believe that considering a diverse range of insights makes us better investors. The Motley Fool has a disclosure policy.
Copyright 1995 - 2016 The Motley Fool, LLC. All rights reserved. The Motley Fool has a disclosure policy.