2 Key Takeaways From Cavium's Recent Earnings Report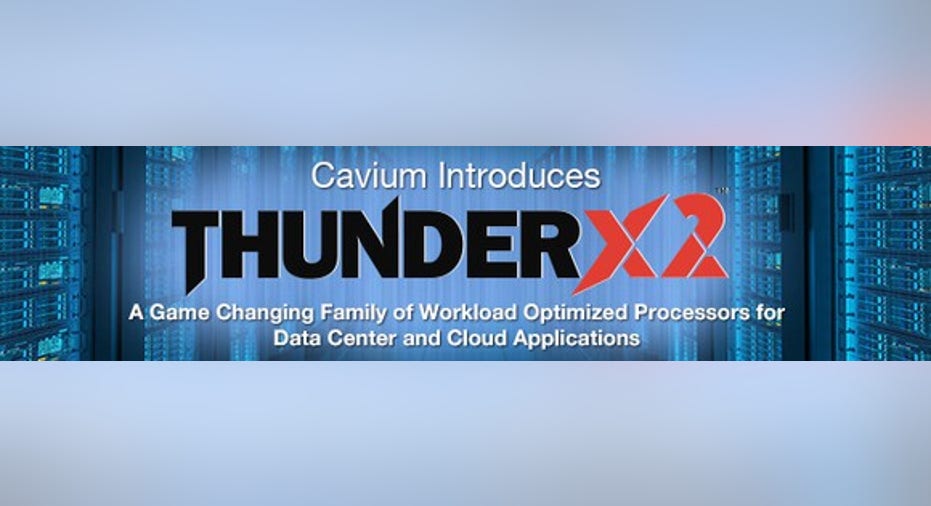 Networking specialist Cavium's (NASDAQ: CAVM) first-quarter results easily beat Wall Street expectations, as its earnings more than doubled to $0.58 per share on revenue of $229.6 million, which was up 125% from last year. By comparison, analysts were expecting $0.56 per share in earnings on $227 million in revenue, but faster realization of synergies from last year's Qlogic acquisition led to better-than-expected results.
Not surprisingly, Cavium shares gained 3.5% the day after the report, pushing the stock near a 52-week high. But can the company sustain its rapid growth, or is it time for investors to get cautious? These key takeaways from Cavium's earnings indicate that its run is far from over.
Expect a stronger bottom line
The Qlogic acquisition has turned out to be a blessing for Cavium's gross margin, which jumped 70 basis points on a quarter-to-quarter basis. Cavium had originally forecast that Qlogic would boost non-GAAP earnings by $0.60 to $0.70 per share this year, driven by $45 million in cost savings.
It now appears that Qlogic's manufacturing facility integration is driving additional cost synergies for Cavium, leading to higher margin. What's more, the company expects its second-quarter non-GAAP gross margin to grow another 20-40 basis points and push its earnings to $0.65 per share at the midpoint, ahead of the $0.62-per-share consensus forecast.
Moreover, Qlogic's additional cost savings will lead to substantially lower operating expense growth compared with Cavium's top-line increment during the second half of the year, encouraging analysts to raise their earnings forecast for the current fiscal year.
New design wins will power revenue growth
Cavium racked up 18 new design wins last quarter, pointing toward strong volume shipments of its chips. One of the company's leading customers gained share in the base station market, while its ARM-based OCTEON III semiconductor processor was chosen by a number of firewall and network security providers. But Cavium's most important win was in a 5G base station, which is a big deal from a long-term perspective, since the deployment of this technology will grow at a terrific pace.
Research shop Research and Markets forecasts that 5G infrastructure investments will record aggressive annual growth of 70% until 2025 as 5G-capable device shipments hit 520 million. This predicted boom in 5G-enabled devices will create a massive need for 5G-equipped base stations to facilitate communication, opening up a huge market for Cavium.
Cavium has also started gaining traction in the data center server market with its ARM-class Thunder X2 microprocessor chip. The company is now sampling this product to cloud service providers, while also landing a customer in Europe that's deploying the Thunder X2 chip in a high-performance cloud program.
Image Source: Cavium
More importantly, Cavium has been collaborating with Microsoft for the past 18 months to develop Thunder X2-based platforms to run the Windows server on its cloud infrastructure, setting the stage for a potentially big design win. Cavium CEO Syed Ali claims that Microsoft could eventually deploy the ARM-based Thunder X2 high-performance server processor in a "significant portion" of its own infrastructure by replacing the latest x86-based processors.
This doesn't seem surprising, as IDC expects ARM-class server processor deployments to grow at 3.9% a year compared with the overall market's 1.3% growth, thanks to their ability of handling sizable workloads in big data and machine learning applications.
Cavium should see broad-based strength in its business lines during the second quarter, especially in the enterprise and data center markets as its new design wins start contributing toward revenue. Not surprisingly, Cavium expects 4% sequential growth in its top line to $239 million at the midpoint, which is better than Wall Street's $235 million estimate, confirming that it expects to sustain its growth after a terrific first quarter.
10 stocks we like better than Cavium NetworksWhen investing geniuses David and Tom Gardner have a stock tip, it can pay to listen. After all, the newsletter they have run for over a decade, Motley Fool Stock Advisor, has tripled the market.*
David and Tom just revealed what they believe are the 10 best stocks for investors to buy right now... and Cavium Networks wasn't one of them! That's right -- they think these 10 stocks are even better buys.
Click here to learn about these picks!
*Stock Advisor returns as of May 1, 2017
Teresa Kersten is an employee of LinkedIn and is a member of The Motley Fool's board of directors. LinkedIn is owned by Microsoft. Harsh Chauhan has no position in any stocks mentioned. The Motley Fool has no position in any of the stocks mentioned. The Motley Fool has a disclosure policy.