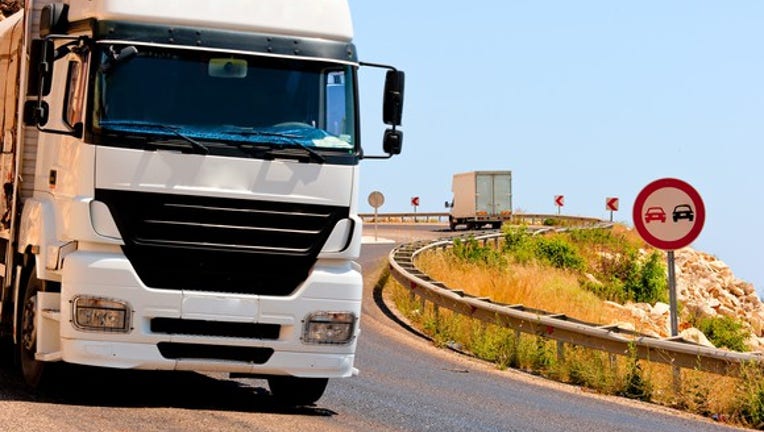 Knight Transportation (NYSE: KNX) is merging with Swift Transportation (NYSE: SWFT) to build a $5 billion trucking behemoth -- and Wall Street thinks that's a good thing.
By now, you might haveheard the news. Last week, Knight and Swift announced they are entering into a merger of equals to create a new trucking giant tentatively titled "Knight-Swift" (which, you have to admit, has a nice ring to it: "If your groceries absolutely, positively have to get there overknight...")
A combined Knight-Swift could become an unstoppable force in trucking. Image source: Getty Images.
Wall Street absolutely loves this merger. Since it was announced on April 10, no fewer than three Wall Street bankers (Deutsche Bank, Merrill Lynch, and, most recently, R.W. Baird) have upgraded Knight (the "accounting acquirer" in this deal) stock to various flavors of "buy." A fourth analyst, Vertical Research, initiated coverage of both Knight and Swift, and rated both stocks as buys.
Why? Vertical argues that there's a "big pivot" underway in trucking, as "truckload utilization is near a trough" and bound to improve in time. A successful merger between Knight and Swift (the merger is slated to close this year) could help to keep trucking capacity under control, shrinking supply and helping to boost profits on even steady demand -- and boost them a lot if Vertical is right and demand is set to zoom.
And if it doesn't?
Even if the broader industry environment doesn't recover as swiftly as Vertical hopes, analysts remain optimistic that this merger is good news for Knight and Swift, in particular. According to the companies, by combining their operations -- 23,000 tractors, 77,000 trailers, and 28,000 employees-- into one single trucking force, a new Knight-Swift could save $15 million in operating costs this year, $100 million in 2018 and $150 million in 2019. As I pointed out last week, that's about a year's worth of Knight's profits saved through "synergies" in 2018, and a year's worth of Swift's earnings saved in 2019.
And even if those goals prove too ambitious to achieve, Deutsche Bank thinks a more modest goal of reducing costs by $75 million per year is achievable.
So what would that mean for investors? Let's pull some data from S&P Global Market Intelligenceand crunch some numbers.
Valuing a new Knight-Swift
The merging companies say their combined revenues will work out to about "$5 billion in annual revenue,"and at the valuations they are attributing to their respective shares ($30.65 for Knight and $22.07 for Swift), they say this will give the company "an implied enterprise value of approximately $6 billion." To be clear, that's about $5 billion in market capitalization, plus another $1 billion or so in debt -- mostly from Swift.
So the implied price-to-sales ratio is roughly 1.0 on a post-merger Knight-Swift. That's going to look like a steal of a deal for Knight investors, whose shares currently sell for nearly 2.3 times sales -- less of a deal for Swift, whose shares cost less than 0.8 times sales.
Profits-wise, Knight and Swift earned a total of $244 million last year, combined. If you add to that the $75 million in costs that Deutsche thinks the combined operation can cut, then post-merger, Knight-Swift could be earning perhaps $319 million per year. On a $5 billion market cap, that works out to a P/E of 15.7 for the combined company -- cheaper than the 20.6 P/E at Swift, and much cheaper than the 27.2 times trailing earnings that Knight shares go for today.
The upshot for investors
So what's the upshot for investors from all this? Valued on sales, a combined Knight-Swift looks anywhere from not too much more expensive than Swift alone to a whole lot cheaper than a Knight-errant. Valued on earnings -- and assuming the cost savings come in as planned -- the combined Knight-Swift looks downright cheap.
Wall Street is right to be enthused.
10 stocks we like better than Swift TransportationWhen investing geniuses David and Tom Gardner have a stock tip, it can pay to listen. After all, the newsletter they have run for over a decade, Motley Fool Stock Advisor, has tripled the market.*
David and Tom just revealed what they believe are the 10 best stocks for investors to buy right now... and Swift Transportation wasn't one of them! That's right -- they think these 10 stocks are even better buys.
Click here to learn about these picks!
*Stock Advisor returns as of April 3, 2017
Rich Smith has no position in any stocks mentioned. The Motley Fool has no position in any of the stocks mentioned. The Motley Fool has a disclosure policy.