2 Gulf oil ministers mum on issue of oil production cuts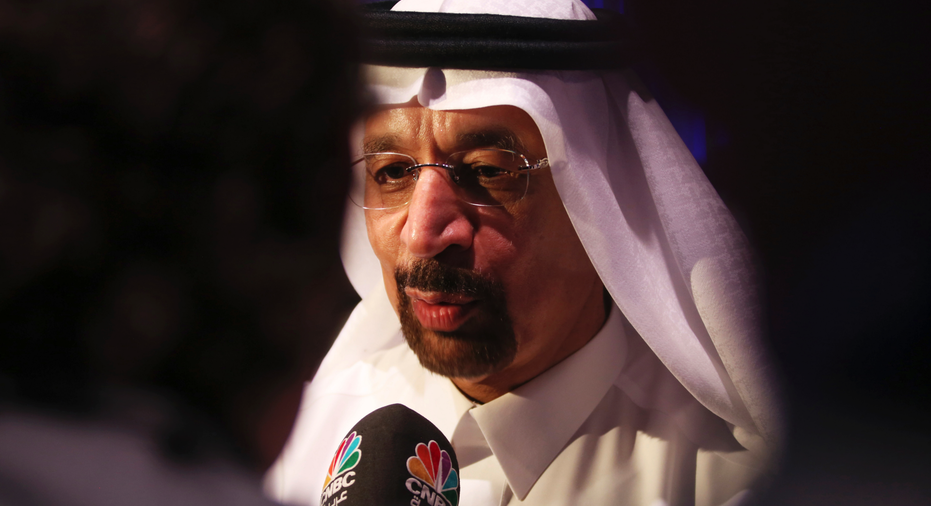 Energy ministers from both Saudi Arabia and the United Arab Emirates dodged questions Tuesday about whether OPEC will extend the cartel's oil production cuts, saying the decision will come at a planned meeting in Vienna later this week.
OPEC agreed in September 2016 to cut daily production across the 14-nation organization to 32.5 million barrels of oil a day. Russia and other non-OPEC nations also agreed to cut their production, hoping to boost prices weakened by oversupply in the market.
Khalid al-Falih, the Saudi energy minister, told journalists they'd need to "wait" for OPEC's meeting Thursday before giving a speech at a petrochemical conference Tuesday in Dubai. Al-Falih later waved away journalists' shouted questions as he left the event with Emirati Energy Minister Suhail al-Mazrouei.
Al-Mazrouei later spoke to journalists and teasingly said it "wasn't fair" for them to ask questions ahead of the meeting about what would happen.
"Hopefully, we will reach a solution that will be beneficial to the market and the organization," he said.
Both OPEC and non-OPEC members are expected to continue the cuts into 2018 to help keep prices rallying.
Crude oil sold for over $100 a barrel in the summer of 2014 before bottoming out below $30 a barrel in January 2016. That fall largely came from a boom in U.S. shale oil and countries like Saudi Arabia keeping their production high to hold onto market share. Once-sanctioned Iran also re-entered the global energy market in 2015 after its nuclear deal with world powers.
Oil prices now sit around $60 a barrel, in part over fears of new instability in the Mideast after Saudi Arabia's mass arrest of princes, business leaders and others, as well as its tensions with Iran. However, even that boost in price still isn't enough to salve many of the hurting, oil-dependent economies in the Gulf and elsewhere.
___
Associated Press writer Malak Harb contributed to this report.