2 Great Stocks for Low-Risk Investors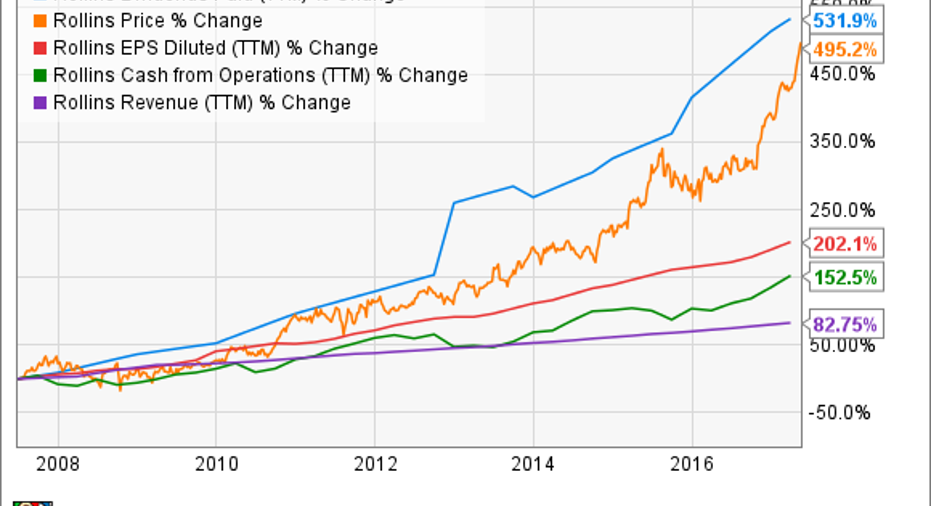 I define risk as the possibility that an investment will result in a permanent loss of capital. One of the best ways to dampen risk, then, is to invest in businesses with revenue and profit streams that can be counted upon in all manner of market environments.
The two companies that follow excel in this regard. Read on to learn more about them.
Image source: Getty Images.
The bug slayer
Few things are as difficult to get rid of than insect infestations. Solutions are typically temporary in nature, and often require a never-ending system of follow-up treatments. Yet while this can be frustrating for many a homeowner, it also presents a sizable profit opportunity for pest control specialists. Enter Rollins (NYSE: ROL), king of the bug slayers and beloved champion of low-risk investors.
Bugs are nasty. But for Rollins, they're also a source of wonderfully steady revenue and bountiful profits. In fact, Rollins has increased revenue and earnings every quarter for more than a decade. Better still, more than 80% of Rollins' sales are recurring, which helps it generate strong, recurring cash flow. In turn, that's allowed Rollins to maintain a pristine balance sheet -- with more than $160 million in cash and no debt -- while also rewarding investors with a steadily rising dividend stream.
ROL Dividends Paid (TTM) data by YCharts
Fueling these impressive results is a collection of more than a dozen pest-control companies, highlighted by Rollins' popular Orkin brand.
Image source: Rollins.
These businesses tend to be recession resistant, as people and businesses will pay to prevent insects and rodents from invading homes and destroying property even during market downturns. In fact, Rollins continued to grow its revenue and earnings straight through the Financial Crisis and Great Recession, without so much as a hiccup. And because roaches, ants, termites, and other creepy critters would be likely to survive even a nuclear holocaust, there will always be a need for the services Rollins provides.
Wall Street seems to agree; analysts project that Rollins will grow earnings 9% annually over the next half-decade. And with its payout ratio currently at only 52%, Rollins should have little trouble extending its now 15-year streak of double-digit annual dividend increases well into the future. As such, investors who buy shares today in this low-risk -- and high quality -- business should be well rewarded in the years ahead.
Image source: Waste Management.
The trash king
Like bug control, waste collection isn't a very glamorous business -- but it is essential. And in the case of Waste Management (NYSE: WM), it also provides the type of steady revenue and strong cash flow generation that risk-averse investors love.
The appropriately named Waste Management is the leading provider of waste collection and recycling solutions in North America, serving more than 21 million customers in the U.S. andCanada. The trash titan owns the largest network of landfills, transfer stations, and recycling facilities in the industry. This creates an unassailable competitive moat around Waste Management's business, as the notoriously difficult regulatory approval process for new waste facilities and the not-in-my-backyard attitude among many homeowners make it highly unlikely that competitors will be able to displace the garbage king.
With its revenue streams and cash flows well protected, Waste Management is able to reward its investors with share repurchases and a steadily rising dividend -- both of which help to support its stock price.
All told, Waste Management excels at turning trash into cash for its investors. And unless people stop producing garbage, its 14-year streak of consecutive dividend increases is likely to continue unabated. As such, Waste Management is the type of defensive business that's well suited for risk-averse investors.
10 stocks we like better than Waste ManagementWhen investing geniuses David and Tom Gardner have a stock tip, it can pay to listen. After all, the newsletter they have run for over a decade, Motley Fool Stock Advisor, has tripled the market.*
David and Tom just revealed what they believe are the 10 best stocks for investors to buy right now... and Waste Management wasn't one of them! That's right -- they think these 10 stocks are even better buys.
Click here to learn about these picks!
*Stock Advisor returns as of May 1, 2017
Joe Tenebruso has no position in any stocks mentioned. The Motley Fool owns shares of and recommends Rollins. The Motley Fool owns shares of Waste Management. The Motley Fool has a disclosure policy.