2 Cybersecurity Stocks That Might Make You Rich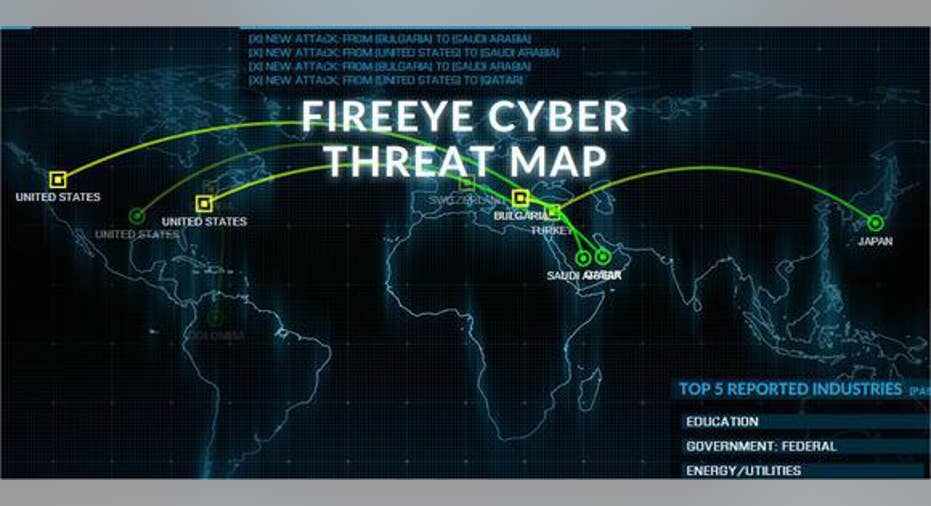 Steve Wozniak recently told Lateline that "cyber attacks and hacking" were "getting worse and worse year by year." He's right: the Identity Theft Resource Center claims that the number of personal records exposed in data breaches surged 97% to 169 million in 2015. That's why research firm Markets and Markets believes that the global cybersecurity market will grow from $106.3 billion in 2015 to $170.2 billion by 2020.
Image source: Pixabay.
Many cybersecurity stocks have fallen since the beginning of the year, presumably due to their high valuations, competitive threats, and a slowdown in enterprise spending. But as markets stabilize, investors should check out two beaten-down cybersecurity stocks -- FireEye and CyberArk -- which might rebound in the near future.
FireEyeUnlike many other cybersecurity companies which identify threats after they strike, FireEye offers threat prevention services. The company was the first threat prevention firm to be certified by the U.S. Department of Homeland Security, and was tasked with investigating several major data breach incidents across the country. That "best in breed" reputation helped FireEye securemajor partnerships withHewlett-Packard Enterprise, Check Point Software , F5 Networks, andVisa over the past year.
FireEye's sales rose 29% annually to $185 million last quarter, but that was a noticeable slowdown from 45% growth in the previous quarter and 150% growth a year earlier. But looking ahead, FireEye expects sales to rise 33% to 41% annually for the current quarter, and 31% to 36% for 2016 -- indicating that demand for its threat prevention products should stay robust. FireEye currently trades at 4.6 times trailing sales -- which is higher than the industry average of 3.5, but much lower than leading firewall maker Palo Alto Networks' P/S ratio of 10.8. FireEye is also trading roughly 16% below its IPO price of $20.
FireEye isn't profitable, and its rapid cash burn rate forced it to do a convertible debt offering to raise $800 million lastMay. But looking ahead, the company believes that its losses will narrow and that it can generate $70 million to $80 million in positive operating cash flow this year.
However, investors should note that bigger rivals like Cisco and Palo Alto are both expanding aggressively into the threat prevention space. That aggression could force FireEye to increase its spending and buy more companies -- like its recent acquisitions of cybersecurity peers iSIGHT and Invotas -- to stay competitive.
FireEye's real-time threat detection map. Image source: FireEye.
CyberArkCyberArk's software protects "privileged" accounts, which are often exploited to gain access to sensitive data. It also isolates threats once they breach a company's firewalls by locking down compromised computers or networks. Like FireEye, CyberArk has a "best in breed" reputation at what it does -- 40% of the Fortune 100 and 17 of the world's 20 biggest banks use its services.
CyberArk's revenue rose 42% annually to $51.5 million last quarter, compared to 43% growth in the previous quarter and 81% growth a year earlier. License revenue -- which supports its maintenance and services revenue -- rose 35% to $33 million, compared to 49% growth in the previous quarter. Looking ahead, CyberArk expects its first quarter revenue to rise 29% to 32% and 2016 sales to improve 27% to 29%. Those numbers look solid, but the slowing growth rate spooked investors, and the stock fell to a 52-week low after that report in February.
On the bright side, CyberArk's P/S ratio has declined from the 30s a year ago to just 7.3 -- still higher than the industry average, but "cheaper" than Palo Alto. But what really makes CyberArk stand out is its financial discipline and focus on profitability. Its GAAP net income rose 48% annually to $9.9 million last quarter, while non-GAAP net income rose 92% to $13.8 million. Analysts currently expect CyberArk to post25% annual earnings growth over the next five years. Looking ahead, CyberArk faces the same threat as FireEye -- bigger companies could bundle similar services into their hardware or software products. But like FireEye, CyberArk has been widening its moat by buying smaller security firms like Viewfinity.
High risks, high rewardsFireEye and CyberArk are both volatile stocks which aren't for risk-averse investors. But investors willing to ride out the near-term volatility could be richly rewarded over the next few years as companies boost their cybersecurity budgets to defend against hacks and data breaches.
There's also a strong possibility that both companies will be acquired by larger firms. Cisco was once rumored to beinterested in FireEye, and CheckPoint reportedly held talks to buyCyberArk earlier this year. Therefore, I think it's a good idea to keep a small portion of your portfolio reserved for either company -- but do your own due diligence before doing so.
The article 2 Cybersecurity Stocks That Might Make You Rich originally appeared on Fool.com.
Leo Sun has no position in any stocks mentioned. The Motley Fool owns shares of and recommends Check Point Software Technologies, FireEye, and Visa. The Motley Fool recommends Cisco Systems, CyberArk Software, and Palo Alto Networks. Try any of our Foolish newsletter services free for 30 days. We Fools may not all hold the same opinions, but we all believe that considering a diverse range of insights makes us better investors. The Motley Fool has a disclosure policy.
Copyright 1995 - 2016 The Motley Fool, LLC. All rights reserved. The Motley Fool has a disclosure policy.