2 Critical Performance Targets That Apple, Inc. Missed Last Fiscal Year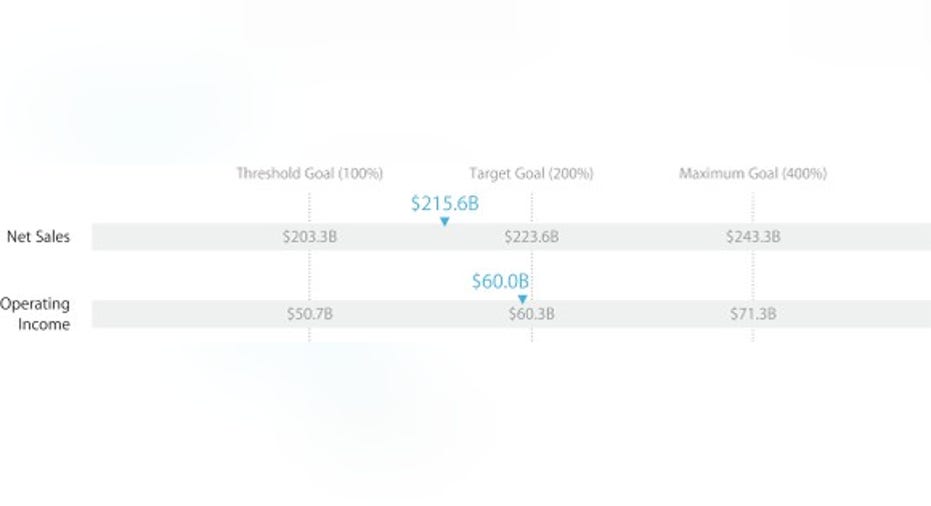 CEO Tim Cook. Image source: Apple.
Ahead of its annual shareholder meeting at the end of next month, Apple (NASDAQ: AAPL) has gone ahead and filed its proxy statement with the SEC. As usual for proxy statements, Apple is disclosing executive compensation levels for its most prominent executives, along with how it arrives at those levels. Following a relatively tough 2016 that included the first ever decline in iPhone unit sales, all executives including CEO Tim Cook saw pay reductions last year.
Apple's compensation committee sets out two critical performance targets each year to gauge the company's performance, and Apple fell short for 2016.
Top line and the almost-bottom line
More specifically, the two targets relate to top-line revenue and operating income, which is right above the bottom line before miscellaneous income and expenses as well as taxes are taken out. For each metric, Apple sets a threshold goal that must be exceeded for executives to receive their annual cash incentives. At that threshold, the cash bonus is equal to 100% of their respective base salaries. There is also a target goal that earns them 200% payouts, as well as a maximum goal that triggers a generous 400% payout.
Both revenue and operating income hit their threshold goals, but fell short of target goals. In the case of operating income, Apple only barely fell short. The company generated revenue of $215.6 billion in fiscal 2016, compared to the target goal of $223.6 billion. Operating income came in at $60 billion, just a hair shy of the target goal of $60.3 billion.
Image source: 2016 proxy statement.
For context, Apple utterly hit it out of the park in 2015, exceeding its maximum goals for both metrics -- triggering those hefty 400% payouts in the process.
| Fiscal 2015 Performance | Revenue | Operating Income |
| --- | --- | --- |
| Threshold Goal | $188 billion | $52.5 billion |
| Target Goal | $199 billion | $55.1 billion |
| Maximum Goal | $210 billion | $56.3 billion |
| Actual | $233.7 billion | $71.2 billion |
Data source: 2015 proxy statement.
However, keep in mind that Cook got a $1 million raise to $3 million last year in terms of his base salary, which represented a 50% boost from 2015. That certainly softened the blow a bit. All told, Cook brought home $8.7 million last year, down from $10.3 million in 2015. The rest of the executive team's base salaries remained unchanged at a cool $1 million per year, although they all received $20 million equity grants in October 2015 (which is part of fiscal 2016).
It's all relative
Many of the equity grants that Apple executives receive are performance-based, being tied to how Apple shares perform relative to the S&P 500. This is measured in relative total stock return (TSR).
In a shareholder-friendly move a couple years ago, Cook chose to voluntarily modify his 2011 CEO grant to swap out time-based shares for performance-based RSUs. A year ago, I noted that Cook was facing a deadline in August 2016 and had a lot to lose if Apple continued to lag the broader market. Fortunately for Cook, shares bounced back and Apple's relative TSR scored well enough (78th percentile) for 280,000 RSUs to vest, the maximum allowed.
For the rest of the executive team and their October 2015 grants, here are the necessary relative TSR tiers and respective payouts.
| Relative TSR vs. S&P 500 Companies | Performance-based RSU Vesting as % of Target |
| --- | --- |
| 85th or above | 200% |
| 55th | 100% |
| 25th | 25% |
| Below 25th | 0% |
Data source: 2016 proxy statement.
As of the beginning of 2017, three executives had shares vest after Apple's relative TSR ranked it in the 83rd percentile.
Overall, Apple's compensation practices are quite aligned with shareholder interests. Not only does management have to deliver on fundamental performance, but Apple shares also need to fare well in order for executives to claim all of their eligible performance-based RSU grants.
10 stocks we like better than Apple When investing geniuses David and Tom Gardner have a stock tip, it can pay to listen. After all, the newsletter they have run for over a decade, Motley Fool Stock Advisor, has tripled the market.*
David and Tom just revealed what they believe are the 10 best stocks for investors to buy right now... and Apple wasn't one of them! That's right -- they think these 10 stocks are even better buys.
Click here to learn about these picks!
*Stock Advisor returns as of January 4, 2017
Evan Niu, CFA owns shares of Apple. The Motley Fool owns shares of and recommends Apple. The Motley Fool has the following options: long January 2018 $90 calls on Apple and short January 2018 $95 calls on Apple. The Motley Fool has a disclosure policy.