2 Charts that Explain TransEnterix's Stock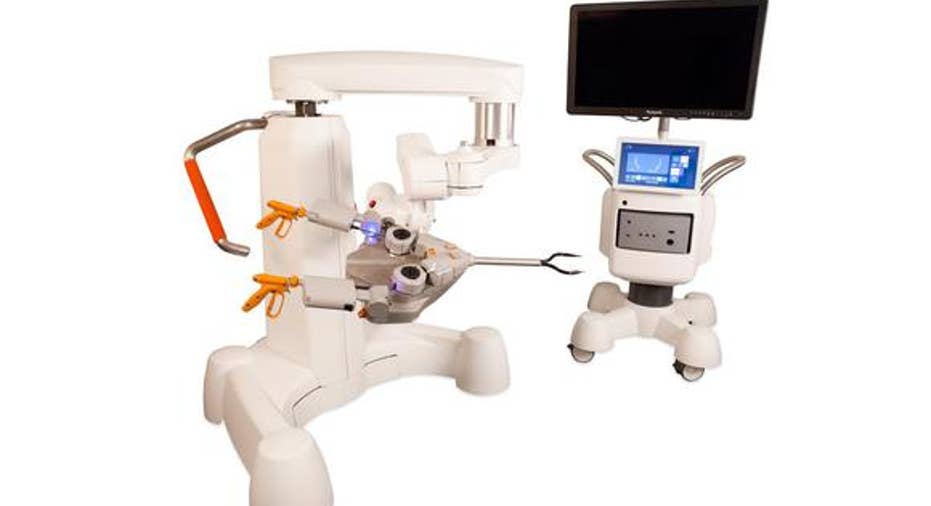 TransEnterix , a medical-device company developing robotics to improve minimally invasive surgery,created tremendous buzz among investors earlier this year by steadily marching toward a commercial launch of itsALF-XSurgical Robotic System in Europe, as well as its SurgiBot System in the United States. However, the FDA notified TransEnterix last week that it determined that the SurgiBot System doesn't meet the criteria for substantial equivalence based on the data and information TransEnterix submitted in its 510(k) submission, causing the company's shares to plummet.
Image source: TransEnterix.
According to TransEnterix's press release on the matter, investors won't learn the details of the FDA's decision until the company's first-quarter earnings release, currently scheduled for May 10. Given this dearth of actionable information at the moment, I think shareholders would benefit by looking at two charts that explain how TransEnterix got to this point, and where it may be headed going forward.
No. 1: TransEnterix's dramatic rise and fall
TransEnterix's shares have been on a wild ride this year, driven primarily by SurgiBot's outstanding commercial opportunities in the robotic surgery market that's currently dominated byIntuitive Surgical'sda Vinci surgical system. Basically, some analysts expected SurgiBot to have the competitive juice to take a big bite out of Intuitive's overwhelming market share that consists of over 3,600 units installed worldwide. With this opportunity now off the table, though, TransEnterix's shares immediately gave back nearly all of their monstrous gains over the past three months.
So, what this first chart is essentially showing is that the market has seemingly lost all faith in TransEnterix's chances of launching SurgiBot anytime soon, and for good reason. Digging a bit deeper, TransEnterix will now have to decide on whether to pursue a Premarket approval application (PMA) for SurgiBot, or attempt to go the "de novo classification" route. While the de novo classification route is theoretically easier than a PMA, the fact remains that the FDA's review times for de novoclassificationscan take nearly two years to complete, thereby justifying the market's lack of faith.
No. 2: TransEnterix's short interest and cash position are major headwinds
Stocks that rocket higher, as TransEnterix's did this year, are natural targets for short-sellers. So it's not entirely surprising to discover that short-sellers were piling into TransEnterix ahead of SurgiBot's regulatory decision. The problem for shareholders now, though, is that there is little reason for shorts to cover their position, despite the stock's monstrous nosedive last week.
Breaking this down, TransEnterix appears to be in a tough position following SurgiBot's regulatory setback. Not only will SurgiBot's regulatory clearance take far longer than expected, but TransEnterix's cash position is also tenuous, to say the least. According to the company's latest 10-K, TransEnterix had less than $50 million in cash and cash equivalents remaining at the end of last February. Put simply, this small-cap medical-device company is going to have to raise money presumably through its existing at-the-market facility at these depressed share-price levels, and that could put even more pressure on its share price going forward.
What's next?My hunch is that TransEnterix will pursue a de novo classification for SurgiBot, depending on the FDA's assessment of the device's risk profile. As such, investors can probably expect a new regulatory filing to happen in the early fourth quarter. The problem is that de novo filings have highly variable review times, reflecting the rarity with which these types of applications are filed with the FDA, along with the agency's own fuzzy guidelines surrounding this process.
Last year, the average review time for a de novo application stood at around one year, implying that SurgiBot's regulatory fate probably won't be decided until at least the second half of 2017 in perhaps a best case scenario. So, with a dwindling cash position and a lengthy regulatory pathway ahead for SurgiBot, my take is that investors may be best served by remaining on the sidelines with this speculative stock for the time being. This situation may change when the company releases more information on May 10, but I'm not willing to take the risk by grabbing shares at this stage.
The article 2 Charts that Explain TransEnterix's Stock originally appeared on Fool.com.
George Budwell has no position in any stocks mentioned. The Motley Fool owns shares of and recommends Intuitive Surgical. Try any of our Foolish newsletter services free for 30 days. We Fools may not all hold the same opinions, but we all believe that considering a diverse range of insights makes us better investors. The Motley Fool has a disclosure policy.
Copyright 1995 - 2016 The Motley Fool, LLC. All rights reserved. The Motley Fool has a disclosure policy.