2 Big Reasons Silver Wheaton Vaulted 15% Higher in January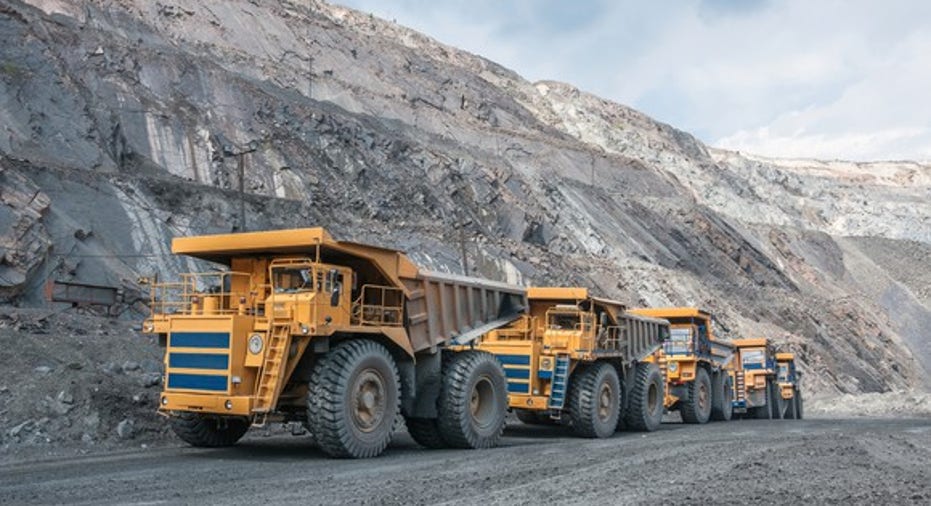 What happened
Shares of Silver Wheaton (NYSE: SLW), a flagship precious metals streaming company, spiked higher by 15% during January, according to data from S&P Global Market Intelligence. There appear to be two key reasons for that share price surge.
So what
To begin with, physical silver prices rebounded nicely in January, and there's probably no company that will see a more immediate positive impact to their margins from a rise in spot silver prices than Silver Wheaton. After ending 2016 at $15.90 per ounce, silver ended January at $17.51 per ounce, a 10.1% increase.
Image source: Getty Images.
Since Silver Wheaton doesn't handle the actual mining of precious metals, but instead provides capital to mining companies so they can develop or expand their mines, its costs tend to be exceptionally low (save for handing over large sums of capital when making deals). In return, Silver Wheaton receives long-term or life-of-mine contracts, and delivery of gold, silver, or other byproducts, at well below market rates. Thus, any increase in silver or gold prices heads straight to its margins.
If you're looking for a catalyst behind silver's January rise, look no further than the worst start in 30 years to a new year for the U.S. dollar. While investors were thrilled with the idea of Trump's potentially inflationary growth policies in November and December, that cheer has given way to uncertainty in January and early February, pushing the dollar lower. Silver and the dollar typically have an inverse relationship.
The other positive for Silver Wheaton can be traced to production updates from a handful of the mining companies it has contracts with. January is commonly when mining companies will report their fourth-quarter production and provide production and/or capital expenditure guidance for the upcoming fiscal year. One that did so was Goldcorp (NYSE: GG), which just so happens to own the Penasquito mine that generated 1.5 million ounces of silver for Silver Wheaton during the third quarter.
During Goldcorp's Investor Day presentation in January, the company outlined total production guidance that was (not surprisingly) a bit lower than Wall Street's expectations for 2017, but that was notable higher than analysts' forecasts for 2019 and 2020. What's more, Goldcorp's capital expenditure-heavy focus on Penasquito has to make Silver Wheaton investors happy. With Penasquito expected to continue playing a big role in Goldcorp's growth, Silver Wheaton is receiving a nice ancillary boost.
Image source: Getty Images.
Now what
Silver Wheaton is arguably one of the strongest precious metal stocks investors can buy due to its exceptionally high margins, which are a result of its streaming business model. Even if precious metals were to drop 20% from their current levels, Silver Wheaton, based on its third-quarter cash costs, would have around a $600 per ounce margin on gold and around a $9.50 per ounce margin on silver.
The other aspect to like about Silver Wheaton, which was alluded to above, is that it has great diversity in its production portfolio. Sure, there are a few specific mines that provide sizable chunks of its annual production, but there's enough diversity in its portfolio that if one or two mines experience a slowdown in production, Silver Wheaton's results wouldn't be doomed.
With the dollar's current weakness showing no signs of reversing, and Silver Wheaton's margins improving by the day, this Fool, who's also happens to be a current shareholder, sees no reason why investors shouldn't consider Silver Wheaton stock for the long haul.
10 stocks we like better than Silver WheatonWhen investing geniuses David and Tom Gardner have a stock tip, it can pay to listen. After all, the newsletter they have run for over a decade, Motley Fool Stock Advisor, has tripled the market.*
David and Tom just revealed what they believe are the 10 best stocks for investors to buy right now... and Silver Wheaton wasn't one of them! That's right -- they think these 10 stocks are even better buys.
Click here to learn about these picks!
*Stock Advisor returns as of February 6, 2017
Sean Williams owns shares of Silver Wheaton. The Motley Fool owns shares of Silver Wheaton. The Motley Fool has a disclosure policy.