2 Beaten Down Apple Inc. Suppliers to Buy in May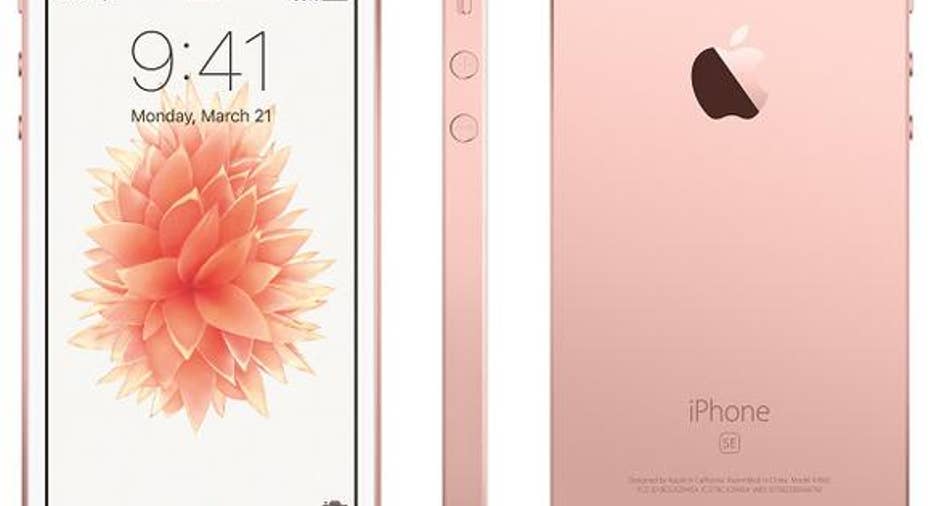 Image credit: Apple.
Technology stocks have a reputation for being volatile, no doubt due to the incredibly dynamic nature of the technology industry in general. However, the same fundamental rules that apply to non-technology stocks applies to technology stocks: buying and holding high-quality businesses for the long-term is often a great way to build wealth.
In this column, I'd like to talk about two beaten down tech stocks -- suppliers to Apple, in fact --that have solid long-term prospects and that tech investors should consider buying: Synaptics , and Skyworks Solutions .
Synaptics' woes seem temporarySynaptics develops what are called "human interface solutions" -- in other words, the technologies implemented in modern computers to allow people to interact with them. Examples include touch controllers for smartphones/tablets, PC touchpad controllers, pressure sensors technology for mobile devices (aka 3D Touch), display driver chips, and more.
The stock recently tumbled from north of $85 per share to under $70 per share as a result of a significant revenue miss in its recent quarter and very ugly forward guidance ($300-$340 million against consensus estimates of $478.6 million).
The miss, according to CEO Rick Bergman, is attributable to a "precipitous drop in order levels within the smartphone market, specifically around our display driver customer." In addition to weakness in premium smartphones, PC-related revenue also came under pressure as a result of the continued weakness in the PC market overall.
Bergman also noted that the company is taking a "cautious approach" to setting its guidance for the fourth fiscal quarter "in anticipation that the level of product currently in the supply chain will be sufficient to meet the reduced demand for our display driver products from high-end smartphone OEMs."
Although the picture looks pretty grim in the near-term, there's a solid chance that things could rebound in the second half of the calendar year. Apple'supcoming iPhone 7-series launch could help, particularly on the display driver side of things, and management has indicated that it has secured many wins for its finger-print sensors as well as its ClearForce technology (Apple 3D Touch clone).
In my view, Synaptics is a company that executes very well on technology but is currently facing a slump due to factors largely outside its control. If those factors subside, I expect Synaptics' financials, and ultimately its stock, to sharply rebound.
As a result, Synaptics could be a very interesting buy here for the patient tech investor.
Skyworks: revenue growth even if iPhone units don'tSkyworks is a well-known supplier of Radio Frequency, or RF, chips into the smartphone market, as well as into other applications.
The very interesting thing about being an RF chip player is that each year, the complexity of the RF technology required in smartphones goes up.
"Among our top customers, we see complexity and increasing performance requirements driving content expansion across the board," said Skyworks CEO David Aldrich on a recent conference call with analysts.
"For example, our overall content on Samsung's flagship Galaxy S7 platform is up 20% versus prior models," Aldrich added. He also pointed to a 40% increase in content within Huawei's "new flagship smartphone platforms."
The upshot of this continued surge in RF content inside of smartphones is that even in an environment in which units aren't growing, Skyworks can still see total revenue growth. There's little doubt that this increase in content/complexity is helping to fuel the company's gross profit margin growth, which Aldrich said came in at up 410 basis points (i.e. 4.1%) year-over-year.
As of a recent check, Skyworks trades at $67.12 per share, down substantially from its 52-week high of $112.88. On a Generally Accepted Accounting Principles basis, Skyworks delivered $4.91 per share in earnings, and I believe over the long-term this can continue to grow.
I think at current levels, Skyworks shares look compelling and could be a very interesting way to play a potential recovery in the smartphone market (especially iPhone), particularly since it can grow revenue fairly independently of industry unit growth through content growth.
The article 2 Beaten Down Apple Inc. Suppliers to Buy in May originally appeared on Fool.com.
Ashraf Eassa has no position in any stocks mentioned. The Motley Fool owns shares of and recommends Apple and Skyworks Solutions. Try any of our Foolish newsletter services free for 30 days. We Fools may not all hold the same opinions, but we all believe that considering a diverse range of insights makes us better investors. The Motley Fool has a disclosure policy.
Copyright 1995 - 2016 The Motley Fool, LLC. All rights reserved. The Motley Fool has a disclosure policy.