12 Wild Metrics Behind Amazon.com Inc.'s Profit-Surging 2016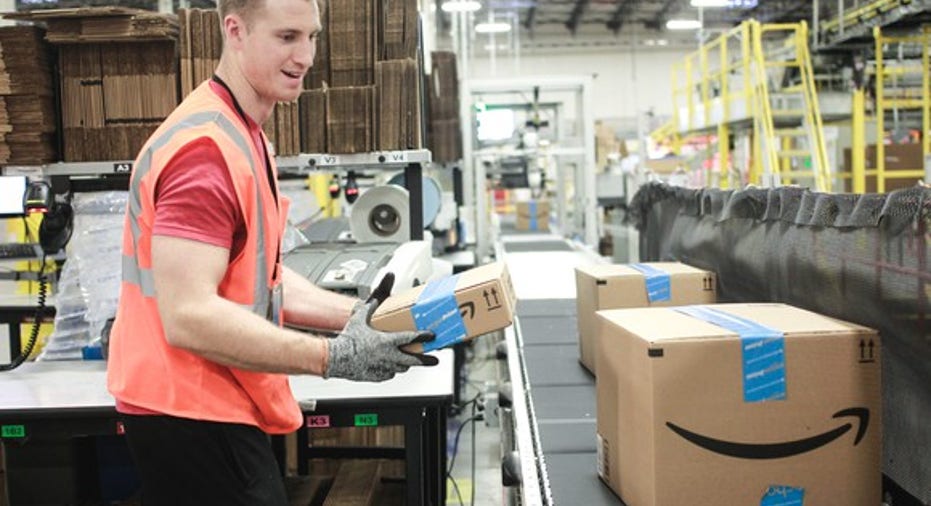 In 2016, Amazon's (NASDAQ: AMZN) business surged as the company proved its ability to not only rake in higher profits, but to hit a level of profitability far beyond what investors would have imagined even just a few years ago. With the company's fourth-quarter earnings release for 2016 finally behind it, it's a good time to reflect on Amazon's crushing performance last year.
Here's Amazon's 2016 in 12 must-see metrics:
Total revenue increased 27%, driven by growth in Amazon's e-commerce and cloud-computing businesses. This brought total revenue to about $136 billion.
Image source: Amazon.
Operating income nearly doubled, increasing from $2.2 billion in 2015 to $4.2 billion in 2016.
Net income skyrocketed 302%, increasing from $596 million, or $1.25 per share, to about $2.4 billion, or $4.90 per share.
Amazon's total e-commerce revenue increased 25%, accounting for 91% of the company's total revenue during the year. North America represented 64% of Amazon's e-commerce sales and the company's international geographic segment captured the remaining 36%.
Amazon's international e-commerce sales growth rate accelerated to 24%, up from year-over-year growth of 6% in 2015. This uptick in overseas e-commerce sales growth vouches for Amazon's big international investments, suggesting the company can scale its key international market and turn its losses into profits in the coming years.
Amazon's global e-commerce operating income increased 48%, driven entirely by fast-rising profitability in North America and partially offset by a widening operating loss in the company's international business as Amazon invested aggressively overseas. Amazon's North America e-commerce segment's operating income increased from $1.4 billion to $2.4 billion and the company's international e-commerce operating loss worsened from a loss of about $700 million to a loss of $1.3 billion.
Amazon Web Services (AWS) revenue jumped 55%, from about $7.9 billion to $12.2 billion. The segment now accounts for approximately 9% of total annual revenue, up from 7% in 2015.
AWS operating income surged 106%, from $1.5 billion to $3.1 billion. The rapid rise in AWS operating profits reinforced the segment's importance to the company and its critical place in any investing thesis for the stock. AWS represented an impressive 74% of Amazon's total operating profits, up from 67% of operating profits in 2015.
AWS released 1,017 new services and features during the year, accelerating its pace of innovation from 722 launches in 2015.
Items available for 2-day Prime shipping increased 73% year over year.
Image source: Amazon.
Prime members' engagement with Amazon's digital content more than doubled as the company invested aggressively in its flywheel of benefits for members, ramping up its video, music, and reading offerings during the year.
Amazon's Prime Video expanded to 200 new countries and territories.
With Amazon stock rising about 30% since just before the e-commerce giant reported its results for the first quarter of 2016 to just after the company reported its fourth quarter results for the year, investors are obviously pleased with Amazon's ability to grow profits and boost profits. In 2017, investors should look for both of these trends to continue as Amazon's e-commerce reach grows and the company's cash-cow AWS segment continues to dominate in cloud computing.
Find out why Amazon is one of the 10 best stocks to buy now
Motley Fool co-founders Tom and David Gardner have spent more than a decade beating the market. (In fact, the newsletter they run, Motley Fool Stock Advisor, has tripled the market!*)
Tom and David just revealed their ten top stock picks for investors to buy right now. Amazon is on the list -- but there are nine others you may be overlooking.
Click here to get access to the full list!
*Stock Advisor returns as of February 6, 2017
Daniel Sparks has no position in any stocks mentioned. The Motley Fool owns shares of and recommends Amazon. The Motley Fool has a disclosure policy.